Australian Open, Semifinal
Djokovic d. Federer, 7/6 7/5 6/4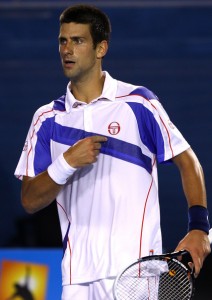 Ever since the 2007 US Open final, when Novak Djokovic augmented the biomass at the elite end of men's tennis by roughly half, the Serb and Roger Federer have constructed a rivalry seemingly built on very tight sets. It is remarkable how often their important matches feature the numbers 7/6 and 7/5. The score in that US Open final, incidentally, was 7/6 7/6 6/4 in Federer's favour, but it was only in the final set that he was the clearly superior player. This is the other striking aspect of their rivalry. Their close sets often see Federer struggling to hold on, only for Djokovic to blink first when it comes to the crunchy bit at the end.
Their epic US Open semifinal last year looked like following this pattern, until it devolved into a strange affair defined by Federer's mental walk-abouts in sets two and four. Then Djokovic took the fifth set 7/5, weathering match points. For once, he didn't blink, inspiring widespread theorising that their rivalry had experienced a fundamental reordering. Federer punished our presumption with three convincing wins to close out the year, including a commanding effort in the semifinals of the World Tour Finals.
Tonight's match re-energises the debate. It was close – 119 points to 111 – but Djokovic was unflappable. When he wasn't shanking backhands, Federer was perpetually off-balance. Federer is amongst the sport's most economical and elegant movers, but Djokovic, like Andy Murray, has a way of disrupting his footwork, of making him look a trifle awkward. It is as though their capacity to change direction and to embrace the lines off both sides stops Federer from hedging his bets. With no obvious shot to cover, he seems always to guess wrong.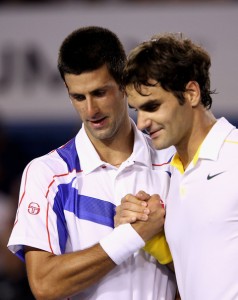 As a result, Djokovic could tonight maintain control of a rally while playing within himself, as Federer struggled to set his feet. Aside from that curious period in the second set, when momentum lurched around drunkenly, the Serb controlled the match exquisitely.
The slowness of the surface and balls – a lethal combination that has inspired the epithet 'blue clay' – meant that being able to control the game whilst playing within yourself was a pretty useful advantage to have. Federer could only wrest control back by hitting out, which often resulted in him hitting it out. There have been plenty of times in the last decade when it hasn't gone out – and bear in mind that the head-to-head between these two is 13-7 in Federer's favour – but today the magic just wasn't there. That rarified place the Swiss periodically ascends to remained tantalisingly beyond reach. Mired here, Federer is only an exceptionally fine tennis player, which it turns out isn't enough to overcome Djokovic in this kind of form.
Djokovic moves through to his second Australian Open final, exactly three years to the day after he won his first one.