Australian Open, Semifinal
Murray d. Ferrer, 4/6 7/6 6/1 7/6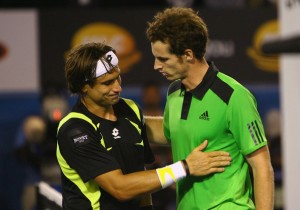 The crowd in Rod Laver Arena was particularly rowdy this evening, a fact I quickly surmised from the noise they were generating, which was considerable. Lest I misinterpreted it, a valuable second opinion arrived in the form of the Channel 7 commentary: 'The crowd is loud tonight.' They attempted to cross to Todd Woodbridge for confirmation, but he couldn't hear them very well, what with the crowd being so loud. Woodbridge was stationed at the back of the press pit, which means he was positioned slightly further from the action than the main commentators, but very close to Brad Gilbert, over whose constant babble Woodbridge might conceivably hear the crowd, which was very loud. These competing auditory forces were sufficient to scramble his brain. Thus afflicted, he had no trouble in producing such gems as, 'Andy Murray is what I call a tennis player'. 364 more of those, and he'll have a desk calendar.
It is a flourishing statement, one that looks round for applause. It's also a cliche, and a tacit insult to Murray's opponent, David Ferrer, the implication being that he isn't a tennis player. The point, as I'm sure we are all aware and as Woodbridge went on to explain at length, is that Murray plays with considerable variety, and thinks more than most other guys on court, constructing points and adapting his play to prevailing conditions and his opponent's game. This is standard stuff, and the commentators are contractually obliged to bring it up whenever Murray plays, much like mentioning a sponsor every seventeen seconds.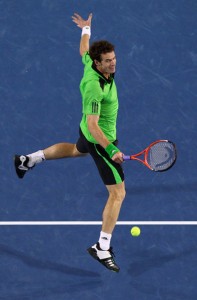 After some time, while we slowly assimilated Woodbridge's radical philosophy, he spelled out the corollary, which is that Ferrer is merely a 'ball-striker'. Being a tennis player clearly trumps being a mere ball striker, and so we all sighed with relief when Murray turned the match around with a tactical adjustment, throwing off his opponent's metronomic game with a some charming and varied play, including a series of bold moves into the forecourt.
Interviewed by Jim Courier afterwards, Murray was invited to elaborate on his strategic shift in the third set. Apparently the Scot hadn't read the script, and could come up with nothing more sophisticated than some guff about going for looser strings, being a bit more aggressive, and how Ferrer's level had dropped. Then, in the fourth, Ferrer started playing better and it got tight again. It is a conceit of sports commentary that the inner game is more prominent than is actually the case. Military metaphors are de riguer in this area, so I'll throw another one in by pointing out that strategy goes out the window once the first shot is fired. When probed, most players tend to feel that the guy who played better won, simple as that.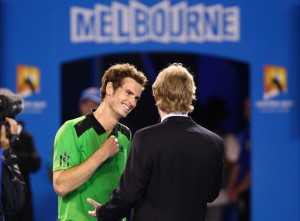 Woodbridge's position in the stands was previously occupied by Roger Rasheed, whom one suspects was vaguely put out by having to insert the odd normal word into an otherwise steady stream of neologisms and corporate-speak. His entire approach to tennis is predicated on a faith in strategic management, which makes him a bizarre foil for Gael Monfils. (Perhaps the Frenchman's continuing befuddlement is not unrelated to the fact that so much of Rasheed's advice has to be translated into English before it can be translated into French. Chinese whispers ensues.) What would Rasheed have made of the moment when Courier asked Murray what he was thinking, down set point in the second set? Murray confessed that he'd been so focussed on playing tennis – he is a 'tennis player', you'll recall – that he forgot the score, believing it to be 3/4. Look for Rasheed to incorporate hypnotism and targeted head trauma into his 'integrated coaching solution moving forward'.
Anyway, Murray is through to his second straight Australian Open final, where he will play Novak Djokovic for the first time in a major: two 'tennis players' on the cusp of greatness, hitherto restricted to near perfect parallel by the all-time greats above them, a fascinating rivalry played out in the rankings but not on the court. Until now.