Australian Open, Quarterfinals
Rashly, I started this article prior to the last men's quarterfinal, in which a hamstrung Rafael Nadal was overwhelmed in straight sets by a sporadically inspired and always-solid David Ferrer. Of the four quarterfinals, that was the one whose outcome seemed in the least doubt, so I felt safe in my title. The underlying conceit was that the Big Four would be once again filling out the pointiest end of the draw, which occurs more often than it rightly should, but not as often as you might think. The last time it happened in a major was the first time, at the 2008 US Open, at the very moment Andy Murray joined the club. What does often happen is that three of them make it to the semifinals, while one somehow falls by the wayside. So it has proved again. But what's done is done; Nadal is gone and with him the 'Nadal Slam'. Lest you require an epoch-shattering angle in order to remain engaged,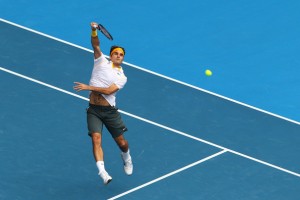 I'll remind you that Roger Federer is attempting to break the all-time Grand Slam record, an achievement which is not rendered less amazing by the fact that he's a chance to do it every time he turns up. British fans can probably find something to inspire them.
Federer d. Wawrinka, 6/1 6/3 6/3
Lingering disappointment that Federer would not be facing (and disgracing) Andy Roddick at this stage was only slightly allayed by the Swiss master's finely-judged performance against his young countryman: Federer was often brilliant, but Wawrinka was rarely more than solid, and regularly less. Nonetheless, as Wawrinka remarked afterwards, the degree to which his troubles owed to the subtle machinations of the master at the other end may not have been apparent from afar, but were decisive as far as he was concerned. Simply, Federer did not allow the Swiss No.2 to play how he likes to, whereas Wawrinka's previous opponents had. After the first set blew out, Federer went to town, and seeing him descend (or ascend) into exhibition mode can hardly have been encouraging for his opponent. My feeling is that, thus far in the tournament, Federer has been seeking to progress with the minimum of effort, but that it took until now to get the balance right. What this portends for the next match is anyone's guess.
Djokovic d. Berdych, 6/1 7/6 6/1
Perhaps it's a failing on my part, but there are times when one struggles to find much to say about a tennis match. This was one of those matches. Djokovic was virtually impregnable. He thumped his chest a lot, so I suspect he was pretty into it. There were several dozen topless men with the letters B-E-R-D-Y-C-H scrawled across their torsos, and they seemed pretty into it. Everyone else there (myself included) dearly wanted to be into it, too, but it just felt like a mismatch, even when Berdych broke early in the second set. Djokovic looked sleek, and everywhere. I recall saying much the same thing heading into the semifinal of the Shanghai Masters last year, where Federer cleaned him up. A best-of-five match is different matter, it's true, but it isn't that different. Djokovic is good enough to push Federer to the limit, unless the latter is feeling particularly inspired, in which case he can go to that place beyond the Serbian's reach, the place Andre Agassi once confessed he didn't recognise.
Murray d. Dolgopolov, 7/5 6/3 6/7 6/3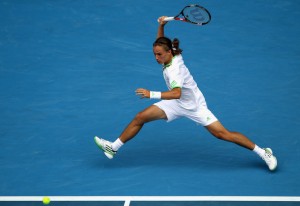 It's rare to see Andy Murray outfoxed, but he was by Alexandr Dolgopolov this afternoon, outfoxed and unimpressed about it. Dolgopolov, in the depressing manner of these things, is already being compared to Marcello Rios, though that's unfair insofar as he isn't a prick. Still, he's wily, unorthodox and difficult to read. Murray clearly found the experience to be a colossal pain in the backside. He was good natured about it afterwards, but still had trouble describing precisely what made the Ukrainian so slippery: 'He's just . . . different.'
Murray's fans are rightly thrilled that he has successfully navigated the 'quarter of death'. It certainly didn't hurt that both Soderling and Nadal were cleared from his path. Nonethless, Ferrer in the semifinals could well provide a stern challenge. They met in the Tour Finals last November, and Murray had his measure. But then everyone did that week. This is a new Ferrer this year, and no one has beaten him yet.