Kuala Lumpur, Final
Sousa d. Benneteau, 2/6 7/5 6/4
"I took my chance, it didn't pay off and it's hard, it's hard, it's very hard. But it's sport."
Not immediately but surprisingly quickly, Julien Benneteau grew philosophical about his loss to Joao Sousa in the final of the Malaysian Open. He has had more practice than most. It is his ninth loss in a final so far in his career, balanced against no wins. He now has sufficient runner-up plates that he can have the Nazgûl around for a meal without embarrassing himself, though his despondency at receiving the latest one suggests this might not have been a particular goal. (This is one of the ways he and I differ.) Benneteau isn't the highest ranked player yet to claim a maiden title – the present honour falls to Jerzy Janowicz – but he is unquestionably the player most notorious for it.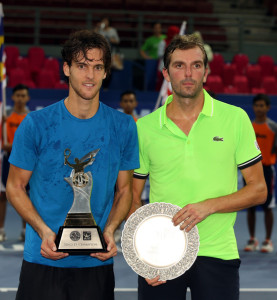 In a way he's right: it is sport. But it's a pitiless aspect of the sport his peers aren't obliged to face, a losing streak so constant that it has come to feel folkloric, woven into the texture of men's tennis.
But it isn't unprecedented. Perhaps Benneteau can gain a measure of hope from the revelation that Cedric Pioline also lost his first nine finals, though that measure dwindles if one points out that Pioline wasn't thirty-one when he started winning them, and that there was a US Open final amongst those nine. Several years ago Benneteau tore through qualifying and the main draw in Winston-Salem, winning nine matches in eight days in foul conditions, only to fall to John Isner in the final after leading by a set. I remarked at the time, as he spilt hot tears into his towel, that he looked like 'a man who was now 0-5 in tour finals, and suspects there won't be a sixth'. Happily I was wrong about that, and since he hauled himself back into the top hundred that week he has never looked like leaving it. This issue certainly isn't that he isn't good enough to win a final, at least at those parts of tennis that involve hitting a tennis ball, especially indoors.
For almost two sets Benneteau was strikingly superior to Sousa in every way that counts on a tennis court. Meanwhile Sousa, in his first final and attempting to become the first Portuguese man to win a tour event, looked overmatched and overawed. He'd beaten David Ferrer earlier in the week, and then seen off Jürgen Melzer so comprehensively that the Austrian afterwards abased himself on social media. But this was a final, and the dynamics are different. The guy up the other end knew all about that, though for almost two sets he usefully forgot the lessons learned over a long career. Eventually he remembered, though, and discovered all over again that tennis matches aren't won by the guy who wins almost two sets, and that outplaying your opponent for dozens of points counts for little if you cannot win the last one.
The last point, from Benneteau's point of view, should have come while Sousa was serving to stay in the second set at 4/5, simultaneously facing break, match and championship point. The Frenchman's limbs had grown frigid and sluggish. He'd never been this close. Still, he brought up match point with a bold backhand return winner, then assembled a fine next point, and eventually forced his way forward. Unfortunately he committed a grievous sin, though at the time he wasn't to know that it would prove mortal. He approached to Sousa's forehand – the overwhelming strength – but not only that, he approached such that the forehand pass could be run at, and whipped hard and low past him. Thus it was that Sousa not only saved the championship point, he did so in a manner that instantly supercharged him with confidence. Paul McNamee in commentary breathlessly declared it the 'shot of the match'. Admittedly he did go on to bestow that accolade on any number of Sousa forehands over the next hour. Commentators of course say all sorts of things. We were informed that if Sousa could hold that game the match might get interesting. It was a point hard to argue with, since if Sousa didn't hold the match would be over. But he did hold. To Benneteau's dismay, the match got interesting.
In a sense McNamee was right. Sousa's forehand was the shot of the match, and in general it would thenceforth define the contest, abetted by Benneteau's comprehensive failure to keep the ball away from it. From a more arrogant player it might have looked like overconfidence, but overconfidence has never been Benneteau's problem. The same forces that rendered his arm leaden also scrambled his brain. His rallying patterns grew repetitious and predictable, and Sousa, with commendable clarity, began to dictate almost every baseline exchange via the sophisticated tactic of hitting the ball hard into parts of the court where his opponent wasn't. He broke the Frenchman, and served out the second set. Benneteau, as is becoming customary in professional tennis, availed himself of an extended toilet break, meaning he went off and presumably broke a toilet with his foot.
If his sojourn was intended to be cathartic, it didn't work. Sousa broke again to open the deciding set, and almost gained a double break a few games later. This would have put the match well beyond doubt, but Benneteau held, rather valiantly, and doubt was never dispelled. Sousa was obliged to deflect fistfuls of breakpoints as the set wore down, even in the last game. But Benneteau's ability to create opportunity was exceeded each time by his incapacity to capitalise on it, and he unerringly saved his weakest returns for the ad court. One match point was saved, but not a second. Benneteau's final backhand fell wide, and Sousa fell to his back, utterly exultant, and utterly spent. This was his eleventh match in a shade over two weeks, including two Davis Cup rubbers and last week's run to the St Petersburg semifinals. He'd been exhausted even before he arrived.
If I've focussed more on Benneteau, it is because I suspect opportunities to do so are running short, although I've admittedly made that mistake before. Sousa meanwhile joins a select group of men who won their first tour final, and the even more select group of men who've done so while Portuguese. So far he's the only man ever to do it. For exclusivity that's hard to beat. Not only that, but today's victory has propelled Sousa into the top fifty, and he has become his country's highest ever ranked male player. I cannot doubt he'll climb higher. Nor can I imagine his title count will stop at one.