French Open, Day Seven
Jo-Wilfried Tsonga and David Ferrer both progressed to the Roland Garros quarterfinals today, defeating Viktor Troicki and Kevin Anderson in respective straight sets, but that wasn't the story of the day. Nor was it Roger Federer's five set tussle with a gratifyingly enterprising Gilles Simon, for all that their match was tremendously diverting.
The day's centrepiece was the electrifying encounter between Nicolas Almagro and Tommy Robredo, in which the older Spaniard recovered from a two set deficit, while the younger once more proved Heraclitus' dictum that character is destiny, and destiny character.
(32) Robredo d. (11) Almagro, 6/7 3/6 6/4 6/4 6/4
With his limits thus circumscribed, it's entirely appropriate that so many of Almagro's matches seem scripted by Aeschylus. The Spaniard certainly fits the part, with his preternaturally clear skin, careworn brow and boundless capacity to generate disaster. If there isn't a statue of Almagro somewhere already, there should be; it should be carved from finest Carrara marble, and depict the precise moment he has irreversibly blown a seemingly impregnable lead. (Perhaps it's one for Kickstarter; sillier statues have gained funding.) In Melbourne Almagro blew the lead against Ferrer, who he at least had never beaten. In Paris he did so against Robredo, to whom he'd never lost. Against Ferrer he served for the match repeatedly, but not well. Today he led by a break in each of the three sets he lost. I wasn't alone in wondering why he bothered, since breaking early was so clearly a recipe for failure. Hope may spring eternal, but destiny cannot be gainsaid, especially when it springs from within.
Robredo in his turn has become the first man since the Battle of Marathon to win three consecutive matches from two sets down. His heroics in merely reaching the fourth round were noteworthy, especially since one of his victories had come against a resurgent Gael Monfils. But Almagro was surely a different creature, if not a divergent species. Before today Robredo had taken only a single set from Almagro, and that was in their first meeting six years ago. As he clawed his way back in that third set, eventually serving it out, the prospect of yet another audacious recovery was aired. Commentators of course do this all the time; no fifth set can attain 6/6 these days with Isner-Mahut being brought up. On the face of it the idea appeared ludicrous, especially when Almagro broke again near the start of the fourth set. Alas, for him, it didn't stick. They traded breaks again in the fifth, but Almagro, despite his superior firepower, somehow couldn't finish off enough of the crucial points. Robredo, defying the odds and his age, was getting to everything. His legs, along with Almagro's brain, were arguably the story of the match. His passing shots were particularly fine. Almagro's visits to the net – dicey at the best of times – became exercises in futility, and he was passed again and again.
It must be nice for the commentators when their bold early move to establish a narrative pays off so handsomely. They get to look particularly prescient, although not as prescient as Heraclitus, who, transported by misanthropy and a diet of grass and manure, managed to anticipate a Spanish tennis player two and a half millennia in the future. Jason Goodall isn't quite at that level, but he still sounded eminently satisfied as Robredo expertly served out the match. Afterwards, the crowd went crazy and a global audience wondered aloud why so many broadcasters besides Eurosport were staying with Tsonga's frictionless procession on the main court. Robredo could barely contain himself (there were tears). He'll next face Ferrer, meaning a fourth consecutive two-set comeback is impossible. Just like the third one was.
(2) Federer d. (15) Simon, 6/1 4/6 2/6 6/2 6/3
Mats Wilander made a convenient slip in his introduction to today's other five-setter, between Federer and Simon, initially describing the Frenchman's game as 'dull', before backpedalling sharply. This was later revised to 'one-dimensional'. One cannot quibble with either description. Simon's defenders insist that his matches reveal a profound grasp of strategy at play, but I've watched a lot of them, and as far as I can see they mostly consist of lots of running and near-infinite patience. The length and outcome of most rallies are usually determined by the endurance of his opponent, or potency of their attack. When the opponent is of a similar predisposition to Simon, and has nowhere else to be, the match can go on forever.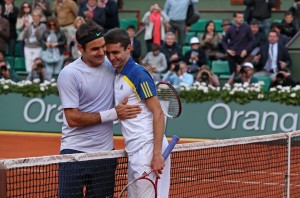 His encounter with Monfils in Melbourne this year is still whispered about. It might well rank among the most famous matches no one will ever watch again, although there are rumours the CIA uses it to extract confessions from those who've grown inured to traditional forms of torture.
Naturally, Simon isn't the only person who plays like this. Indeed he is rare only in the success he has enjoyed doing it, and the extent to which it seems to be a matter of choice, not necessity. For a conscious choice it seems to be. He doesn't need to play this way, and demonstrates this two or three times each season: he'll take to the court in a fey mood, and go after all his shots, varying angles and paces, using the net, and generally controlling the baseline. It's downright exciting to watch, but as suddenly as it appears, it vanishes, not to be seen again for months. From the perspective of a tennis fan – especially a fan of attacking all-court tennis – it's as though Simon has unrestricted access to a treasure room, but rarely ventures inside, despite the only requirement for entry being the ability to notice the door and the willingness to turn its handle.
Thankfully, today he did turn the handle, and thus helped to transfigure a match that might have been close anyway – he often troubles Federer regardless – into one that many will want to see again. Most match recaps have made the point that Federer began very strongly, but that everything changed after his heavy fall in the second set (Federer himself said he shed a lot of confidence at that point), and that Simon wisely chose this moment to assert himself. I don't think that's quite right. Simon was already pretty aggressive in the first set; it's just that he wasn't doing it very well, yet, and Federer was dialled in nearly from the get-go. Simon's unusually high number of errors in the first set (17) attests to this. Whatever the case, he certainly took control from midway through the second set, and maintained it until the fourth, by which stage he was in the happy position of leading two sets to one.
As ever, precedent was sought, and as ever easily found. The sport of tennis isn't so infinitely multifarious that something doesn't always immediately remind you of something else. For me the hollow echoes of 2009 rumbled loudest, particularly Robin Soderling inflicting Rafael Nadal's only loss at Roland Garros, despite having been demolished by Nadal just weeks earlier in Rome. Bear in mind that Federer manhandled Simon quite thoroughly in Rome a few weeks ago, so thoroughly that even those Federer fans accustomed to proclaiming Simon a danger-man permitted themselves to relax when the Frenchman popped up in their favourite's quarter. In 2009 Nadal had never lost at the French Open. Federer hasn't lost before the quarterfinal stage at a Major since 2004. As ever, a precedent was readily found, but as usual it didn't tell us much. As Federer once retorted when invited to contrast one loss with another one: 'Why compare?'
The match was defined by large and decisive shifts in momentum, and the last of these occurred in fourth set. Federer had looked increasingly feeble and beset for the last dozen games, but now began to assert himself once more. Suddenly he found that place in which he resembles no one else, and in which hardly anyone can stay with him. From 3/2 in the fourth set, he won half a dozen straight games, and would never yield back his break in the fifth set, although he did barely survive a nervous final game. Nothing should be taken away from Simon, however.
Federer has now reached his thirty-sixth consecutive Major quarterfinal. For the second time in a row, he is obliged to play Tsonga for a place in the semifinals. In Melbourne they staged an unforgettable five set exhibition of attacking hardcourt tennis, which Federer won. Their destinies are coming to feel intertwined, for all that their characters are not alike. Heraclitus might respond that they're complementary. In addition to the Australian Open they've also met at this stage at Wimbledon and in New York, meaning they'll now complete a Grand Slam of quarterfinals encounters. Such achievements are admittedly more pleasantly diverting than revealing. Here's another: last year Tsonga reached the quarterfinals in Paris only to fall to Novak Djokovic , despite holding four match points. As these match points tumbled by, and the crowd in Philippe Chatrier hurled its outrage and delight at the heavens, Federer was crawling painfully from a two set hole against Juan Martin del Potro on Suzanne Lenglen. A sweet moment of simultaneity, probably signifying nothing, but perhaps signalling that, ultimately, this meeting was destiny.