French Open, Days Four and Five
Earnest intentions to summarise the French Open's second round has been undone by the Paris weather, unusually gloomy as the City of Light plunges from a frigid spring into a nominal summer. The tournament's fifth day mostly alternated between being cold and damp, granting the players an opportunity to venture gingerly onto court, and cold and wet, which saw them scurry off again. Believe it or not, this spectacle ceased to be marvellous after a while.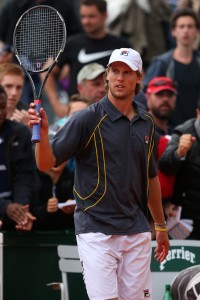 It also left the commentators with nothing much to commentate, which meant that they were compelled to become analysts. The devil creates work for idle hands, and for idle mouths, too.
It's a shame that not all the mouths can belong to Darren Cahill. ESPN (and Eurosport) got around this structural limitation by showing replays. American fans were treated to a reprisal of Serena Williams' latest blowout, in lieu of anything interesting. The assumption, no doubt substantiated by ratings and innumerable focus groups, is that American fans would rather see one of their compatriots thrashing a hapless journeywoman than watch two foreigners with unpronounceable names play a competitive match. Thank god we don't do that in Australia. None of our players are thrashing anyone.
The otherwise excellent Radio Roland Garros can be a lottery in these situations. Without recourse to replays it must pin its fortunes on the verbal skill of whoever happens to be in the booth. If it's Matt Cronin, rain delays generally entail extended anabases into the bleeding obvious, alleviated, if that's the word, by tactical retreats into celebrity gossip. Gigi Salmon is charming and professional, and at her best when poking fun. Craig Gabriel never seems to take much of it very seriously, an attitude with which I can sympathise. Chris Bowers is hard to fault, and yesterday managed to steer a straight course through the squalls by speaking nothing but common sense. Rain delays also afford the crew the chance to respond to viewer queries, submitted via the Roland Garros iPhone app. (This app is at its best during rain delays, when you have a spare fifteen minutes for it to load.) These listener queries are often revealing. Mostly they reveal a sub-strata of tennis fans who have the wherewithal to locate the radio stream and submit queries via a clunky app, yet apparently can't manage a simple Google search. Expert tennis journalists with decades of experience are thus obliged to explain what a volley is, or how a tiebreak works.
Notwithstanding these entrancing diversions, there was some tennis played yesterday, and even more the day before. It would be remiss not to sum it up. Philipp Kohlschreiber wasted no time at all in his expected disposal of Yen-Hsun Lu, quite literally, given the Taiwanese withdrew before play with an ankle sprain. What was already a walkover in essence thus became one in fact. The German will face Victor Hanescu, who was unfairly required to play almost two sets before his opponent Dimitry Tursonov pulled out. They're dropping like flies this year. It merely confirms what Ion Tiriac has long suspected: red clay is dangerous.
Grigor Dimitrov came through easily against the talented Lucas Pouille, and has reached the third round for the first time at a Major, in the process becoming the first Bulgarian man to do so. He is unlikely to go farther, given that he must now face Novak Djokovic, who was imperious in disposing of Guido Pella for the loss of four games. Dimitrov of course beat Djokovic in Madrid a few weeks ago, but this is a different court in a very different event, and one suspects it's a different Djokovic. Hopefully it's also a different crowd.
The most anticipated match of the round was Gael Monfils' clash with Ernests Gulbis. Monfils was magnificent in upsetting Tomas Berdych in the first round, but there was a prevalent expectation that his toils would only leave him under-resourced for the next, especially given his injury-addled year and the sheer volume of tennis he has played of late. As it happened, Gulbis led by a set and a break, but couldn't sustain it. Monfils came back to win the second set, before the match climaxed in a tremendous third, which the Frenchman also won. Gulbis never recovered, collapsing in a desultory manner reminiscent of Marat Safin's late career. The similarities continued after the match, as Gulbis further covered himself with glory by calling the top players boring and accusing them of dissembling for the media. As ever, the scent of disunity was blood in the water for journalists, and this is the story fated to endure. Punning headlines sprang up like daisies. Monfils wisely kept his head down, and will next face Tommy Robredo.
Andreas Seppi followed up a decidedly unaccomplished five set victory over Leonardo Mayer with an only slightly better one against Blaz Kavcic. Seppi's form has been quite poor of late, and before the tournament it was hard to imagine he could defend last year's fourth round performance. But here he is: only one win away. Unfortunately that win must come against Nicholas Almagro, admittedly a perennial underachiever in Paris. Still, the Spanish number three has this year tried out a new strategy: instead of winning Nice and calling down heavenly wrath on himself, he skipped it. He has thus maintained so low a profile, cleaving so close to the contours of the clay, that he has thus far escaped even divine radar detection. One assumes the gods would still like to punish him – he has that kind of face – but even a god cannot punish what it cannot see. Albert Montanes won Nice instead, and only lasted a round in Paris, although one doesn't need a curse to explain that: he ran afoul of David Ferrer.
Somdev Devvarman ran afoul of Roger Federer, and subsequently lost a match that was more or less undistinguishable from a highlights reel, in that it was over quite quickly and consisted almost entirely of winners. It's hard to read too much into such results – the Indian's weapons consist of foot-speed and moxie – though Federer is clearly in finer form than he was in Paris last year. He'll next face a more fearsome opponent in Julien Benneteau, although Benneteau hasn't been in spectacular form himself lately and struggled to get by Tobias Kamke. There is every chance Federer will face locals all the way to the semifinals, assuming he keeps winning, which one cannot any more. Jo-Wilfried Tsonga is in this quarter, and he is looking very good. I expected him to be troubled by Jarkko Nieminen, but he wasn't. Meanwhile Nick Kyrgios was the only Australian man to lose in the second round. Then again, he was also the only one to win in the first. Still, it's something.