Miami Masters, Final
(2) Murray d. (3) Ferrer, 2/6 6/4 7/6
Andy Murray has won the Miami Masters 1000 title, in the process claiming his first trophy at this level in about eighteen months, reclaiming the number two spot from Roger Federer, and taking a hacksaw to David Ferrer's enduring soul.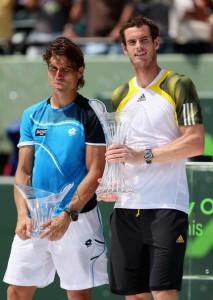 The score tells us only that there was a third-set tiebreaker, which Murray won easily. It emphatically fails to mention that getting there required fifteen breaks of serve, wounded backs, cramped legs and crampier brains, almost five-score unforced errors, high drama and the most ill-advised challenge in the short history of Hawkeye. Murray happened to be the man standing at the end, although they'd both spent some time sprawled on the court earlier.
There's a view that Ferrer, whatever his ranking, is clearly the fifth best player in the world. It's an uncontroversial view, and heavily supported statistically and anecdotally. The iconoclast in me would love to say it's nonetheless wrong, and that I have found irrefutable proof that Fabio Fognini is actually mankind's great hope. But I can't – the evidence for Ferrer keeps piling up. Consider this: at the last four Masters level events where only two of the Big Four turned up, Ferrer has reached the final at three of them (Shanghai 2011, Paris 2012, Miami 2013) while at the fourth one he himself didn't play (Montreal 2012). Then again, he subsequently reached those finals after the higher ranked player was knocked out by someone besides himself: he has never defeated an elite player in a semifinal or a final, at any level. Today he at least came within an inch or two.
Shanghai 2011 is well-worth bringing up, since it marks the only other time Ferrer and Murray have contested a final, and because, over all, this edition of the Miami tournament has closely reproduced the contours of that earlier event. In both cases, as mentioned, only two of the sport's four best players turned up: here Federer and Rafael Nadal are absent, whereas in Shanghai it was Federer and Novak Djokovic.  In both cases there were a pair of unlikely semifinalists: Richard Gasquet and Tommy Haas this week, Feliciano Lopez and Kei Nishikori in Shanghai. And in both events the top seed fell early to a plucky German (Haas now; Florian Mayer then).
Haas of course fell to Ferrer in the semifinals in Miami, thereby kicking off the theme of the day, which was for the mercurial stylish player to establish an early lead, and then to see it ground inexorably to nothing. Haas is doubtless kicking himself for not holding his nerve better in that semifinal, since he would have fancied his chances against Murray today. Haas winning a Masters event at his age and with his history of injury, knocking off Djokovic en route, would have been the story of the year. Alas, he didn't, so it is merely the story of the week. He led by a break in the third set, but couldn't maintain it for long, thereby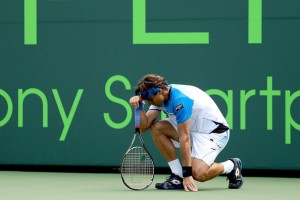 establishing another fascinating theme, which Murray and Ferrer today developed to its fullest extent, consequently exhausting its possibilities for later generations.
Of the fifteen breaks in today's final, fully eight of them came in the final set. Most of them were sealed with errors, although a few of these errors at least came quickly, sparing viewers another interminable three-quarter pace rally. Murray's back, which had seemed tight to open the match, became more of a factor as the third set wore on, especially on his serve. Meanwhile Ferrer was succumbing to cramps, and began scheduling a massage for each change of ends. Robbie Koenig and Jason Goodall, excellent as ever on the world feed, joined Murray in questioning the strict legitimacy of this. Astute fans might recall Stan Wawrinka employing a similar tactic at the Australian Open against Djokovic, although that at least had the benefit of ensuring a superb match wasn't decided by a fatal cramp. For today's final to have ended that way might have been a mercy killing.
Murray served for the title at 5/4, but the added tension, unsurprisingly, did not inspire him to elevate his level. He was far too passive, nursing his serve – his vertebra had by now fused – and duffing a couple of makeable passes. He was broken to 30. It was the last break of the afternoon. 'It's a different kind of drama to spectacular shotmaking,' exclaimed Koenig, securing this week's understatement award. Ferrer then held, availed himself of another leg-rub, and almost won the match.
Much has and will be written about the next game. Murray moved to 40-15, but then lost three points to fall down championship point. Another rally ensued. Murray went after a rare forehand, which Ferrer got back. Ferrer then halted play to challenge, apparently believing the ball had gone long. Hawkeye showed the ball catching the line, Ferrer lost the point, and with it the game and the match. My immediately response was that Ferrer's reply to Murray's forehand had been so feeble and short that Murray was probably going to knock off the next ball anyway, and that Ferrer had challenged because why not?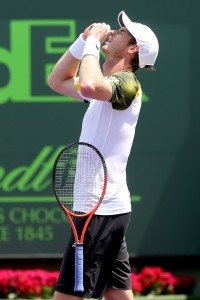 Of course, both guys had just spent two and a half hours demonstrating their inability to put anything away, so perhaps there's no reason to believe Ferrer was entirely out of the point.
Two further moments from earlier in this game should be noted, since they probably had some influence over Ferrer's split-second decision to yank at his ripcord. Firstly, he'd tried to challenge at 15-15, but was told he'd taken too long, whereupon he and Cedric Mourier altercated briefly. (The television replay showed that Murray's shot landed flush on the line.) Secondly, at 40-30 Murray went after a forehand to almost precisely the same spot, hit it long, then challenged unsuccessfully (and also bought himself time to change his sweatbands). I do wonder to what extent these points pushed Ferrer to his crucial challenge, and even whether it mattered. Afterwards Ferrer made it clear how much it did matter, precisely by emphatically refusing to talk about it. Murray held.
At this point CBS, the American network holding the rights to the last weekend of the Miami event, cut away to the NCAA basketball. The Miami coverage switched to the Tennis Channel, who were relaying the world feed. This was great news for those who subscribe to the Tennis Channel, but bad news for those who didn't but remained curious to watch this final play out. Those of us labouring away in the rest of the world were left to wonder again at the weird American obsession with university-level sports. (I've had it explained to me, and I still don't really understand it. I'm not aware of many other countries where such interest occurs. Having represented one of Australia's largest universities at sport, I can personally attest that no one here cares at all.)
Anyway, in order to ensure this situation doesn't recur, the Miami Masters final will next year commence earlier in the day. To put it another way, the top tennis players in the world are obliged to play a morning final in order to accommodate a university-level event. I could understand if it was the NBA play-offs. I also understand that tennis is a marginal sport in the States. But given this status, why CBS is interested in the first place? Perhaps they just like to feel involved. After all, they've resourcefully fucked up the US Open schedule for years.
Truth be told, those who missed the end didn't miss much. That botched challenge accomplished something even Ferrer's near-complete evisceration in the Acapulco final hadn't – it broke something deep within him. Whether it was physical, mental or spiritual, I won't speculate, but he mustered no further resistance. He collapsed to the court heavily after the sixth point of the tiebreaker, and two points later looked about as despondent as I ever seen him.
Murray, having romped through the tiebreak 7-1, looked almost apologetic, though not very much and not for long. After all, it's hardly every day you win a Masters title, and it's rare indeed to win one playing like that. Praise be for small mercies.