Miami Masters, Quarterfinals
(2) Murray d. (9) Cilic, 6/4 6/3
(8) Gasquet d. (4) Berdych, 6/3 6/3
The fourth and last quarterfinal at the Miami Masters 1000 was, for non-partisan interests, undoubtedly the most anticipated of the lot. Tomas Berdych is ranked number six, and seeded four. Richard Gasquet is ranked ten and seeded eight. Their head-to-head sat at four apiece.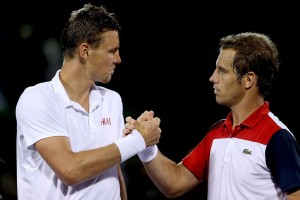 It was therefore disappointing that it commenced in a nearly-empty stadium. As primetime night matches go, it wasn't a compelling advertisement for the sport or for the event.
By the time Gasquet flashed yet another backhand winner up the line to hold for 3/0 in the second set, capping a sequence of seven straight games, the stands had filled encouragingly. But the mood remained subdued, the noise rarely rose above a dull murmur, and the murmur only rose to fitfulness for the dead net-cord winners. All crowds love those. Kiss Cam strove but failed to enliven proceedings; many attending didn't note the cue to snog their neighbour. This left us with the unusual spectacle of American sports fans appearing on a Jumbotron yet not instantly succumbing to capering lunacy.
Gasquet's decisive run of games had begun when he trailed 2/3 in the first set, having narrowly eked out a pair of holds to get there. Berdych was holding easily, and his superior power off the ground was exposing Gasquet's tactical shortcomings: the commentators had already commenced their usual dirge about the Frenchman's remote court positioning. (In fact the Frenchman was only halfway towards the backboard, which for him qualifies as attack mode.) This tallied nicely with the strong pre-match sentiment that Berdych would win, although no one could say how comfortably he'd manage it. His form had been poor earlier in the week – barely surviving initial rounds against renowned hardcourt giants Daniel Gimeno-Traver and Alejandro Falla – but he seemed to be back nearer his imposing best, having dealt with Sam Querrey for the loss of just two games.  He'd also defeated Gasquet quite comfortably just a fortnight ago in Indian Wells.
That sixth game proved to be Gasquet's toughest hold yet, as he fended off a pair of break points. Berdych was spraying errors all over the place (except inside the court, obviously), but he was also hitting plenty of winners. The prediction in commentary was unanimous that he would overcome the former habit before the latter, and inevitably surge ahead. Then he was broken, and Gasquet entered that fey state he can only locate once or twice each year, when he anticipates everything, transitions seamlessly, regulates the depth and pace on his forehand properly, and generally can't miss the court. Berdych continued portioning out errors and winners at a ratio of about two-to-one, was shut out entirely by Gasquet sliding serve to the ad court, and dropped his serve again to lose the set.
He looked numb at the sit-down, eyes unblinkingly intent on his own private horizon. Barry Cowan mentioned that Berdych had been seeing a mental coach, but was at pains to make clear that this wasn't a sports psychologist. Sadly Cowan added no more, and I was left to ponder precisely what a mental coach is, and whether Berdych's fixed stare reflected an esoteric focussing technique or merely shell-shock. Perhaps he'd established a telepathic link to his mental coach, although any advice he received over that link turned out not to be especially useful. He was broken again at Gasquet's earliest convenience, in the second game of the next set. From there the Frenchman's level never sagged and Berdych never stopped haemorrhaging errors (or indeed hitting winners). He was bellowing out his frustration by the later stages, surely in defiance of accepted mental coaching techniques.
The crowd had swelled to a more substantial level by the time Gasquet finally served it out. Given that a match I'd anticipated being close wasn't, it could be argued that the crowd knew something I didn't. In a way, perhaps they did. They knew that the match that truly interested them – the one involving Serena Williams – wasn't due to start before 9pm local time, and that it was a relatively frigid evening in Miami. Why risk a chill for two guys you've barely heard of, even if they are in the top ten? I admit I have not personally verified this with each person there, but it's a theory. It's also a shame. Few could quibble at the desire to see the world number one (Williams) thrash the defending champion (Agnieszka Radwanska), but you'd think given the price of the tickets more fans would make the effort to see the earlier match as well, even if it wasn't as sternly contested as we'd hoped.
Gasquet will face Andy Murray in the semifinals. Murray earlier defeated Marin Cilic, proving so dominant that he was broken twice yet still won easily. The only real interest came in the final games, when Cilic saved a half-dozen match points, but he was already down a set and several breaks by this time, so there was no cause for alarm anywhere but in the Sky Sports studio.
The head-to-head between Murray and Cilic is now 8-1 in the Scot's favour. That lone upset occurred four years ago at the US Open, and it was predictably this match that was exhumed for our delectation, thereby enabling us to regard today's encounter as some kind of revenge. In that vein I should point out that Gasquet beat Murray last year in Rome. Notwithstanding that Murray has met and defeated the Frenchman since then, I have no doubt he will once more seek the hot closure of vengeance.
Then again, perhaps it's Gasquet seeking revenge. If he performs like he did tonight he may well get it. But that 'if' has become one of the more fraught qualifications in the sport, and I doubt even his ardent fans place much faith in Gasquet's consistency any more. In full flight his game is a rare spectacle, and should be enjoyed for what it is. It's well-worth the price of a ticket.