Indian Wells, Day Three
There was moment this afternoon when only one out of six seeded players had survived their opening match at the Indian Wells Masters. Owing to the generous allocation of byes these first matches took place in the second round of the draw and on the third day of play. Stanislas Wawrinka was that lone seed.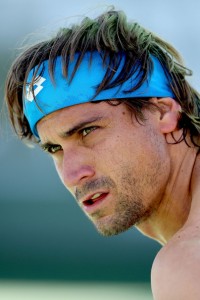 He beat the popularly-reviled qualifier Wayne Odesnik, and even then was obliged to recover from a set down. The other five seeds were not so fortunate, although I'd be lying if I said many of losses felt like upsets, although in some cases the extravagance of the defeat was startling.
Most of the seeds who'd lost were lower seeds – the exception was David Ferrer – who in earlier decades wouldn't have been seeded at all. The difference between the No.40 ranked player in the world and the No.25 isn't necessarily all that wide, especially when the present form of the players is taken into account. A victory by the former over the latter hardly constitutes an upset in any meaningful sense. There's always a considerable amount of movement into and out of the top thirty-two: some have found their level, but mostly players are passing through in either direction.
Having said all that, it was still a shock when Jarkko Nieminen allowed Fernando Verdasco just one game. Verdasco, by his own admission, hasn't been practicing much lately, due to injury and an ongoing commitment to post photos of himself to social media. As preparation for the year's first Masters it proved less than ideal. Nieminen later revealed that the ideal preparation was in fact watching Metallica's Quebec concert on DVD.
Philipp Kohlschreiber later attempted to overcome an injury-riddled preparation by doing the same, but was undone when his coach brought him 'Mr Sandman' rather than 'Enter Sandman'. Had I but known, I would have advised him to split the difference. It was a surprise that Kohlschreiber showed up at all. Had the tournament been played two weeks ago – and with no television coverage to say otherwise it might well have been – the German would have been playing on crutches. This is notoriously difficult to manage.
It was also a surprise Michael Llodra turned up, after last year's labyrinthine scheme to enhance Franco-Chinese relations so publicly unravelled upon encountering its first snarl. After his later offer to repair the damage sexually was rebuffed, he subsequently claimed he wouldn't return in 2013. He did, but didn't bother entering the doubles, which tells you how serious his commitment was. Having seen off a qualifier in the first round, he failed to front for the second against Milos Raonic.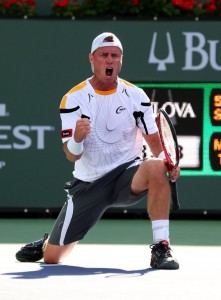 The Canadian is through to the third round without once stepping on to court. Meanwhile Mikhail Youzhny's appalling early-season form continued with a loss to Leonardo Mayer. He's clinging to a top thirty spot.
John Isner reached the final at Indian Wells last year. By losing today, he will therefore shed 590 points, and his ranking will tumble into the mid-twenties. This means that Sam Querrey automatically becomes the highest ranked US male player for the first time, although if Querrey fails to win his opening match tomorrow he will remain stranded on No.21. This will in turn leave the USA with no male players ranked inside the top twenty for the first time ever. Australia, as ever perched on the leading edge of failure, of course reached this milestone some years ago. We haven't had a man ranked in the top twenty since February 2010. He was Lleyton Hewitt, who of course defeated Isner today.
It was Hewitt's first second round victory at Masters level in nearly four years, and he was rightly excited, although even he found it hard to match Andrew Castle's ecstasy on his behalf. This match ran concurrently with the one between Jerzy Janowicz and David Nalbandian. By harnessing the miracle of technology I was able to watch both. It was instructive. Nalbandian and Hewitt are of similar vintage, which constituted an invitation to reminiscence the Sky Sports commentary team proved unable to resist. Consequently we heard a lot about Wimbledon 2002, and all other great things Hewitt did over a decade ago.
Watching Isner and Janowicz play more or less side-by-side was even more revealing. Based on their technical and athletic prowess, you would never guess that only an inch separates their respective heights. Isner is six-foot-nine, Janowicz is six-eight. Isner lumbers about the court in that way exceptionally tall tennis players are traditionally wont to do. Hewitt had a superb day on return, often blocking back the American's monstrous first serve to within a foot of his baseline, causing Isner to backpedal furiously. From that moment, once it became a game of baseline attrition, Hewitt's superiority was evident. Isner's serve is a potent weapon, but unless he is launching full-blooded forehands and not missing, it's also his only weapon. Once it is blunted he can look grow forlorn.
Janowicz, like Kevin Anderson, looks more like the future: very tall men who move as though they're much smaller, and who are accomplished from the baseline.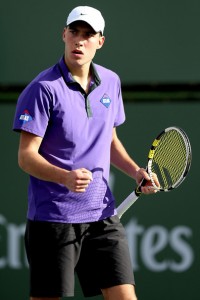 Janowicz out-rallied the typically intriguing and sadly underprepared Nalbandian for large parts of their match. Anderson had earlier done the same to Ferrer, inflicting the Spaniard's traditional early-round defeat at this venue.
Some hours later I achieved a similarly useful juxtaposition when Rafael Nadal and Ryan Harrison took the court while Richard Gasquet and Bernard Tomic were finishing off their match. Nadal and Gasquet have of course been playing each other for years, since before they were juniors, although one struggles to uncover many more revealing points of comparison than that. It's not as though they've contrived to maintain much of a rivalry on the main tour. Nonetheless, today they represented difficult but realistic opportunities for young men supposedly on the make. This was Nadal's first hardcourt match in 346 days.
Tomic and Harrison are the youngest players in the top hundred, and must have seen these matches as an opportunity to utter a bold statement. Both pushed hard for a set against their senior opponents, recovering an early break to force a tiebreak. Both put together poor tiebreaks, in which they were completely outclassed, and then managed to continue this trend through a second set blowout. Both lost 7/6 6/2, and while it was commendable that neither man ever gave up – a bold new development for Tomic – it was deflating to see just how acquiescent they became as the end drew nigh. Tomic saved five match points, but this was mostly achieved with mordantly resigned free-swinging.
Aside from Ferrer, the highest seed to lose today was No.9 Janko Tipsarevic, whose 2013 is making Youzhny's seem accomplished by comparison. He lost two and zero to the spectacularly resurgent Ernests Gulbis. Tipsarevic didn't seem injured, or even fatigued. He just looked outplayed, which is an undesirable way for a top ten player to look. It was Gulbis' twelfth consecutive victory.
The highest seed to win was the second seed and defending champion Roger Federer, who thrashed Denis Istomin in 58 minutes, with the kind of performance that compels one to wonder how Federer has failed to win a tournament since last year's Cincinnati Masters. The answer is that he hasn't been playing quite like he did today. He was dangerously sharp, though he might still be relieved to face Ivan Dodig in the third round, since he was drawn to face the twenty-eighth seeded Julien Benneteau. Benneteau lost: being a seed, I suppose this could be called an upset. Or not.