Indian Wells, Day Five
(Q) Gulbis d. (20) Seppi, 5/7 6/3 6/4
Ernests Gulbis has now won thirteen consecutive matches, an audacious streak that includes the Delray Beach title, as well as qualification for that event and the current one, which is the Indian Wells Masters. For wonderment, this sequence of results is exceeded only by the encouraging shortage of twee headlines indebted to a certain play by Oscar Wilde. There was a time when Gulbis couldn't take a set without some hack deploying the phrase 'The Importance of Beating Ernests'. Googling that phrase returns at all least two solid pages of material directly related to Gulbis, but precious little from recent months.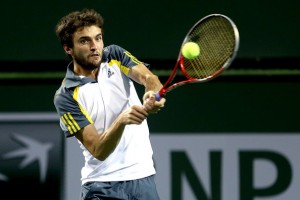 It's a small thing, admittedly, but with so many reasons to despair at the frequently execrable quality of tennis writing, one welcomes any invitation to hope.
Today Gulbis saw off Andreas Seppi in a little over two hours, recovering from a quite disastrous first set – the Latvian served for it twice before losing 5/7 – to take the next two. In between there was no shortage of excellent tennis from both, interspersed with the species of mayhem Gulbis has made characteristic. There was a typically accomplished racquet smash, and a selection of self-directed tirades conducted at varying tempos and intensities, an endlessly inventive series of variations on the theme of self-excoriation. One of these (at a pivotal moment in the second set) skirted the limits of good taste by mentioning his opponent by name, as though Beethoven has prefaced the Diabelli Variations by pointing out that Diabelli's original waltz was shit. Still, he apparently made a good case. Seppi immediately handed over the crucial break.
It is the first time Gulbis has won at least three matches at consecutive tournaments since mid-2010, which I don't include as a fine example of the statistician's art, but as an indicator that his latest declarations of rediscovered commitment may have some merit. Afterwards he was forthright about his chances against Rafael Nadal, who'd earlier progressed via walkover: he fancies them very much. If Gulbis wins that one, let's see how many can resist the dark allure of the punning headline.
(2) Federer d. Dodig, 6/3 6/1
Any belief that Roger Federer was pleased when Julien Benneteau was forcibly cleared from his path was quickly dispelled once today's match began. The Swiss looked more distracted than relieved, and far less alert than he had against Denis Istomin in the previous round. His opponent today was Benneteau's conqueror Ivan Dodig, who as ever looked like an unmade bed. Federer, who maintains a direct telepathic link to Anna Wintour, was no doubt deeply offended by Dodig's rumpled ensemble, especially the yellow t-shirt which betrayed a fondness for leonine heraldry commensurate with Radek Stepanek's. Whether this was responsible for the subterranean quality of the first set is a nice question – there were some jagged late-afternoon shadows that can't have helped – but it's undeniable that the defending champion began to play better in the second set after Dodig changed his top. I think there was still a lion, but it was now mercifully lost against darker fabric.
It was a match framed and scoured by double faults. Federer commenced with one, the first of three points he discarded casually to open the match (although these would prove to be the only break points he faced). Dodig later threw in a few to be broken at 3-4, and another to close the match about half an hour later. There were others, mostly tossed in with an insouciance made notorious by Fernando Verdasco.
During the pre-match hit-up a debate developed among the assembled Sky Sports luminaries as to which retired player they missed most. The issue was put to viewers. Andre Agassi proved a popular choice, as did Andy Roddick among those with shorter memories. The talk turned to which current players would be missed when the time came. Andrew Castle was in no doubt that Federer's eventual departure would leave the most gaping hole, a contention he went on repeating freely when it turned out that no one else had the authority to stop him. He sounded like he was rehearsing Federer's valedictory speech. Peter Fleming's efforts to redirect the discussion elsewhere were slow to yield results.
Nonetheless, Castle's profound affinity for the world No.2 bore fruit late in the second set, when he was among the first to note that Federer had tweaked his back. The Tennis Channel commentators were entirely clueless. Unfortunately, so was Federer's opponent. Had Dodig spotted Federer's discomfort, one hopes he would have made a better effort to probe and exploit it. Instead he continued playing as he had done before, which is to say poorly, while Federer began to lash his groundstrokes boldly in an effort to get off court. It worked. He'll have a day to rest and recover, before he faces Stanislas Wawrinka in the fourth round.
(13) Simon d. Paire, 3/6 7/6 6/4
Both Richard Gasquet and Tomas Berdych posted cosy wins, over Jerzy Janowicz and Florian Mayer respectively. Gilles Simon later defeated Benoit Paire in a match that was comfortable for no one, including the players, who seemed hobbled, and the commentators and spectators, who were powerless to make it stop. Wizened media types who'd believed they'd seen everything felt their stomach roil as the match spiralled away in a flutter of breaks and feeble errors. Paire served for it at 6/5 in the second set, but was broken back after he ran around his backhand in order to approach the net as ineffectively as possible. He also held a match point in the ensuing tiebreak, but was again undone by poor decision-making, abetted by Simon's exhilarating tactic of hitting the ball back in slowly forever. Paire ended with 79 unforced errors.
For spectators, it was the least enjoyable match since Simon's previous one, when he recovered from 1/5 down in the final set against Paolo Lorenzi. Larry Ellison quickly announced a counselling hotline for the few attendees who'd survived watching both. Simon next faces Kevin Anderson. Anyone who survives that one gets a free t-shirt from Ivan Dodig.