Dubai Semifinal
(3) Berdych d. (2) Federer, 3/6 7/6 6/4
The tendency for broadcasters of the Dubai Duty Free Tennis Championships to liberally sprinkle their coverage with images and footage of local architecture is apparently irresistible. Admittedly, it is a hard urge to fault. It is important to showcase the local culture for a global audience, the local culture in this case being the irrepressible desire to sculpt land and sea into pointless configurations, and to erect monoliths of dubious practicality but undeniable cost.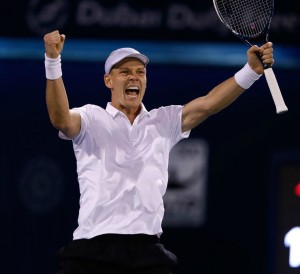 These are structures of a scale and variety almost unique in the world, although they have a spiritual precedent in the Baroque confectioneries of Bavaria, a contemporary equivalent in Las Vegas, and embody an impulse that is now spreading even into Mecca. Really, we're being invited to gawk.
The rococo tendency to elevate decoration to the status of architecture is anything but new. It would be wrong to say that the Arabians merely got there late, since the truth is they got there early. The deeper truth is that for those with wealth the inclination towards ostentatious bricolage is universal and never truly goes away, and Dubai has more wealth than almost anywhere. With enough money, you may not be able to buy the world, but you can dredge up its semblance from the Persian Gulf, and put resorts on it. Those who prefer to hide their wealth under a bushel don't reside in this part of the world, unless The Bushel is a 356 star hotel perfectly recreating Peter Bruegel's Tower of Babel, with three replica Titanics balanced on top.
The Burj Al Arab, the world's only 357 star hotel, is iconic in this sense, not to say totemic. At a stroke, it wrenched away from the Sydney Opera House the dubious privilege of being the world's least discreet architectural homage to a ship's sail. It isn't the highest hotel in the world – indeed there are several taller in Dubai – but alone on its own island it does prove that monumentality has everything to do with proportion and context rather than simple dimensions. It is a constant reference point for the Sky Sports coverage, one they often return to in between helicopter fly-bys of the city proper and the odd tennis match.
Tonight's odd tennis match was between Tomas Berdych and Roger Federer, the part-time local who once famously hit up on the Burj Al Arab's helipad, although there's a good chance he'll be remembered for more than that. The Dubai court, located nearer sea level, is one of the fastest hardcourts on the tour, and both these players are disinclined to hang back when the opportunity to step in presents itself. It was relentless assault from the outset, and although there were many moments of fine defence, they were born of necessity rather than temperament.
It is strange how a densely-woven and intricately-textured set of tennis can suddenly unravel. Through the first seven games, neither Berdych nor Federer enjoyed a comfortable service hold, and both were obliged to save break points. The standard, however, was excellent, and a tight finish seemed inevitable, and fitting. Then, serving in the eighth game, with a 40-30 lead, Berdych's attention wavered, momentarily distracted by the Sky Sports helicopter on another strafing run. Several double faults and some loose errors cost him the game, permitting the defending champion to serve for the set. Federer did so to love, sealing the game with a second serve ace. The statistic that he has never lost in six previous Dubai semifinal was duly paraded.
The intricate pattern continued through the opening stages of the second set, with both men holding on grimly to 2/2. Then Berdych wrenched momentum his way with a hold to love in 82 seconds, before breaking Federer to 15. Federer returned the treatment a few games later, breaking back to 15 as Berdych served for the set. He then held at love in 82 seconds. If the first set had been an unravelling tapestry, the second was shaping up as a weirdly contrapuntal palindrome, like one of Bach's clever-dick numbers from The Musical Offering.
Then the pattern fragmented, and the oscillations of momentum grew more rapid. Federer narrowly failed to break at 5/5. Berdych nearly succeeded in breaking in the following game when a shanked shot from Federer on set point landed just long. The correct call would have given the Czech the set, but he bafflingly failed to challenge, instead remonstrating with the umpire about crowd noise. Federer went on to hold, and force the tiebreak.
From a dramatic perspective, it is well that he did. Momentum began to dart around coquettishly in the breaker, first with Federer, then with Berdych, then again with Federer, who moved to 6-4, and a pair of match points. The first of these came on his own serve. He didn't take it – eventually slicing a backhand long – and it would transpire that this was his best chance.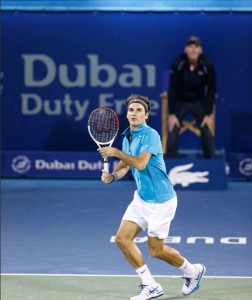 Berdych saved two more match points on his own serve, before taking the set with a monstrous forehand return winner at 9-8. Federer's concentration lapsed crucially at 2/2 in the third set, and Berdych pounced. The Czech eventually closed out the set 6/4.
Berdych has now defeated Federer five times in this decade, and joins Novak Djokovic as the only men to have done it twice while saving match points. We should also bear in mind that Berdych lost the Marseilles final last week after holding match point. There seems to be a lot of it around this season. Tomorrow he'll have a chance to make amends, of sorts. Unfortunately, it's not much of a chance. He'll face Djokovic, the 2011 champion (of everything), and reigning world number one. The Serb, notwithstanding a brief and non-fatal let down as he served out his earlier semifinal against Juan Martin del Potro, has been in magnificent form this week. He has also won his last ten matches against Berdych, nine of which occurred on hardcourts, and one on this very court, meaning that each is entirely pertinent. Consequently, Djokovic's only chance of winning tomorrow is if Berdych doesn't hit every ball as hard as he can onto the line. It is a good chance to have. That's why he's world number one.
Federer's return to number one after last year's Wimbledon was achieved on the back of a tremendous eight-title haul that had commenced after the US Open in 2011. It was always going to be difficult to reproduce that level, let alone to sustain it. The cruel beauty of the twelve month rankings system is that success only ever buys a player a year's grace, before that success must be reprised. Of the five titles Federer has had to defend since the 2012 US Open – Basel, Bercy, the World Tour Finals, Rotterdam and Dubai – he has successfully defended none. (Indeed, he hasn't won a title since the Cincinnati Masters.) After Bercy he relinquished the top ranking to Djokovic. If he fails to defend Indian Wells next week he could well cede the number two ranking to Andy Murray.