There were three ATP tour events concluded at various points this weekend. Individually they demonstrated certain principles in their own right, while collectively they offered yet more unnecessary proof that not all tennis events are created equal. Yesterday Novak Djokovic won his 36th title on a slick outdoor hardcourt in Dubai. A few hours later Rafael Nadal won his 52nd title on an Acapulco clay court that was mainly remarkable for being littered with the remains of David Ferrer. Both of these finals were enhanced by rambunctious capacity crowds. Meanwhile Ernests Gulbis has just claimed his third career title in Delray Beach, which surpassed itself by taking the unusual measure of not allowing any spectators in.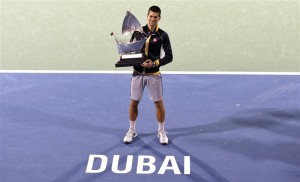 Dubai, Final
(1) Djokovic d. (3) Berdych, 7/5 6/3
If I can be candid for a moment – always a clear admission that a writer is being evasive elsewhere – finding new and interesting things to say about Djokovic winning tennis tournaments is not getting any easier. One must search in ever-more obscure nooks for original insights. A disinclination to repeat oneself can be crippling (which is presumably why so few tennis writers bother with such a stricture). Already my search parties are roaming into remote districts, while a team of bright young interns scours the historical record, on the lookout for abstruse references I might appropriate. So far their toils have proved fruitless. What more is there to say?
The alternative, once it becomes apparent that nothing new can be said, is to append this latest victory to all the others, and subsequently churn out some numbers, and see where we go from there.
It was Djokovic's fourth title at this event, meaning his armada of Dubai silverware almost rivals Federer's, which opens up some interesting dramatic possibilities. At the present rate of accrual they'll one day be able to recreate some of the more stirring encounters from the Hornblower novels, if not the Battle of Trafalgar. Indeed, after a weekend watching my daughter adroitly repurpose any object not nailed down into a Harry Potter prop, it occurs to me that the multifariousness of tennis trophies enables the more successful players to stage fairly elaborate recreations. Or, if not them, their offspring: I imagine Federer's twins will one day invade his trophy room in search of useful props. Any of the World Tour Finals trophies would serve as a decent Goblet of Fire – they'll need to remove those naff ribbons, and perhaps affix them to their bicycle handles – while Stockholm's silverware would make a perfect doomsday device for Dr. No. The Dubai runner-up dagger would be excellent for The Golden Child. Mikhail Youzhny is your man if you want to borrow one of those.
But back to the numbers. It is also Djokovic's eleventh straight victory over Tomas Berdych. Sadly, it was no more remarkable than the recent wins in Melbourne, London or Shanghai, all of which occurred on hardcourts, and none of which saw the world number one attain an unassailable peak. Berdych fought all his considerable worth, and repeatedly forced Djokovic to defend. Unfortunately Djokovic is the best defender in the sport, and that is the aspect of his game that seems immune to breaking down. You cannot allow Djokovic to attack, but obliging him to defend is merely to play into his hands. It seems an insoluble problem. It must seem that way to Berdych.
After the Shanghai semifinal loss Berdych had sounded resigned that even with his powerful (if limited) arsenal there was simply no way to break down or through the Serb. The increased speed of the Dubai surface enabled a few more of his shots to penetrate, as did a courageous early commitment to launching his backhand up the line, and he was characteristically more assertive than the similarly proportioned Juan Martin del Potro had been in the semifinal. But it wasn't enough, and Berdych's focus typically warped and buckled under compression. Some have sought to isolate the result in a few missed shots from the third seed – a simple forehand volley, a botched overhead – but that's being overly reductive. I don't see that the outcome would have been materially altered had the Czech made those shots. There were decisive moments for Djokovic as well. The difference is that he gains greater clarity when pressed, not less. It helps that he is generally more careful to make the key moments break points on his opponent's serve rather than his own.
The rest of Djokovic's numbers are no less impressive, for all that each merely represents an incremental increase on whatever it was on Saturday. He has now won eighteen consecutive matches, dating back to the Paris Indoors (his loss there remains his only one since the US Open final). He has also won thirteen consecutive matches against the current top eight, including every single member of the elite besides Nadal, who he hasn't faced. Perhaps the numbers are enough. They are, after all, astonishing.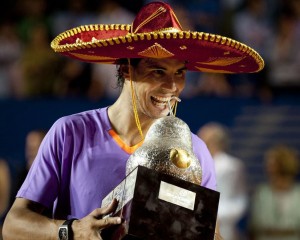 Acapulco
(2) Nadal d. (1) Ferrer, 6/0 /62
Had Djokovic faced Nadal in Acapulco a few hours later it might have been a different story, although that is debatable. He certainly would have provided a sterner test than Ferrer did. However, the story wasn't that Nadal defeated Ferrer. The real story, or stories – there are two – is that so many people believed Ferrer would win, and that his defeat was of a severity and thoroughness hardly glimpsed since the Romans sacked Carthage.
The word heading into the Acapulco semifinals was that this was Nicolas Almagro's big chance. If he couldn't beat Nadal now, a mere three tournaments into Nadal's allegedly long-term comeback, then he never will. With these conditions in place, I am now satisfied that he never will. As for the semi, so for the final: this was Ferrer's ideal opportunity to end a losing streak to Nadal on clay stretching back nine years. He won two games, which was at least twice as many as he deserved.
At the risk of sounding boastful, not to say prescient after the fact, I have insisted from the beginning that Nadal would commence winning tournaments from the outset. I was less surprised than exhausted when this turned out not to be the prevailing opinion. There has been endless talk about how hard it is to come straight back into competitive match-play. Many people point to del Potro. I would respond by pointing to Nadal, and then pointing out that he isn't del Potro, and that he is furthermore one of the greatest clay court players ever, contesting a series of small tournaments through South and Central America. People point to the outrageous upset to Horacio Zeballos in Vina del Mar, apparently forgetting that it was an outrageous upset, and these by definition do not reflect the norm.
The idea that Nadal was the underdog in this final was perhaps the most fantastical of all. Ferrer had been poor in seeing off Fabio Fognini in his semifinal, but even if he'd been playing well I doubt whether it would have enabled him to do more than challenge for a set or two, much like last year's Barcelona final. A head-to-head record this lopsided doesn't come about by accident, and it has little to do with luck. Also bear in mind that their last match was the semifinal at the French Open in 2012, in which Ferrer claimed just five games. He might conceivably have reached five games in Acapulco had it been best of nine sets. I confess that for all I'd expected a Nadal victory I hadn't expect it to be this comprehensive, not to say merciless. But nor did Scipio Africanus ease up once his legion had broken the gates.
At the start of last year I suggested that Ferrer had hit upon a sound method of pushing Nadal, which was to probe at his backhand until it yielded an error or a short ball. It was a tactic employed to great effect by Djokovic in 2011, as well as by Murray in Tokyo that season, and by Federer in Indian Wells a year ago. If the Acapulco final bears analysis on a technical level, that is probably the detail that matters: Nadal's backhand was impregnable, which it often is, and lethal, which is rarely the case. Normally on clay this doesn't matter too much, since Nadal's preternatural footwork allows him to scoot around his forehand. Quick as he is, though, this tendency does open up his forehand wing for any opponent willing to go hard cross court (Djokovic). Today, however, he remained content to use his backhand, and he used it to bludgeon Ferrer into the dirt. Denied anywhere safe to go, Ferrer's approach grew fragmented and entirely ineffectual.
After Scipio raised Carthage he salted the land, so that it was rendered unusable for generations. Prouder men than Ferrer have been dismantled less thoroughly, and never recovered. One wonders where Ferrer goes from here, though I suspect that he'll be fine, in his way. He'll simply return to self-assigned task, which is to beat those ranked below him. I'm not the only one to have decried the increasing consistency with which he capitulates to those above him (regardless of ranking, this includes Nadal), but I'm beginning to suspect he doesn't let it affect him that much – getting thrashed is simply something he has to get through. It's likely to be painful, but at least it's quick. Best get it over with, and move on. Afterwards his only explanation was exhaustion.
Nadal was afterwards overcome, shedding tears into his towel. I'm not a qualified mind-reader – more a dabbler – but I suspect this title meant more to him than Sao Paulo did. I don't know whether his overwhelming feeling was relief or pride. But I'm sure they were both present, just as I'm sure both gave way to pure delight when he was given an oversized sombrero and a large silver pear-like fruit, which I'm reliably informed is called a guaje. Whatever it is, he now has two of them, and can join Djokovic and Federer's dramatic reenactment society, although I'm struggling to imagine which movie they'll recreate. Pear Harbor?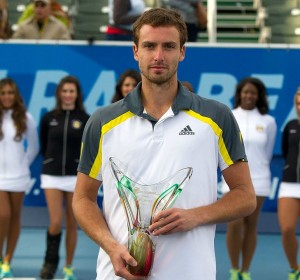 Delray Beach, Final
(Q) Gulbis d. Roger-Vasselin, 7/6 6/3
Nonetheless, it was Ernests Gulbis who won Saturday's most interesting match; a jaggedly-contoured semifinal with Tommy Haas, in which both men both men repeatedly scaled the peaks of quality only to hurl themselves into the surrounding abyss, thence to recommence the slow climb. Throw in an exploding helicopter and it was basically Cliffhanger. Haas was of course the grizzled veteran once incarnated by Sylvester Stallone, and as the third set wore on, it seemed inevitable that he'd prevail. Like John Lithgow, the affably skittish Gulbis was miscast as the villain of the piece, and in a surprise twist redeemed himself via a sequence of heroic holds, and a quite magnificent final tiebreaker.
It was Gulbis' seventh straight victory – having pushed through qualifying – which predictably inspired some to declare that he'd won enough matches in a row to claim a theoretical Slam, assuming one was to be staged as a best-of-three set event in Delray Beach for the benefit of about two dozen spectators. For the record, a theoretical Slam is not the same as a real one. Still, it was a harrowing slog: The Road, reimagined as Latvian vaudeville.
He defeated Edouard Roger-Vasselin in the final, handily but for a stumble as he endeavoured to serve out the first set. It was the first time two players ranked outside the top hundred had contested a tour level final since 2007. Gulbis moves to a perfect 3-0 in finals, with two of those coming at this event. He was characteristically forward in praising the place afterwards: 'It's my favourite tournament. It's the only tournament in the world I am winning.' The local chamber of commerce might want to enlist him as a cheerleader.
Then again, perhaps not. That was probably Gulbis' least controversial utterance of the week. He has, admittedly and typically, provided tremendous value, especially when it came to revealing his latest source of motivation: 'I was really getting pissed to see who's in the top 100. There are some guys who I don't know who they are. Some guys, I'm sorry, with respect — they can't play tennis.' His Delray Beach title propels him back among their ranks, landing him on No.67. He'll still have to qualify for Indian Wells this week, meaning that, for the time being, he's still obliged to toil away on the outer courts with more of those allegedly hapless nobodies he refuses to regard as his peers.