Australian Open, Quarterfinals
 (1) Djokovic d. (5) Berdych, 6/1 4/6 6/1 6/2
(2) Federer d. (7) Tsonga, 7/6 4/6 7/6 3/6 6/3
(3) Murray d. Chardy, 6/4 6/1 6/2
(4) Ferrer d. (10) Almagro, 4/6 4/6 7/5 7/6 6/2
Four men's quarterfinals have been contested in the last two days. The upshot is that we now know who the four semifinalists will be. Fuzzy likelihood has sharpened into weary certainty. I doubt whether many are surprised that the semifinals will be contested by the top four seeds, who are at present the top four ranked players in the world.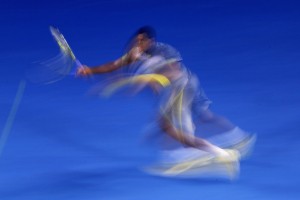 What might surprise you more is that this configuration is exceedingly rare in the Open Era. It hasn't occurred at the Australian Open since 2012.
Rare or not, it certainly seems to happen a lot these days – relatively speaking I suppose it does – which can mean it feels inevitable. But given the extravagant lengths three of the men went to in order to progress, we shouldn't assume that anyone's presence in the last four was guaranteed, excepting perhaps Murray. It's rather like watching someone navigate an exceptionally long tightrope. The longer they stay on, the more you may be lulled into believing it isn't all that difficult, when in fact it only becomes harder. The top four seeds are through, but they certainly didn't have to be.
Of the quarterfinals, two staggered in laden with baggage, and the other two didn't. The two that did turned out to be perfunctory affairs, while the others were dramatic five-setters, although the shape of the drama was radically different for both.
The gossip before Andy Murray's match was that his camp was furious that he hadn't yet been granted a night session on Rod Laver Arena. Today's match amply demonstrated why. It barely deserved a crowd. My prediction before the tournament began was that the Scot would face the most formidable quarterfinal opponent in Juan Martin del Potro; in fact I boldly asserted across several websites that the Argentine would win their match. Somehow I didn't predict that he'd fall to Jeremy Chardy in the third round. I'm sorry about that. That's my fault.
The quarterfinal is easily recapped: Chardy belted humongous and lavishly-prepared forehands, sliced a lot of backhands, and was completely outclassed. Murray wasn't spectacular, but I don't mean this as a criticism. A spectacle was hardly uncalled-for, and would have felt gratuitous, if not a waste of energy in the allegedly crippling Melbourne heat. He did what a true champion does, per Niki Lauda, which is to win going as slowly as he feasibly could. It was still fast enough to deliver a comfortable win. Now he'll get that treasured night session.
Nicolas Almagro's loss is an easy one to be ungenerous about, due both to the strained particularities of its unfolding, and because the capacity to deride extravagant choking has already been honed to a fine point by Sam Stosur. When it comes to poking fun, I'm in practice. The comprehensiveness with which Almagro failed repeatedly to close out victory could have only been rendered more excruciating had he actually held a match point. But he never did.
Almagro served for a spot in his first Major semifinal no fewer than three times in the first four sets. But he lost it in five, to his compatriot David Ferrer. Astute fans will recall last year's Davis Cup final, and that Almagro lost the deciding fifth rubber, while Ferrer, whose heroics had so far kept Spain alive, watched on helplessly. I'd assumed that was the lowest moment of Almagro's career, especially afterwards as he sat alone and for too long none of his teammates sought to console him. If Ferrer was that kind of guy, today would have constituted some kind of revenge. For the record, I don't think he is that kind of guy, and I doubt whether it crossed either man's mind at the end. But it crossed mine, if only as a reminder that two of the lowest moments of Almagro's career have occurred in rapid succession, and that a tumble into the crevasse was prefigured by a glimpse of the heights.
In fact, I'm not quite sure what did cross Almagro's mind. Afterwards he appeared too little chagrined by his fall, seemingly subscribing to the view that what's past is past. Naturally there were plenty of positive aspects to his performance. He did, after all, lead the world No.4 by two sets and a break, and recovered well from the disappointment of losing the third set. But the careening flair that repeatedly brought him to the precipice of victory entirely stalled when he needed it most, and instead of leaping desperately he tried to edge his way forward. It behooves him to think on why this might be so. Anyway, Ferrer is through to another Australian Open semifinal, to face Novak Djokovic.
Based on the on-court interview conducted immediately after the second quarterfinal, and the presser staged slightly later still, the main item of interest in Novak Djokovic's match was how he'd recovered from his titanic struggle with Stan Wawrinka two nights earlier. 'Very well' was the obvious answer, but the assembled press clearly wanted more, and wouldn't be satisfied until they got it. It wasn't enough to know that he'd partaken of ice baths. They had to know how many, and precisely who was present (turns out it was Lleyton Hewitt at least once).
There was, sadly, little to speak of about the match itself. Aside from some stiffer resistance from Tomas Berdych in the second set, there wasn't much to differentiate this encounter from the one between the same men at the same stage of the same event two years ago. That previous match was so unmemorable that I can barely remember it, for all that I spent its duration seated cheek-by-jowl with the Berdych Army. For those who've forgotten, the Berdych Army was an allegedly lovable coterie of larrikins whose entire act consisted of painting the letters of the Czech player's name on their torsos, and yodelling shoddily arranged pop medleys in ragged unison. I can remember the incessant chanting – on television they term it 'atmosphere' – but little of the actual match beyond the score, which as I think had a six in it.
What had seemed clear that night, and has since come to define what we may generously term their 'rivalry' is that Berdych's defensive capabilities are limited, while Djokovic's are not. Furthermore, although Berdych's firepower is immense, his arsenal is relatively small. For example, his mighty forehand is considerably mightier when directed cross-court than up the line, and his ability to create angles is questionable. His second serve neither kicks nor bites, and slots neatly into the returner's strike zone. Djokovic's defensive skills are already unworldly anyway, but he reads Berdych's game so well that he remains impregnable even when earthbound. In other words, the top seed's B-game is generally good enough to deal with Berdych's best, and last night the Serb brought his A-game, which meant that as well as defending desperately he was pummelling his opponent without mercy. As in Shanghai, when Berdych confessed he simply could find no way through Djokovic, it felt like a mismatch at a fundamental mechanical level.
Jo Wilfried Tsonga, on the other hand, is more creative than Berdych on attack, and, being a superior athlete, also defends with considerable virtuosity. I am inclined to agree with Jim Courier, who repeatedly stressed that Tsonga is the only player around his ranking who combines these attributes. This isn't to say he lacks shortcomings. His middling results over the last year or so aren't entirely contingent upon bad luck (he is 1-16 against top ten opponents since the start of last season), and nor was his loss tonight, for all that he was the superior player for large parts of the match.
For longer stretches than I would have believed possible Tsonga reprised his performance in the 2011 Wimbledon semifinal, when he recovered to inflict Roger Federer's first ever defeat from two sets up at a Major. As he had that day, Tsonga's considerable presence tonight caused his half of the court to shrink alarmingly. There were times when Federer could find no avenue of attack that wasn't already blocked off, usually by artillery. Meanwhile Tsonga was lethal whenever he could get his feet set, off both forehand and backhand, while his returns – generally the weakest part of his game – landed not only miraculously in, but searchingly deep. Federer admittedly did not serve well, both by percentage and placement, and ended up with few aces, especially compared to his opponent.
Federer was compelled to fight, and to take what few chances he could get. Even then the chances were often yielded back. Several times in the first four sets his grip on service breaks proved rather too relaxed, especially in the face of a fearless and bold opponent. The second seed held four match points on Tsonga's serve at 2/5 in the fifth, but failed to take any. The sighs of Federer's legion fans could be heard across the globe, a vast pained exhalation that accelerated the melting of Greenland's permafrost. Normally so secure in closing out victory, the prospect of Federer serving out the match seemed like the diciest enterprise since, well, Almagro the day before. It had just been that kind of night. From anywhere, at any point, Tsonga remained dangerous until the very end.
As it happened Federer did serve it out, and interviewed by Courier immediately afterwards was even more ebullient than usual, undoubtedly owing to a profound upwelling of relief. He'd known, as we all had, that this match hadn't been over until the last overhead landed in and Jake Garner finally called it. He moves through to his tenth consecutive Australian Open semifinal, where he will play Murray for the fourth time at a Major, but for the first time before the final.