So far this has been a decidedly strange first week of the season, but that's nothing unusual. It invariably is, as the flecked rust accrued in the off-season – 'December' according to the Gregorian calendar – is frantically scraped and scoured away in desperate preparation for the Australian Open. This is the week when the elite men traditionally conclude their warm-up parade, since in recent years the idea that they'd go on parading into the week before a Major has grown absurd.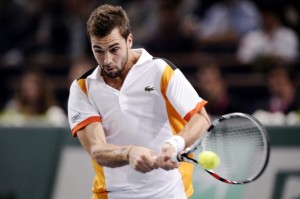 After all, they have less rust to remove than the others, owing to a briefer off-season, well-lubricated joints and a predominantly Kevlar and stainless steel construction.
In any case, for the top four the week before any Major is largely devoted to media commitments, which run from the earnest to the zany as their personalities allow. However, if the request is made early enough they are usually given special dispensation to practice, but only on the condition that television cameras are present, and that at least half the practice session is spent shirtless. Only Roger Federer is exempt from this. He is instead contractually obliged to model the more bombastic numbers from Nike's RF range. The strangeness of this first week has therefore been heightened by absences at the top, especially of Rafael Nadal and Federer.
We almost lost Andy Murray last night in Brisbane. After a dropping the second set to John Millman the Scot faced a break point early in the third, but eventually pulled through. One could call Millman fast-rising, and indeed his efforts this week in Brisbane will see him soar nine whole places to No.190. He was certainly gallant, even if inevitably overmatched, and the Australian Open's decision to award him a wildcard looked entirely justified, especially when, after failing to serve out the second set, he defied reasonable expectations of a collapse by re-breaking Murray to love. With Ivan Lendl also absent this week, Murray was free to swear at his player's box to his soul's content, just like old times. He was also very poor on return, especially on the forehand. It looked frankly rusty.
Novak Djokovic is technically playing the Hopman Cup, but has maintained a relatively muted presence, owing partly to jet-lagged jadedness, but mostly because the entire event has gradually repurposed itself into an extended love-in for Bernard Tomic.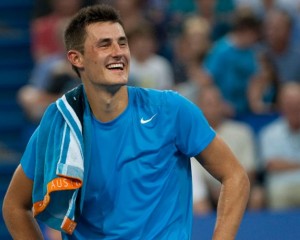 With every available spotlight now trained steadily on the young Australian, the other participants have resigned themselves to the shadows. I'm sure they don't mind, since exposure wasn't the purpose of their visit. Match-play was.
On the other hand, the domestic media's rapturous adoption of Tomic is entirely understandable, and probably justified. Through three matches, against Tommy Haas, Djokovic and Andreas Seppi, Tomic has only dropped a single set. Australian tennis has had little to crow about in the last eighteen months, and in each of his matches he successfully combined the type of skill we hoped he possessed with the determination we feared he congenitally lacked. Then again, it's only Hopman Cup, and not an official tournament. It's hard to know quite what to make of that.
Indeed, the extent to which the Hopman Cup's unendorsed status truly matters is a nice question, although it's one I'll return to another time. For now I'll say that too many pundits have fallen over themselves to dismiss Tomic's victories, especially the one over Djokovic, since it's 'just an exhibition'. After all, they contend, no one raised an eyebrow when Thomaz Bellucci beat Federer in Sao Paulo last month. Despite that result, Bellucci's chances of claiming the season's first Major languish somewhere beneath Grigor Dimitrov's, at least according to the betting markets. Yet Tomic's results in Perth have seen his odds shorten considerably.
Some have sought to ridicule this, and have taken to pointing out loudly, sarcastically and often just how ludicrous it is that Tomic has been accorded favouritism for the Australian Open. Indeed, it would be worth ridiculing, if anyone really believed he had a realistic shot. But I don't think anyone does believe that, even in the Australian media, who are singing hosannas but aren't precisely chanting La Marseillaise. Certainly few people believe it enough to wager on it. Tomic's odds have shortened, but he's still at $51. This places him equal with Tommy Haas, but behind everyone in the top ten apart from Janko Tipsarevic and Richard Gasquet.
Really, does it matter? No one outside the top ten has any chance at winning the Open, and it is supremely unlikely that the winner won't be ranked in the top three. And yet some knowing tennis commentators persist in going on about it, as though we're all too obtuse to take in this intractable reality.
Many tennis aficionados are not at their best, although might well be at their most representative, when they're hell-bent on making a point, and they won't be deflected by the fact that no one disagrees with them. It is ever thus with self-fashioned iconoclasts. The last thing they want is to be agreed with.
Speaking of which, there have been no shortage of curious moments elsewhere this week, in spite of (or likely because of) the top four's reduced presence. It's hard to imagine a more iconoclastic player than Benoit Paire, and last night in Chennai he proved that when he's firing on all eleven mis-matched cylinders there are few players better. He saw off Dudi Sela 6/1 6/0 in forty minutes. Nikolay Davydenko tarried a whole ten minutes longer and dropped an extra game in thrashing Simone Bolelli one and one in Doha. Davydenko has yet to drop serve this week, and last night saved every break point he faced, which was zero. Throughout the week he has looked uncannily like his old self, the perfectly calibrated genius who romped to the Doha title three years ago, and thereby established his ill-fated favouritism for the Australian Open, where it all went horribly wrong.
Lleyton Hewitt is always going to be rusty, given that his body is mostly held together by metal pins, which suggests that whoever came up with his nickname was reasonably prescient, if not enormously original. Rusty yesterday looked over-matched by Denis Istomin, whose new look might well be the least anticipated development in a strange first week.† Elsewhere in Brisbane Dimitrov justified the bookmakers' preference for him over Bellucci with a masterful dismissal of second seed Milos Raonic in straight sets, neither of which featured a tiebreak. It was a poor advertisement for the bye system, whereby the higher seeds are afforded direct passage into the second round. Raonic looked decidedly oxidised, though there's no reason to think that even rust-free and lubricated he would have won, although he might have forced a breaker. Dimitrov was magnificent, especially on serve, off the ground and on return. One very much got the impression that this is a rivalry that will sustain men's tennis in years to come, assuming Dimitrov can learn to play like this more than three times a year. Given that the Brisbane International – it's 'world class' – is officially endorsed by the ATP, one wonders whether the Bulgarian's win over Raonic counts for more than Tomic's over Haas, Seppi and Djokovic.
† A friend of mine finds that Istomin reminds her of a refrigerator, which she admittedly struggles to reconcile with his Botticelli curls. I look forward to hearing how these glasses slot into the metaphorical mix.