'Novak Djokovic fires a massive warning shot across the Australian summer of tennis.' Thus intoned Channel Ten's Mark 'Howie' Howard, celebrating the world No.1's dominance by fatally torpedoing a naval metaphor, and perfectly evoking countless high school English classes in which too little attention was paid.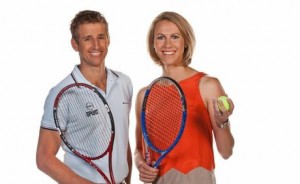 More than the skittering squeak of high-performance footwear on plexicushion, the sound of the Australian summer of tennis – this phrase is surely trademarked – is of the English language suffering public humiliation and torture, a sort of Abu Ghraib for grammar.
Howie, who in real life is undoubtedly older and less frighteningly cheerful than he appears on air, this week hosted Channel Ten's Hopman Cup coverage, which we were reliably informed was relayed to no fewer than 'eighteen different corners of the globe'. It was a job previously assigned to Anthony Hudson, who was replaced after he proved unable to overcome a crippling stammer whenever Ana Ivanovic ventured too close. It was her or him. The upshot was that eighteen corners of the globe were stuck with Howie.
Cruelly, we were stuck with him in commentary as well as the studio. Normally the network guy is confined to the host's chair, and isn't heard from during actual play. Sky Sports, for example, doesn't suffer Marcus Buckland to leave the studio, perhaps ever. Yet Howie was right in there with Fred Stolle and Darren Cahill, and it was never explained why. He certainly didn't know enough to justify his spot, especially alongside Cahill, who seems to know almost everything. Perhaps that was the point: the network was concerned that the viewing public would find Cahill's rarefied expertise intimidating, and Howie's real task was to provide a grounding effect lest Cahill ascend to abstruse heights. ESPN works the same trick by surrounding Cahill with insufferable know-it-alls. Arthur Conan Doyle worked the same trick by pairing Sherlock Holmes with Watson.
The newest version of Sherlock Holmes is called Elementary – a term that Holmes actually used rarely, and never once coupled with 'my dear Watson' – and stars Lucy Liu as Holmes' humanising Boswell. I only bring this up because Elementary is about to debut on Channel Ten, a programming miracle which helpless viewers were informed of at nearly every change of ends. The dire practice whereby commentators are obliged to comment on these mid-match network promos has been around for over half a decade now, although it has defied the normalising effects of time by never growing any less naff and awkward. This practice will achieve an ecstasy of inanity in Melbourne, as the visiting Jim Courier thoughtfully endorses Australian television shows that he has never heard of and will never see. The theory is that most viewers have built up defences against regular forms of advertising, and that by having the commentators talk about it these defences might be circumvented. The practice is that it is awful, and vies mightily with the pre-match interview for the worst such innovation of recent times. (In Perth the pre-match interviews were conducted by Craig Willis. If he couldn't make something of them – and he couldn't – then no one can.)
Stolle and Cahill apparently feel the same way. They never once commented on any upcoming shows. But Howie did. This was surely another of his assigned roles, and one he performed with devastating exuberance. He has seen Elementary, apparently, and eagerly assured viewers that they're in for something 'awesome out of the box'. Otherwise he mostly ushered in commercial breaks, and demonstrated that lead balloons will plummet no matter how lightly they're delivered. At least once per match Howie's well-meaning queries would encounter utter silence from his fellows in the booth. Maybe they were just trying to figure out what he meant. In between matches Howie returned to the studio. There he was invariably joined by Alicia Molik, and watched with the rest of us as she strove valiantly to figure out which camera she should be talking at.
Over on Channel 7, which is covering the Brisbane International, Howie's role has been fulfilled by Basil Zempilas. Whereas for Howie the use of English is less an inconvenience than an impenetrable mystery, Zempilas fancies himself to be an incorrigible wordsmith. Voiceover puns are his specialty, delivered in a knowing tone that suggests he is ostentatiously winking as he says it, and nudging whoever has the misfortune to be seated next to him. Each bon mot is followed by a laden pause, pregnant with an implied but unsaid 'geddit?!' After Alex Dolgopolov defeated Jarkko Nieminen, viewers were told how rapidly Dolgo had 'crossed the Finnish line.' Footage of Istomin toiling in the player's gym showed him 'warming up for his Australian Summer of Denis'. Thankfully Nikolay Davydenko's recent heroics occurred in Doha and not Queensland, otherwise there is little doubt we'd be invited to marvel as he was 'Russian through his matches'. Praise be for small mercies.
The actual commentary has mostly been supplied by John Fitzgerald, generally assisted by Geoff Masters or Todd Woodbridge. Fitzgerald conveys a very strong impression of crippling unfamiliarity with the players he is talking about. There is no doubt he knows plenty about the sport itself, and as a former world No.1 doubles player, who claimed thirty doubles titles (including seven Majors) and six singles titles, his achievements speak for themselves. He also captained Australia to the Davis Cup title in 2003, and continues to be very active in junior development. His credentials are impeccable. But one strongly suspects that aside from Wimbledon and Australia's Davis Cup ties, he doesn't watch tennis at all outside of January.
Fitzgerald clearly hadn't watched David Goffin play before this week, which is surprising since it was Goffin who knocked Tomic out of Wimbledon (thereby bringing him to John Newcombe's baleful attention). He pronounced himself enormously impressed by the young Belgian. Grigor Dimitrov – who Fitzgerald persists in calling 'Dimitriov' – is apparently also a recent discovery, although he did confess that he'd already heard from Cahill that the Bulgarian was one to watch out for. But knowing about Dimitrov hardly requires Cahill's insider knowledge. This guy isn't a trade secret.
Anyway, having now seen Dimitrov at work, Fitzgerald wasn't slow to anoint him as 'the real deal'. Unfortunately, he hasn't been able to add much else. Yesterday, as Dimitrov overcame Marcos Baghdatis in a gripping semifinal, Fitzgerald delivered up a level of analysis that could have only been more unremarkable had it in fact gone unsaid. First he informed us that Dimitrov seems to have modelled his game on Roger Federer's. A little later he proffered the astonishing insight that Rafael Nadal's crosscourt forehand causes particular issues for Federer's single-handed backhand. He went on to add that Baghdatis should therefore attempt something similar against Dimitrov, since Baghdatis and Nadal are more or less interchangeable. Lastly came the rather astounding suggestion that drop shots are more effective on clay.
Of course, commentators are professionally required to repeat the same information day after day. It is part of the job. One cannot assume that today's listeners were yesterday's, and the truth is that tennis is not so multifarious that it is possible to generate endless sparkling insight. Furthermore, it's not as though anything Fitzgerald said was wrong, or that he was wrong to aim his comments at a demographic who legitimately aren't aware that drop shots are more efficacious on dirt than cement, yet whose use for this knowledge will never exceed relaying it at a dinner party. The issue with Fitzgerald's delivery is the unmistakable tone of wonder in his voice. It really sounds like he is working these things out even as he says them. For all that one cannot question his qualities as a player or coach, these aren't the same qualities that are required to be a great commentator.
Sometimes this can work in your favour. Having readers or viewers accompany the narrative voice on its journey is a staple of nearly all fantasy, from The Divine Comedy to Star Wars. It allows a story to unfold in a reasonable way, it invites us to share the protagonist's wonderment at wondrous things, and avoids unnecessarily clunky exegesis: it's hard to have a character who knows too much reveal it in a way that isn't gratuitous. Sports coverage can successfully pursue a similar effect.
Last year during the Australian Open semifinal between Nadal and Federer Channel 7 deployed Pat Rafter in the stands, so that he might periodically relay his impressions to those at home. His impressions, primarily, were of unabashed wonder. Rafter confessed  quite charmingly that he didn't actually watch much tennis, and that he'd never before sat courtside while Federer and Nadal tilted at each other at full pace. His disbelief at their prowess was palpable, and perfectly conveyed to viewers just how impressive the spectacle was. Only once did Rafter offer any technical analysis, which was that Nadal's backhand was at risk of breaking down if Federer pressed it any harder. He then revealed that this insight had been provided by Darren Cahill, seated in the camera pit beside him.
Unfortunately, this only works for the colour guy, and it worked perfectly when the colour guy was a two-time Major champion. But it doesn't work for the main commentators. The main commentators have to know their stuff, otherwise the people listening who do know their stuff will easily spot the difference. Admittedly, the majority of the audience tuning into any sports telecast isn't going to know very much at all, especially at a Major, and that is completely fine. Deep knowledge isn't a requirement, and the barriers to spectating are very low. But I do suspect that the qualitative difference between a great commentator and merely a great ex-player is somewhat apparent even to the uninitiated, even if it isn't always apparent to the networks that employ them. Cahill was excellent for a week in Perth speaking nothing but sense. Robbie Koenig and Jason Goodall were typically accomplished in Doha. Meanwhile in Brisbane even amateur physicists were wincing when Fitzgerald remarked that Dolgopolov was 'hitting the ball with a lack of trajectory'.