Basel, Final
(2) del Potro d. (1) Federer, 6/4 6/7 7/6
Despite some less than divine form, Roger Federer had reached a seventh consecutive final at the Swiss Indoors in Basel. There he was fated to face Juan Martin del Potro for the seventh time this year, having already won the other six meetings. If he'd won today's final he would have tied John McEnroe on 77 career titles. For fans of Federer – and the nine thousand souls thronging the St Jakobshalle were assuredly that – the number seven must have assumed an almost biblical significance. Not that the locals require much prompting to think about Federer in those terms.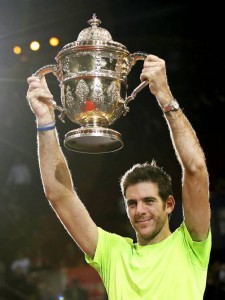 In the end, as he was defeated by the eminently deserving del Potro, there was a kind of uneasy silence. Was this the end of days? Probably not, but if it wasn't revelatory, it was perhaps revealing. These two are the reigning masters of the great indoors, and Federer had finally tasted defeat in the seat of his power.
The way Federer's presence permeates Basel echoes the way Mozart's saturates Salzburg, with the difference being that Federer is still alive (so, for that matter, is Basel) and therefore gets to enjoy it, assuming that is possible. (There is also the small difference that Mozart never produced much of note in Salzburg, at least by his own heavenly standards. Idyllic as it is, he couldn't wait to get away, and he never returned. Naturally the locals didn't realise what they'd lost until well after he'd departed and, indeed, perished. That was the way of things back then, with the internet still in its infancy. A man became worm-food well before he was canonised, and women were obliged to wait longer even than that. Of course, Salzburg, now the world's prettiest and kitschiest museum, is determined to make up for lost time. Early neglect probably explains why their regard for Mozart now borders on the fanatical. That famously homely profile stares down blankly from every available vantage. An entire industry exists around the practice of moulding chocolate into his putative likeness: with the Mozartkugeln being merely the most notorious. Lindt is destined to work similar magic on Federer. Sometimes adulation reaches a sufficient ecstasy that only confectionery can express it.)
In the end, or at the beginning, Mozart left for Vienna, for him the centre of a world to which all roads necessarily tended. Two centuries later and the world has no centre. Federer conquered all of it. The fact that he keeps returning to Basel and then doing some of his best work while there probably explains part of the adulation. He is adored everywhere tennis is played, and famous even where it isn't, but he never forgets where he's from. Basel repays him with unstinting regard and an ironclad guarantee that no one will ever want for apparel emblazoned with his logo. One got the sense this last week that he found it all rather exhausting, and his performances on court gave a very strong impression that had it been any other 500 level event he would have given it a miss. It's an impression that was only reinforced by his announcement that he won't defend his title at the Paris Indoors next week, thus conceding the year end No.1 ranking to Novak Djokovic.
Del Potro, on the other hand, is raring to go. Indeed, he's been raring to go for quite some time now. He won Vienna last week, and was mostly untroubled on his way to the final this week. The ATP said he'd 'eased his way' to it, which is hard to argue with, since the term can mean anything. (I'm easing my way to the end of this post, with 'easing' here being synonymous with 'meandering drunkenly'.) Anyway, having attained the final, del Potro had every reason to stop raring quite so lustily. He was facing the world No.1 on his home court, whom he hadn't beaten in three years. But it was the raring Argentine who started stronger, while Federer was flat and pensive, recalling his loss to Murray in Shanghai, and sternly contradicting the Sky Sports commentators who'd been breezily convinced he would get up for the final, as though this is an intrinsic characteristic of all champions all the time.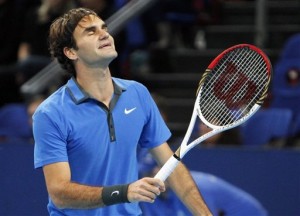 Despite, or perhaps because of the locals, who never gave off cheering his every won point, Federer looked like he'd prefer to be lounging somewhere warm and coastal. It was del Potro who seemed happiest to be there.
The first set ended 6/4, and to be fair the defending champion only struggled in the service game in which he was broken, although the term struggle belies the ease with which he was broken. But del Potro served magnificently, and was never in trouble at all. Even second serves, never his sturdiest stroke, were finding the lines. Meanwhile the forehand, which is his sturdiest stroke, was justifying every comparison to artillery, no matter how trite. He even avoided his usual trick of being endlessly flummoxed by sliding serves to the deuce court. It was an almost perfect set from del Potro, proving that sometimes even Mozartean grace is powerless before sufficiently Beethovenian power.
The second set was tighter, mainly because del Potro began to lose rhythm on his first serve. The sforzandos started falling late. Federer earned an actual break point. He'd clearly forgotten how valuable these are indoors, despite the earnest advice of his 9,000 closest friends, and quickly discarded it. Mark Petchey made the convoluted but correct point that Federer was putting himself under too much pressure now that he had an actual look at more returns, with the net result being that he wasn't making many more of them than before. Leif Shiras concurred. Some 15,000 miles in the future, my clock now read 1.30am, and outside my front window the world's tardiest roadwork crew was getting in some quality practice with a jackhammer. I was thus in no state to argue. Nevertheless, both players held fairly comfortably until just before the tiebreak, when Federer held fairly gingerly, which the Sky commentators never stopped believing had been his opponent's best chance. But hold Federer did, and the tiebreak ensued.
This, it should be said, was not del Potro's finest tiebreak. In fact, even Federer said that afterwards. Naturally given the protagonists, there were some decent shots, and two of these saved set points for del Potro. Federer won a long rally on the third set point, gave a shout and marched to his chair. The crowd gave over to delirium, and we were into the deciding set. Barry Cowan chimed in with the reminder that Federer had won more matches from a set down than anyone else this year, with the number being twelve.
Del Potro fans spontaneously united in wishing he'd shut his mouth. When Cowan then brought up the Roland Garros quarterfinal, they were doubtless willing to shut it for him. They were justified in feeling that their man had been the better player all day, but that Federer had escaped.
Nonetheless, Cowan's words came to feel prophetic when Federer continued to hold easily but fashion some inroads in the Argentine's service games. There were more break points. The first time this happened del Potro silenced the crowd by holding with three exceptionally mighty forehands, each more like a howitzer mounted on a bazooka-firing cannon – a heavily classified super-weapon called a howzooka, probably – than the last. His next game featured three more break points. Sadly, the world No.1's renowned capacity to insulate his mind from its surroundings meant that he was still no wiser on what to do with these. The experts on Sky, who persist in calling them 'break point opportunities', believed that this had constituted Federer best chance. In this they proved correct.
The eventual tiebreak provided Federer with a fitting platform to both repay his opponent for that execrable second set effort, and to finish off the week as he'd started it, which is to say not terribly well. It commenced well enough with a forehand winner and an ace, but from 2-2 Federer became patchy and prone to mistiming, while del Potro remained solid, and forcing where it was required. Three match points came, although only one of these was required as Federer's last forehand fell wide. What became of the other two match points no man can say, even Barry Cowan.
Once Hawkeye had confirmed the final out call, del Potro gave the most muted, sweet and appropriate victory celebration imaginable, and embraced Federer at the net. After shaking Lars Graff's hand, he crossed himself and raised his arms briefly aloft and clapped. The crowd, initially stunned to discover that match point isn't merely a structural precursor to Federer winning, were by now standing and cheering.
Del Potro is pretty popular, too, and deservedly so. Unquestionably he had deserved to win this title, given the way he has played this week, and the way he conducted himself today. Indeed, I'd remarked as that final set looked to be slipping away that it would have felt supremely unfair had he somehow lost.
But nothing in this sport is given, least of all beating Federer in a Basel final. This one was earned. This is del Potro's biggest title this year, and indeed his most substantial since the US Open of 2009. I confess to experiencing a profound sense of satisfaction, infused by a healthy portion of exhaustion, as he held the trophy overhead, the only trophy in the entire European indoors that doesn't inspire immediate derision. He will arrive in Paris, and perhaps London, as the hottest indoors player on tour. Indeed his only indoors loss this year came to Federer in Rotterdam back in February. On the other hand, this is Federer's first loss indoors (hardcourt) since falling to Gael Monfils in Bercy in 2010. In the last three seasons he has accrued seven titles on this surface, and lost only twice. Both men have proven their mastery in the bright shadows of February, October and November. Notwithstanding the intervening Paris Masters, how these two fare in London's O2 Arena will be of urgent interest, assuming Federer is rested, and del Potro hasn't played himself to death.