Vienna, Stockholm, Moscow, Finals
There were three ATP finals played almost concurrently last night, or yesterday depending on your time zone of preference. All of them took place in continental Europe, and each of them was played under a roof. Lest there was lingering doubt, this is why it's called the European Indoors. Given their near simultaneity, watching all three was theoretically problematic, but made eminently more possible by sufficiently robust coffee and the gallantly straining internet connection at my panoptic command centre in Melbourne, which I like to pretend is really a super-villain lair in a hollowed-out volcano. It was the middle of the night, and everyone else was asleep. I was free to pretend as I pleased.
Sometimes I pretend my dog (Richter) is my chief henchman and enforcer, but with a secret heart of gold. Anyway, Juan Martin del Potro won in Vienna, Tomas Berdych in Stockholm, and Andreas Seppi in Moscow. They beat Gregor Zemlja, Jo-Wilfried Tsonga and Thomaz Belllucci, respectively. That's all you really need to know. The rest will be padding.
Stockholm gave us the best of the finals, although Tsonga's partial collapse from a set and 4/2 wasn't the most noteworthy of the capitulations. That accolade he cedes to Bellucci, whose absurdly wide eyes went even wider still when it came time to serve for his first hardcourt title in Moscow. He was broken back, but then broke again. By the time he was broken back for the second time he looked like Gollum, though with a tan and better hair. Seppi took the tiebreak pretty comfortably, and was far stronger in the final set, when Bellucci's first serve more or less disappeared. It is Seppi's third career title, and second this year. Most curiously, he was won all three of his titles on completely different surfaces, defeating a stroppy Janko Tipsarevic on grass in Eastbourne, a typically sporadic Benoit Paire on clay in Belgrade, and now on indoor hardcourt. The Italian rises to No.22 in the rankings, and in the, wait for it, Race to London. With only two weeks remaining of the regular season, I am confident in declaring Seppi might not quite make it to England this time round.
Both Berdych and del Potro almost certainly will make it, and there's every chance Tsonga will, too. But ATP is taking nothing for granted, and I suppose it's in their interest to sustain the alleged drama of qualification for as long as possible. Thus we learned that Nicolas Almagro remains a mathematical chance of qualifying, assuming he posts some frankly amazing results in Valencia (which is possible) and Bercy (which isn't). The players who are in contention are presumably sick of being asked about it. Reciting disinterestedly from the ATP Media Handbook (22nd edition), Berdych remarked that 'London is always a goal every season. You have to play well the whole year to qualify.' Rafael Nadal has of course proved that this is false. The Spaniard has qualified fourth, and hasn't played since June.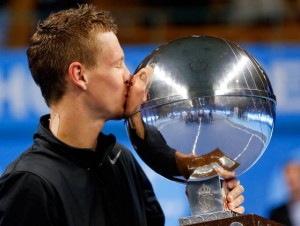 There was also a period from Roland Garros until the US Open when Berdych himself played like rubbish. But I suppose his point stands, the point being that the ATP has probably asked him to sell the merits of the Tour Finals when asked.
Del Potro had earlier chanted from the same hymnbook after he'd finished off Gregor Zemlja in Vienna: 'I also look forward to London. I'm looking better to qualify there. We have two big tournaments coming next week.  They have the chance to get points also, so it will be very interesting to see how we are going.' It is the universal language of the sports star, in which nothing of interest can be said, even by accident. It's a factory-packaged lexicon designed to ensure that even nice young men with hearts of gold speaking in their second language can all sound mostly interchangeable. The conceit of the interview is that it helps us connect with the players, whose astounding physical gifts can otherwise make them seem remote. The irony is that they have learned the hard way that it is in their interests to all sound more or less the same. Connecting with them is the last thing that is likely. You could take any of the winner's statements from any of yesterday's finals, and with only minor alterations there would be no way of knowing who said what.
Luckily, these gifted men are paid the big bucks to do more than talk about tennis. They also play it, and on court they're permitted far more scope for self-expression. In the Vienna final del Potro as ever chose express himself via blasted forehands and huge first serves up the T.
The only dicey moment came early in the first set when he dropped serve, but after Zemlja essentially broke himself back del Potro's sailing grew relatively plain. Still, it was a tremendous week for the Slovenian, who qualified and then beat Tommy Haas and Tipsarevic on his way to the final. If you haven't seen Zemlja play he is well worth a look, with an attacking yet utterly unglamorous disposition and a decent turn of speed. He'll go back to expressing himself on the Challenger circuit for the rest of this year, but I cannot doubt he'll feature more regularly on the main tour in the years to come. His new ranking is No.50.
Here in my fearsome command bunker, my burly henchman, or henchdog, had long since retired to his bed, and my coffee had grown cold and, it turned out, even less drinkable. I love the European Indoors – it's in Europe, and it's indoor – but that squalid ache of exhausted eye-balls and the tart tang of too much caffeine was wearyingly familiar. It's the feeling all super-villains experience before they too retire to sleep.