Toronto, Semifinal
(14) Gasquet d. (8) Isner, 7/6 6/3
By defeating John Isner in straight sets in today's Toronto semifinal, Richard Gasquet has reached his first Masters 1000 final in six years. As ever, a long gap affords us a long view, and an opportunity to reflect on how much has changed over that time, and to marvel at how little hasn't.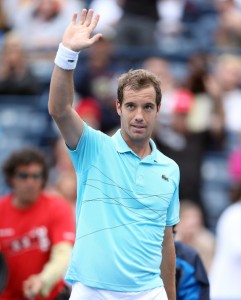 The last time Gasquet made it to a Masters final Roger Federer was the world No.1. Think about that.
I will leave to others the broad question of whether the world is a better or worse place than it was six years ago. This being the internet, I imagine a hastily wrought opinion on the matter won't be hard to come by, although the opinion itself will depend on the particular rock you overturn. The Athenian shopkeeper labouring under austerity measures undoubtedly believes that our best days are behind us, but then so does the knuckle-dragging militiaman camped out in the forests of Oregon, incensed at his president's determination to provide healthcare to those who presume to need it. Investment bankers must look back fondly at those heady days when their seven figure bonuses weren't scrutinised before being handed over anyway. On the other hand, Justin Bieber's innumerable fans may well insist that life has never been better: their idol maintained a relatively subterranean profile in 2006, and generating useful content across his various fan-sites had been a daunting task before he revolutionised music by singing three minute songs about girls.
In August 2006 Gasquet was only twenty-years-old, and still on the make. He had gambolled into public consciousness the year before when, as an eighteen-year-old, he beat Federer in Monte Carlo, before going down fighting to Rafael Nadal in the semifinals. He followed that up by making the Hamburg final the following month, where he lost to Federer. Although he was young, it's important to remember that back then eighteen wasn't considered quite so embryonic as it is these days, when we're obliged to regard 23-year-olds as up-and-coming, even as they struggle to survive qualifying. Indeed, by the time Gasquet reached the final of the Canadian Open in 2006, and again lost to Federer, the prevailing sentiment was that his pre-ordained ascent to the top of the sport was taking rather a while. A year later he made it to the semifinals of Wimbledon, and finished 2007 ranked No.7. This was taken to be another very gradual step in the right direction. We realised the sky was the limit, but could he please get a move on?
Justin Bieber had well and truly arrived by March 2009, and the world we'd known and cherished had vanished. People with no credit rating and no assets beyond a pickup truck were suddenly finding it hard obtain mortgages, while those who'd gotten in earlier discovered their mortgages to be 'sub-prime', and that their houses now belonged to the bank.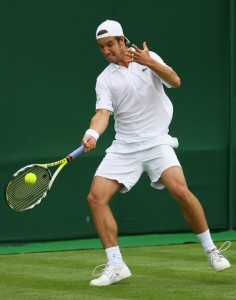 Gasquet, likely driven wild by Bieber's lascivious exhortations, kissed a woman on the lips in a Miami nightclub, and was later interested to learn that her lips had been spiked with cocaine. His subsequent ban didn't help his career, but really he'd been on the slide for some time already. He'd exited the top ten almost a year before that, and hasn't been back since. His career was already becoming sub-prime.
The five years since Wimbledon 2007 have mostly witnessed a gradually downward revision in our expectations for Gasquet. Now 26, he has finally shed the Baby Federer tag (although it's probably fairer to say that it was forcibly taken from him and grandly bestowed upon Grigor Dimitrov, with predictably crippling results). It takes a special calibre of talent whereby you can still be dubbed talented after so long on the tour, just it requires that that talent has mostly gone unrealised. Realising your talents tends to make you accomplished, and Gasquet is hardly that. The question rages in France over who is the most talented out of Gasquet, Jo-Wilfried Tsonga and Gael Monfils, and whose perennial underperformance has therefore let the nation down the most. It's probably a question of taste, but I don't think I'm courting controversy by saying that Gasquet has achieved the least. The reasons why this is so have seen ample discussion, with the main culprits being his weirdly-gripped forehand, his wavering commitment, his fitness, his remote court-positioning, and his patchy application in big matches. It's quite a lot to have working against you, even with all the talent in the world, and the world's prettiest backhand. On balance, a ranking perpetually in the teens feels about right.
Gasquet spent the last two rain-marred days in Toronto overcoming these hitherto unmanageable issues, or at least proving that a sufficiently lethal backhand really can render them irrelevant for a time. In a touch over twenty-four hours he saw off three current or recent top tenners in Tomas Berdych, Mardy Fish and John Isner. By the end of his quarterfinal against a waning Fish he'd entered that ridiculous mode in which he cannot possibly miss the court, the mode that used to help make the Federer comparisons feel a little less laboured. He didn't quite attain that level in today's semifinal – Isner's arrhythmically lurching game hardly allows it – although he was very good, and served superbly. He survived the match without facing a break point, although this was also a testament to Isner's returning which, to put it mildly, needs work.
For all that verse epics are composed in praise of Gasquet's backhand, the true barometer of his form has always been the forehand. At his worst he appears incapable of regulating its depth, which dovetails perfectly with his hopelessly deep positioning to yield all initiative to his opponent. At its best, however, the forehand grows fearsome, and permits audacious winners to be struck from anywhere in the court, or, more commonly, from anywhere behind it.
It would be wilful to pretend Gasquet hasn't benefited from a decidedly generous Toronto draw, one that never included Federer or Nadal, and from which Andy Murray excused himself early on. But this isn't to say he hasn't earned his spot in the final, since all the guys who were left wanted to win it as well, and it has been long years since Gasquet was prominent among them. In the final he will discover the bankably prominent Novak Djokovic, who is also the world No.2 and the defending champion. Gasquet can take some measure of comfort in this, despite a fairly hopeless record against the Serb, and despite in the dire predictions of the bookmakers. While in two previous attempts Gasquet has never won a Masters Series final, he has never lost at that stage to anyone besides Federer. The lesson seems clear. Gasquet just needs to believe. After all:
Everything starts from something,
But something would be nothing;
Nothing if your heart didn't dream with me.
Where would I be, if you didn't believe?