Toronto Masters, Day Five
As the Olympic Games pressed indefatigably onward – artistic gymnasts, it turns out, are both terrifying and apparently unstoppable – the prevailing sentiment directed towards this year's edition of the Canadian Masters was one of profound pity. Through no fault of its own, Toronto's starting list had thinned worryingly by the hour. Already lean when Roger Federer and Juan Martin del Potro commenced the fifth hour of their superb semifinal, its ribs were showing by the time Usain Bolt got busy with the Swedish handballers, and had to be hospitalised while the rhythmic gymnasts inflated their shiny balls, smeared on their make-up and carefully selected the least appropriate music available. No Federer, no Rafael Nadal, no David Ferrer. Novak Djokovic, Andy Murray and del Potro were almost certain non-starters.
Jo-Wilfried Tsonga was doubtful. Once again the Olympics had ruined the US Summer Series. Â For those who believe the Masters 1000 events should showcase the best the sport has to offer, it was all pretty sad.
In a sense, our concerns for poor Toronto were justified. Strange things tend to happen when neither Federer nor Nadal show up. From memory this hasn't happened since 2006, when Nikolay Davydenko thrashed surprise finalist Dominic Hrbaty in Bercy, 6/1 6/2 6/2. I presume this blowout merely confirmed the ATP in its decision to do away with best-of-five championship deciders, a decision that had been necessitated some months earlier, when Nadal and Federer missed Hamburg, having nearly crippled each other in Rome's final the week before. Tommy Robredo subsequently won in Germany. While this did not go against the strict letter of the rules, the governing body felt that it amply violated the spirit of them, and took steps to ensure it would never happen again. Best-of-five finals, which once provided a fitting and, dare I say, Olympian conclusion to the Masters Series events, were done for. The lesson seems clear: Federer and Nadal not turning up breaks the sport. It's already broken the weather. Today was a washout.
Initially, however, Toronto felt uncannily like business as usual. The sun shone, the hardcourts were slow, and the crowds were sparse, although the locals made some effort for Milos Raonic, even when he didn't play on the evocatively rechristened Milos Raonic Grandstand. Donald Young continues to pursue Vince Spadea's record for consecutive tour losses, proving that no goal is unobtainable, if you only lack belief. Alex Dolgopolov persists in frustrating hopes that he might attain any measure of consistency. He won Washington last week, his biggest title to date, although it admittedly wasn't the strongest field the tournament has ever produced, owing partly to London, and partly to the event itself, which isn't what it once was. The Ukrainian then lost his first match in Toronto, to Radek Stepanek, who then beat an exhaustedly bronze-medallioned del Potro.
The Argentine had exceeded expectations just by turning up, but then lived down to them by losing easily. Perhaps it's not all business as usual. Tsonga showed up, too, but only for as long as it took to lose to Jeremy Chardy.
On the other hand Tommy Haas continues to provide hope for those of us in our mid-thirties that a career as a professional tennis player remains within reach. The self-consuming rage that defined the German's early years has been honed and redirected into a heroic defiance of time itself. He reached the final in Washington last week, and has sustained this form in Toronto, beating David Nalbandian and Gilles Simon in his first couple of matches. The match against Nalbandian was particularly fine, as Haas blew four match points in the second set tiebreaker, only to recover in the third. In his prime he would have fallen catastrophically apart at this point, and taken to verbally scourging his coach (Red Ayme used to cop a fearsome and constant barrage).  But the new Haas, who is ironically the old Haas, didn't indulge himself thus. He won instead. He is now ranked No.25, having risen 180 places since the beginning of the season, and will be seeded for the US Open. On current form he'll be seeded measurably higher than No.25 (indeed, he has already moved up a spot based on this week's efforts). He'll next face Stepanek, who looks every minute of his thirty-four years, and then some. Indeed, it's rather as though Haas has done a Dorian Gray-like deal with the devil, and Stepanek is his secret portrait in the attic.
Contrary to expectations, both Murray and Djokovic turned up, and both turned up to play, at least for a bit. Murray saw off Flavio Cipolla, thus earning the gratitude of the tournament organisers, a sentiment they expressed with a chocolate cake, which I take to be a Canadian tradition. Murray repaid this kindness by withdrawing from his next match against Raonic, which didn't appear to faze the locals at all. The Scot cited a left knee injury. I can only assume it was his own left knee, given how persistently he grabbed at it throughout his opening match. It was almost reassuring.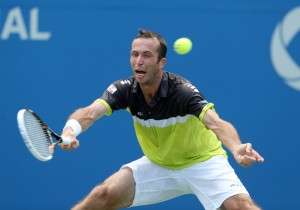 Much like the Sampras serve or Usain Bolt's thunderbolt thing, Murray's patented leg-clutch has become so immediately recognisable that its silhouette can be trademarked and used for branding purposes.
Djokovic meanwhile opened against Bernard Tomic, and beat him without any trouble whatsoever. Djokovic is the defending champion, and has a ton of points to defend in the next five weeks, with a ton being defined as 3,600. Defending them all will be an enormous task for the Serb, but necessary if he wants to remain within sight of the No.1 ranking, currently held by Federer. With Murray's withdrawal Djokovic is now the outright favourite for the title, if he wasn't already. It is entirely possible that his sternest test before the final will come against Haas. In the final he may face Tomas Berdych, who managed to win his opener despite dropping a seventh consecutive tiebreak (a record even Young might be proud of, if only more of Young's sets ever reached six-all). Or he might not.
Indeed, given Federer and Nadal's absence, something entirely different might happen. The Super Wildcard rule is a barely understood and rarely invoked provision in professional tennis – it allows a tournament to insert any player into any part of the draw entirely at whim, with or without that player's consent. This decision can only be overturned by a majority vote within the UN Security Council, and China and Russia have traditionally proved recalcitrant in such matters. If Raonic loses his next match, expect the Toronto Masters organisers, driven over the edge by patriotic anguish, endless withdrawals and a relentless downpour, to invoke the Super Wildcard. Djokovic will therefore fall to Robredo in the semifinals, and Berdych will fall to Hrbaty. From there it's anyone's game.