US Open, Days Three and Four
The 2012 US Open is barely four days old, but it has already equalled the record for the most victories achieved from two sets to love down. This record number, set back in 1989, is ten. With somewhere over half the current tournament's matches completed, that count has been matched, and there's every reason to believe it will be surpassed in the coming days.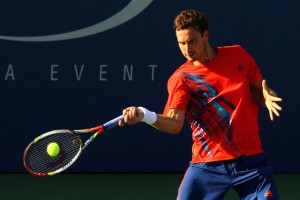 It's an obscure record, to be sure, but they can't all be important. I should also stress that these ten victories were all achieved by men. None of the women players have yet figured out a way to recover from a two set deficit, not even Kim Clijsters, who retired yesterday afternoon, whereupon she was immediately canonised by the attendant media.
Last year, if memory serves, the US Open broke the record for the most retirements at a single event. I think there were about twenty (although I should make it clear that I am referring specifically to tennis events, since there were even greater casualties at the Battle of Antietem, not to mention Ypres. It's also worth registering some surprise that this record was achieved on a fairly standard hardcourt, and not, as expected, on perilous blue clay, which is said to be fashioned from crystallised nerve gas.)
Anyway, the ten men who have so far recovered from two sets down are no doubt proud to be part of history. (Their vanquished opponents were probably less thrilled, for all that some of them didn't merely snatch defeat from the jaws of victory, but ventured into victory's gullet with a lantern, a support team and a map.) Hopefully the USTA will release some appropriate memorabilia for collectors. Perhaps a set of signed espresso cups, or (better) some action figurines. The figurines, in no particular order, would be of Ernests Gulbis, Marin Cilic, Alexandr Dolgopolov, Philipp Petzschner, Paul-Henri Mathieu, Janko Tipsarevic, Gilles Muller, Fabio Fognini, Mardy Fish and Guillermo Garcia-Lopez. All figurines would be fully posable, and most would come installed with a well-worn self-destruct button.
Petzschner's could be accessorised with a range of knee-socks. Tipsarevic's would talk if you pull his ripcord, or ask him for his views on women's tennis. Gulbis' figure could come in two versions, a highly collectable 'Unstoppable' model, and a more common one set to 'Underachieve'. But I digress.
The temptation, as ever, is to search for a clear pattern when something like this occurs. Theories already abound as to why this particular edition of this particular tournament has produced so many comebacks. The most convincing theory, as is often the case, is that it is a coincidence, although this regrettably makes for bad copy. Last year a similar thing happened with all the retirements. The wearisome orthodoxy emerged that players were dropping in industrial quantities due to the heroic length of the season and the physical stress caused by grippy hardcourts, notwithstanding that many of the retirements owed to upper body ailments, and at least a few were due to gastric issues. But sometimes the temptation to posit an underlying cause is irresistible. We can consequently grow prescriptive.
I don't exclude myself from this tendency. Suddenly the most fraught parts of any match occur when a player gains a two-set lead. Thus when Philipp Kohlschreiber dropped the second set to Michael Llodra one felt it to be a strategic masterstroke, although this only narrowly failed to backfire when Llodra almost served out the third. No one wants to see their favourite players up two sets to love. You're just asking for them to become a statistic.
Blake d. (24) Granollers, 6/2 6/4 6/1
This was especially the case this evening when a hitherto rampaging James Blake gained a two set advantage over Marcel Granollers. For all that no one quite rampages like Blake, he plays with such terrifically tight margins that even slight miscalibrations can prove disastrous. He is an exemplar of the rule that an uncompromising attitude only merits applause while it pays off, but generally deserves ridicule when it doesn't. So far it had worked, and he was leaving the Spaniard in his dust. Granollers was by no means playing poorly – although I'm inclined to think his current ranking of No.24 is somewhat inflated – but even at his best he would struggle against a guy whose entire game is predicated on the idea that nearly every shot be struck as hard as possible, and who was hardly missing.
A better defender might have done enough to introduce some doubt into the American's mind, thereby tightening those margins still further. Granollers was trying his best – painfully so judging by the sound he was making – but his best bet, from two sets down, lay in hoping that Blake would start to miss. To be fair, most of Blake's opponents have made that bet successfully in recent years.
Gulbis yesterday spoke with typical candour about one's attitude while trailing by a couple of sets: 'The mind-set is that you don't care any more. You're two sets down, you're a break down. You simply don't care. Then magic happens suddenly.' Not caring of course places the Latvian comfortably in the middle of his natural habitat. He has made an art-form out of indifference.
Granollers, unfortunately, isn't the type to begin lashing winners with gallows detachment. In any case he was permitted neither space nor time in which to unleash the requisite laissez faire fatalism. The magic never happened. Blake, far from rediscovering doubt, only grew more reckless in his resolve. He never stopped coming. The rampage became an onslaught, and the winner tally mounted alarmingly. He didn't face a single break point, yet won 44% of his return points, even as Granollers served at 72%. And Blake did it without once tempering his natural inclination to attack. He'll next face Milos Raonic, in what will surely be a night match on Arthur Ashe Stadium. Expect no compromise, from either of them. That's not their way.