US Open, Days One and Two
My proposal to have the first round of the US Open main draw spread over five days has, it seems, fallen on unreceptive ears. I believe this to be a shame, since it fulfilled so many of the cherished goals of the tournament's organisers, such as diluting the level of excitement through the early going, ensuring that at least one of the eventual male finalists is crippled by exhaustion, and guaranteeing that said final will take place sometime in the following week. Their counter-argument was that there are already sufficient measures in place to assure these outcomes.
(For example, inspired by last year, they have installed new pumps under all the showcourts, which at the flick of a switch will push noisome and bubbling swamp fluids up through the court surface, thereby causing David Ferrer to shrug slightly, and Andy Roddick to go into cardiac arrest.) If these don't do the trick, they contend, then there's always the weather.
But weather, according to biblical authority, is a fickle thing. Notwithstanding the  US Open's careful placement within hurricane season, there remains a slim chance that several days of play won't be lost to driving squalls and showers, and that when players are able to take to the court their efforts won't be fatally hampered by outraged southerly zephyrs. Of course this issue could be addressed by relocating the whole thing to New Orleans, or, better, to the flight deck of the USS Dwight D. Eisenhower, currently patrolling the North Atlantic. These suggestions also featured in my proposal.
Fortunately such measures won't be necessary this year. Even as I write, Hurricane Isaac has crossed the Louisiana coast. With any luck, the men will have to play their last three rounds on Wednesday afternoon, a fortnight hence. According to the preferred nomenclature of CBS, this will be a Super afternoon indeed.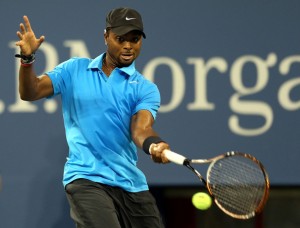 But my point was that it is lazy to rely upon inclement weather to wreck a timetable on its own. Ludicrous scheduling has to shoulder at least a portion of the load. A five day opening round would put it beyond doubt.†
Anyway, until the USTA sees the light, the first round still only lingers for a laughably brief three days, which means that we're now two thirds of the way through. World No.1 Roger Federer won his opening round match against world No.81 Donald Young on a drenchingly humid opening night. The brothers McEnroe, commentating on ESPN, were scathing of their compatriot, which one assumes was an attitude they arrived with, given that the result had hardly been doubt. The issue, it was intimated, was one of belief, and that fact that Young doesn't have any, a shortcoming he has in common with everyone else. Luke Jensen, commentating on another network, echoed these sentiments in a more circumspect fashion. After Young won a strong point, Jensen proffered the advice that he should play like that all of the time. So that was the problem. But Young didn't just achieve a 17 match losing streak because he cannot play well occasionally. His achievement testifies to the fact that he can't do it often, let alone all the time. Body language aside, I'm sure he was trying his best. The week the American posted his seventeenth straight loss was the week Federer won Cincinnati without dropping serve. There is a gulf between those two outcomes, and suggesting that it can be bridged by faith is asking a lot of a guy who has just spent an entire season demonstrating that it can't. He did break Federer's serve, though.
The same critique wasn't levelled at Paolo Lorenzi, who won only two games against a rampant Novak Djokovic (just as he did back in Melbourne, although the configuration was different). Lorenzi didn't seem to have much belief that he'd overcome the defending champion, although no one commentating sounded particularly offended at this.
Indeed, the prevailing tone was more condescending than anything else. Djokovic was pretty marvellous, though. He must have believed. That's probably why he wins all the time.
I boldly predicted that David Goffin might upset Tomas Berdych, but that didn't come to pass. That's on me. Indeed, Berdych even won a tiebreaker, his first since the Rome Masters. Berdych in turn predicted that no one besides the top three seeds have much chance of winning the tournament, thereby echoing the betting markets and every other person with even a passing interest in tennis, besides a few fans of Juan Martin del Potro (and perhaps del Potro himself). This realistic assessment has seen the Czech strung up by his thumbs, and liberally peppered with envenomed arrows. There's a subtle difference at play here. It's one thing to suggest that winning a given match will be almost impossible, but quite another to concede that it might actually be. The former assertion is a valorous attempt to secure the cherished underdog position, in order that any subsequent victory might be lauded as suitably heroic. The latter betrays a fundamental lack of self-belief, and certainly shouldn't be construed as merely a moment of unguarded candour by a 26-year-old athlete. By extension, we can assume that everything Berdych says must perfectly reflect his inner state. You may recall that Jo-Wilfried Tsonga made broadly similar remarks before the French Open – that no Frenchman would win the tournament – yet he seemed committed enough in that quarterfinal with Djokovic, and appropriately gutted when he lost. Believe it or not, these guys can say these things and still try their very best. Tsonga, incidentally, also won today. Mardy Fish and Andy Murray also won their opening matches, both in straight sets, but were roundly condemned for not winning them better. Some pundits made it known that they weren't 'convinced'. I can't decide if this is disrespectful to the beaten opponents, or just boring.
Even Philipp Petzschner won, and from two sets to love down, which is a nice change for him. His socks were typically magnificent. I'd predicted that his first round with Nicolas Mahut might be a good one. It was: cagey and desperate. It is so far my only prediction that looks even remotely like coming to pass, including the secret one about Andrea Petkovic winning the title and then inviting me to dinner. I predicted an excellent first round encounter between del Potro and David Nalbandian, but Nalbandian's withdrawal has made that complicated. He has been replaced by Florent Serra, who I don't expect will pose quite the same problem for the 2009 champion.
Bernard Tomic today saw off Carlos Berlocq in a match that was rendered more straight-forward than anticipated by the fact that the Argentine didn't play especially well.
Tomic will play Roddick in the second round, probably at night in a big, loud, lurid stadium. Given that most of Tomic's season is composed of killing time between these kinds of grand spectacles, I suspect the young Australian will rouse himself for this one. It'll be a question of belief, of course. Thank heavens he has that: 'I don't think Roddick is like the top three or four. That's definitely where I have a lot of belief. I believe I can win this match.'
On the subject of stirring recoveries, Marin Cilic and Alexandr Dolgopolov each came back from two sets down, against Marinko Matosevic and Jesse Levine respectively. I'd like to say that the issue was mental – in Dolgopolov's case it always is, I suppose, though I didn't see this match – but for Cilic it was more the case that the superior player started playing closer to his usual standard as the match progressed. Matosevic never ceased trying, to an extent that even the McEnroes would have approved of. Sometimes one player is better at tennis than the other one. Believe it or not, this often determines the outcome, even if saying so is frowned upon.
† The Australian Open almost embarrassed itself this year, when the combination of clear weather, two roofed stadiums and a two-day opening round resulted in the final being played on the second Sunday. Fortunately in the final Nadal and Djokovic set things right by playing approximately for ever in order to ensure the tournament entered a third week, as the gods intended.