Rome Masters, Final
(2) Nadal d. (1) Djokovic, 7/5 6/3
Patchily arrayed beneath threatening skies, a modest crowd greeted the players as they entered Court Centrale for the Rome Masters final, although what it lacked in biomass it made up for in enthusiasm and rhythmic prowess. Flags waved and hips gyrated, whipped to near-dislocation by the sudden deceleration from dance music to the theme from Star Wars, the event's way of suggesting that we were in for an epic, and maybe Wookies.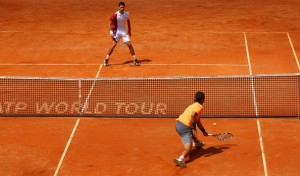 I failed to quell the suspicion that there were just about enough people to really get Court Pieterangli rocking. The camera dutifully lingered on the densest pockets, and the most psychotically happy.
What the camera missed was yesterday's absent crowd, and the sense of the stadium as a palimpsest. Today's match, assuming the weather held off, would be conducted amidst the psychic wreckage of Sunday's abandoned one, although the real wreckage left on the court had been cleared away. It failed to acknowledge the acute suffering of those thousands who'd endured Maria Sharapova's eventual victory in the women's final only to skulk around for hours while the men's final did not get under way, which proved to be only marginally more entertaining. As evening fell, they'd been told it was a no-go, and they were free to go. Some of them went off. They were offered a 50% refund on their tickets, whereupon they rioted, although it was only a very modest riot, the kind of riot Italian fans use to stay in shape during the off-season, or to work up an appetite. The court was littered with plastic bottles. Having discovered their expensive tickets were worth considerably less than they'd realised, they left the stadium to be reminded that they didn't have tickets to the far more exciting Coppa Italia final, either. Reports are they rioted again, briefly, on their way home. For the record, Napoli upset Juventus 2-0.
All rioted out, precious few of these fans returned for today's final. They therefore missed a match that turned out decidedly less epic than the soundtrack promised. Still, though it was an encounter that ultimately proved unworthy of relocation to the old centre court, it boasted no shortage of exciting moments, although like Wagner these punctuated swathes in which little enough occurred. The pace of play, predictably, was glacial. The rallies were long, service winners were rare, and the sojourns between points were extravagant.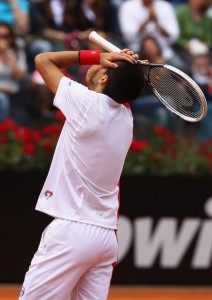 The first three games took twenty minutes.  In other words, an epic was brewing, although one that owed less to George Lucas than Tarkovsky. At least one linesman nodded off, which some have argued cost Djokovic the first set, although I'd argue that if it did, it certainly shouldn't have.
The moment came at 5/4 30-30 in the first set, with Nadal serving to stay in a set that no one would have been shocked to see Djokovic claim. An inevitable rally ensued, then unfolded, then sprawled. Eventually an opening presented itself, and Djokovic went after a forehand up the line. The linesman roused himself from slumber long enough to call it out, which was overruled by the umpire. A potential set point was therefore transfigured into a replayed point, and a hitherto focussed Djokovic was reduced to a merely outraged one. This was strange, since it wasn't as though the shot had been a winner (Nadal actually retrieved it). It was enough for the world No.1, though. Nadal took the game easily, with Djokovic committing premature errors before the rallies could even reach the 75-shot mark. Nadal broke in the following game – the breakpoint was a masterpiece from Nadal, as he forced the play with a drop shot on only the fourth stroke of the rally, then won a rapid exchange at the net. When Nadal eventually took the first set, Djokovic smashed his racquet against the net post, inspiring a moment's consternation from a nearby ball-girl.
If the first set – after the customary trading of breaks – witnessed Nadal holding on grimly, the second saw the roles reversed. The Spaniard broke immediately, and would not relinquish that advantage until the end, although Djokovic went to impressive lengths to blow the chances he created. In all the Serb failed to convert six break points in the second set, and most were indeed a failure on his part, especially the service game in which Nadal fell to 0-40. The worst was a simple drop volley with Nadal stranded behind his backhand baseline, that the world No.1 pushed at least a foot wide. The match, perhaps fittingly, ended with a double fault from Djokovic.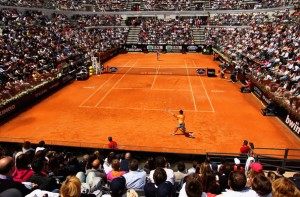 Why not? Nearly everything else had gone wrong. The stadium had filled by this time, and the crowd's collective roar would have lifted the roof, had there been one, though if there had been, it would have been a different crowd on a different day. I don't know . . . It was loud.
For Nadal his sixth Rome title is a clay-court victory over Djokovic utterly and gratifyingly free of qualification, without bereavement, Ion Tiriac or injury to muddy the waters. Conditions were fine, the court is (I think) barely twenty metres above sea level, and both men were motivated and healthy. The Spaniard concludes his French Open preparation with two straight-sets wins over Djokovic, providing a neat contrast on last year, when he won no sets in a pair of losses. Plenty of people are claiming that this reasserts his place as the premiere player on red clay. I fail to see how this matter was ever in dispute.
This doesn't imply that today's final was therefore a great match, since it wasn't, or that both guys were necessarily at their best, since they weren't. Nadal was mostly decent, but the story, for me, was Djokovic. This was a guy crumbling under pressure, duffing smashes, and missing routine shots, when he'd spent an entire year proving to us that he just doesn't do those things any more. Of course, he used to do them all the time.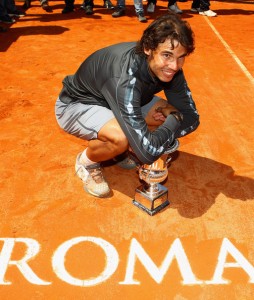 The 2007 US Open final established his impeccable credentials in this area . But somewhere, after the 2010 Davis Cup, he'd discovered a mind without doubt. He appears to have misplaced it. Today, every key moment revealed the tension of a man who has rediscovered his uncertainty, and will not be parted from it. Indeed, today's match more or less looked like a clay court match between these two should look, had 2011 never occurred.
Anyone can win when they play perfectly all the time. Today proved that, against Nadal on this clay, playing your best is the only way to win. Djokovic played poorly, especially at the most important moments, but it would be backhanded indeed to pretend Nadal played no part in this. Nadal was far from perfect – three days ago he vouchsafed us a view of what perfection might look like when he denied a very strong Berdych so much as a set, and today was not like that – but on this surface his good enough is more than good enough. Djokovic afterwards insisted he didn't think his opponent had played that well.
The key number is that Nadal moves ahead of Roger Federer once more. For all that the Swiss allegedly sits on the right hand of God, he wasn't able to convince the big guy to keep the rain going indefinitely. Consequently Nadal regains the No.2 ranking, and with it the second seeding for next week's French Open. He also surpasses Federer atop the all-time list of Masters titlists, with 21. Indeed, he and Federer have now won five of the last six Masters events, which is the kind of thing they used to do before Djokovic (and Murray) spoiled it all. It was also the umpteenth time that Nadal has won a title without dropping a set – apologies for the technical term – which used to feel like a rare achievement, but doesn't any more. Indeed, Djokovic proved in Miami that you can do it even when you aren't at your best. Apart from that match against Berdych, Nadal was by no means at his best this week. But when you're the greatest clay-courter ever to heft a racquet, it hardly matters.