Nice, Second Round
It is apparently the best kept secret in professional men's tennis that the Open de Nice Côte d'Azur is cursed. This is the only reasonable explanation for why otherwise astute professional men's tennis players keep turning up, despite knowing that victory here leads inexorably to incurable insanity and short-term tragedy.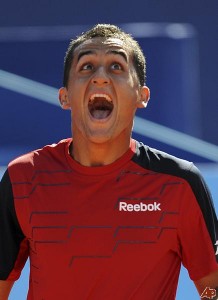 For all that this is just its third year, the event has an impeccable record.
Richard Gasquet claimed the inaugural title in 2010, thereby foolishly believing that he had gained valuable momentum heading to Paris. This momentum carried him through two sets in the opening round, but was then cruelly withdrawn. From two sets up, he fell to Andy Murray. Being Murray, we thought no more of it. It was just one of those things. We shook our heads (our own heads), shrugged with arch-Gallic offhandedness, and said, 'That's Reeshard for you.'
Nicolas Almagro – the premiere clay-courter at 250 level tournaments where no one better attends – won Nice last year, despite the fact that he gained no benefit from the points whatsoever, having already maximised that component of his rankings. One might argue that it was, again, all about securing momentum for Roland Garros, especially given his characteristically poor showing at the prior Masters events. Again, he galloped through a pair of sets in his opening round, but then capitulated with noisy industry to Lukasz Kubot in five. Now, Kubot has his qualities – Ivo Karlovic can attest to this – but he is no Murray. Alarm klaxons blared. Shrugging, and declaring 'That's Nico', simply wasn't going to cut it.
There is no way around it. Nice is cursed, and the dazzling splendour of the setting only renders its horror noirish. And yet, like that obviously haunted house on the hill that teenagers somehow cannot stay out of, players keep coming back. Even Almagro is back this year, suggesting that the curse also has a memory wiping component, or that the Spaniard simply cannot be taught. Perhaps he has a thing for blue. Literally everything about the event – except, amusingly, the court – occupies that part of the spectrum: the sky, the sea, the hoardings, the uniforms of the officials. It seems like an opportunity missed for Ion Tiriac, a legitimate shot at tout d'azur. Think of the visibility.
(Q) Baker d. (4) Monfils, 6/3 7/6
As I rule I'm wary of inspirational stories emanating from the United States, where a vast and lucrative flea market exists for the trading of such baubles. The market's demand is sufficiently voracious that guaranteeing adequate supply has grown to become an industry unto itself, causing a profitable line in the manufacture of heroes, and a consequent dilution of the very concept of heroism. We call this industry 'the media'. For the most part these inspirational stories inspire nothing beyond depression. Enough of them escape the US borders that we in the benighted parts of the globe can guess at the power of their source, and wonder: if this is the stuff they export, what do they keep for themselves? I've have undertaken two road trips across the breadth of the continental United States in order to experience this phenomenon from up close. It was hardly de Tocqeville, but by the end of each journey, there was a real danger of over-inspiration. Your heart can only soar so many times before it is grounded indefinitely. How do Americans get anything done? (It's questionable whether Australia or Britain are really much better.
If we are better, it is probably only because we lack the wherewithal to be worse. Australia could never produce a slags-to-riches story like Kim Kardashian, for all that my compatriots seem eager to consume her. Elsewhere in the world, she would, quite rightly, be manning a cash register, with hourly tutorials in its operation. In America she became a beacon of hope for millions around the world.)*
I hesitate to call Brian Baker a hero – especially not of Kardashian's calibre – but I cannot deny that his story, by any reckoning, is inspirational. Even from half the world away, the qualitative difference is clear, especially from the way it has cut through. Scant weeks ago, no one was talking about this guy. Personally, I had forgotten he existed, despite the fact that I actually watched and enjoyed his victory over Gaston Gaudio at the 2005 US Open. (To balance the ledger, I don't think Baker, if pressed, could tell you much about my achievements, such as they are.) His story was sad – another great talent crippled by injury – but it hardly seemed comparable to say, Mario Ancic or Joachim Johansson. But then he came back, basically from nowhere. I won't go into the details here, since everyone probably knows them by now. If you don't, here's an excellent article from the Wall St Journal. As I say, it's stirring stuff, and it has cut through.
Yesterday he defeated Sergei Stakhovsky in the opening round in Nice, his first victory at ATP level in approximately forever. Tonight he beat Gael Monfils in straight sets. It was a tremendous performance, and a quite magnificent advertisement for Baker's game, which combines easy power with excellent court sense and a very solid return. Late in the piece, deep in the third set tiebreaker, he saved a set point with a gutsy second serve ace, suggesting that the entire package is anchored by an iron will, or balls of steel.
To those who contend that Monfils wasn't at his best – and he wasn't – how do we know that Baker was? What does his best even look like?
If nothing else, it proves that the French Open wildcard he earned is totally deserved. He'll play Mikhail Kukushkin tomorrow in the quarterfinals, which means that a semifinal is entirely possible. Even if he progresses no further, his ranking has leapt well inside the top 200, and he has, quite literally, nothing to defend. If his body maintains some structural integrity – and I can imagine no dicier 'if' – he is unquestionably bound for the top hundred. The main trick will be not to win the tournament this week, since there's no telling what its capricious retribution will be.
Baker's performance today contrasted tellingly with those of the lauded new guard. Bernard Tomic twice blew double match point in the deciding set against Kukushkin. The Australian will be seeded next week in Paris, and it's hard to cavil at his results throughout the clay season, since they are a significant improvement over last year's. Still, he should have won, and a quarterfinal against Baker would have been one to savour. Meanwhile Grigor Dimitrov went down barely fighting to Gilles Simon, without incident or endeavour. The Bulgarian, frankly, is languishing. He is far too young to be, but I can think of no better word.
* Kardashian's Wikipedia entry declares her to be, among other things, a celebutante. I confess I had not heard this term before, for all that subsequent investigation yielded up a rich history spanning over 70 years. Microsoft Word, for the record, does not recognise it.