Madrid Masters, Quarterfinals
David Ferrer was tonight defeated in clinical fashion by Roger Federer at the Madrid Masters, whereupon he shocked the attendant media by failing to threaten a boycott of the event next year.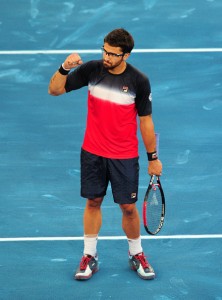 Unspoken words, reflecting unthought thoughts, though the words he did speak were unerringly and characteristically gracious. When asked whether top quality tennis was even possible in the Caja Magica, he simply replied that it was.
Novak Djokovic earlier fell to countryman Janko Tipsarevic, and then conducted a press conference defined mostly by its spirited rancour. Before blithely accusing Adam Helfant of negligence, the world No.1 echoed Nadal by summarily declaring that it was the blue clay or him, further eliding the crucial distinction between the court's preparation (which was inadequate) and its colour (which is blue). It's an important distinction to retain, although this is no reason to believe it will be. There are many factors at play here, and the colour of the surface is the least of them, but the media is not at its best when dealing with 'many factors'. It's all or nothing, and the 'all' in this case is that blue clay is too slippery, and the top two won't play on it. This was further inflected by Ion Tiriac's announcement that he was stepping down. He insisted his decision had nothing whatsoever to do with the current controversy, but he's optimistic if he believes that will fly. The 'all' is now that the slippery blue clay has seen the end of Tiriac. Being Tiriac, one doubts whether he cares much.
(3) Federer d. (5) Ferrer, 6/4 6/4
(7) Tipsarevic d. (1) Djokovic, 7/6 6/3
Thankfully, there was still tennis being played in the midst of all this depressing shit. Mostly it was pretty good tennis, suggesting that Ferrer's blunt response was reasonably astute. His comment should be further qualified, however. It is possible to play a certain kind of tennis well. That kind of tennis is aggressive, first-strike tennis. To a man, the surviving semifinals – Federer, Tipsarevic, Berdych and del Potro – are adepts at this. Indeed, most of the losing quarterfinalists were as well, apart from Fernando Verdasco, who'd frankly run his race yesterday against Nadal. It was to Ferrer's credit that he numbered among them, although he is generally a far more assertive player than most pundits give him credit for.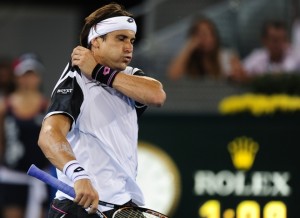 Today, faced with the sport's greatest player, against whom he boasted a dismal 0-12 record, Ferrer read the situation perfectly, and realised he needed to go all in. Only forceful red-lining tennis was going to get it done.
Of course, it still didn't get it done, not by a long way. For all that Federer's results have grown mixed in other settings, he remains the world's premiere indoor player, and he has approached Madrid as a fast indoor event. Ferrer belted more winners, laudably, but collected more errors as well. Mostly these two statistics were generated from the Spaniard's own service games. In Federer's service games, the definitive categories were first serve percentage (78%), second serve points won (90%) and break points faced (0). With his serve thus impenetrable, a single break each set was sufficient. I am reminded of the old word on Sampras, the way a set could end 6/4 or 7/5, and yet, due to his vice-like hold-game, the opponent would feel it was never close. Yesterday's victory over Richard Gasquet was sealed with three consecutive aces. Today, it ended with two.
Federer will face Tipsarevic next, who like Ferrer seemed to have no trouble with his movement. Djokovic, admittedly, seemed to have plenty of problems in this area, which he made clear via a series of elaborate pantomimes for the crowd's benefit, only occasionally pausing to play tennis. The defending champion has been peevish and distracted all week, in a situation that required greater focus, not less. Tonight it proved telling, against a hitherto overshadowed compatriot determined to seize his chance. Tipsarevic was excellent, especially in the first set tiebreaker, and in saving multiple break-back points to serve out the match. He remained positive and committed, when so often in the past he hasn't. It is a court that rewards risk-taking and forcefulness, and today it rewarded Tipsarevic. Even if he progresses no further, he deserved this victory.
(6) Berdych d. (15) Verdasco, 6/1 6/2
(10 Del Potro d. (16) Dolgopolov, 6/3 6/4
The other semifinal will boast all the nuance of a prolonged artillery duel, conducted between Tomas Berdych (whose ordnance is cybernetically embedded in his shoulders) and Juan Martin del Potro, a howitzer atop a tower. Berdych has moved almost unnoticed through his section of the draw, his inexorable progress overshadowed by Nadal's stumble and departure. Yet, he has only dropped five games in his last two matches, against reasonably strong clay court proponents in Gael Monfils and, today, Verdasco. I didn't see the Monfils match, but today's victory was complete, and unrelenting. He simply never stopped coming with those booming deep drives and serves.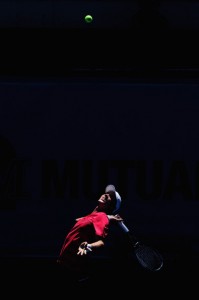 Verdasco could seemingly only win points with extravagant forehands, which proved to be unsustainable even in the short-term. I was put in mind of Andy Roddick's rather pathetic capitulation to Juan Monaco the day after seeing off Federer in Miami.
The mood of del Potro's victory over Alex Dolgopolov was more restrained. Dolgopolov gambolled about with expected panache and struck plenty of flashy winners – the racquet-head speed he generates is freakish for his size and build – but there was an unshakeable sense that del Potro had at least one more gear to go to if he was pressed. He wasn't, and even the commentators often went silent for great stretches of time, succumbing to the overly torpid late-afternoon vibe.
It will be fascinating to see how del Potro rises for the semifinal tomorrow. I have a suspicion that he and Berdych will be evenly matched from the baseline, but that the Czech's willingness to move forward could prove telling. The other decisive factor will be each man's second serve, and how willing the opponent is to return aggressively. While Tipsarevic might conceivably challenge Federer, it is the day's first semifinal that should provide the greater interest, and prove that there is subtle variation to be savoured even when two large men fight with cannons.