Madrid Masters, Second Round
(3) Federer d. Raonic, 4/6 7/5 7/6
'I entered the court believing I could win. I left the court knowing I can win,' declared Milos Raonic after tonight's pulsating three set loss to Roger Federer at the Madrid Masters. It's the kind of grand statement that waits for applause. Behind the placid, solemn intensity of his expression lurks the elegant mind of the aphorist.
Just minutes after coming within a few points of a famous victory, he ventured to within a syllable of a balanced phrase. He's young, and there's still time.
For all that it was the last match to finish, it proved to be the centrepiece of the day, and inspired the first full-house of the event. The crowd was raucous, and predictably inclined towards Federer. The blue clay, which looks like nothing so much as laundry powder, has rarely looked so striking. Eager eyes had noted this match's potential the moment the draw escaped last week, but it's rare that the yearned-for encounter lives up to its billing, even when it eventuates. Federer was returning from a six week sojourn. Raonic, the most accomplished of the new guard, was coming off a strong showing in Barcelona, and had already bludgeoned his way through David Nalbandian, a match that'd turned out to be tough only on paper. Aside from those who were puzzlingly concerned that Davydenko might constitute a threat for Nadal, the belief was unanimous that of all the top players, Federer's opening match was the least civilised. The result wasn't precisely a classic, and it certainly wasn't a clay court classic, but it did successfully evoke the best of those serve-centric indoor blitzkriegs of the 1990s, which is probably not precisely what fans expect from a clay court Masters event in Spain. As Federer remarked afterwards: 'Fast court tennis like the old days of Becker, Edberg and Sampras. A point here or there.' Who said it's not ideal preparation for Roland Garros?
A point here or there was all he was permitted to win on the Raonic serve. The key stat from Raonic's first round win over Nalbandian was that he hadn't dropped a single point on 27 first serves. By the beginning of the second set tonight, he had added another 17 to that total. On the slickest clay in the sport, his first ball was utterly unmanageable. The flat bombs detonated off the tee; the sliders faded halfway up the service box; the kickers leapt like bastards. I don't recall any body serves, which thankfully meant that we didn't have to see Federer lying wounded on the court.
Safe in their commentary booth, the inimitable Messrs Koenig and Goodall began to lay bets as to how many consecutive first serve points Raonic might eventually amass. Flak-happy viewers and opponents were by now inclined to believe that the Canadian could last the entire tournament, but the commentators proved more circumspect. Goodall had faith that Federer could find a return before that tally cleared 50. Koenig wasn't so sure.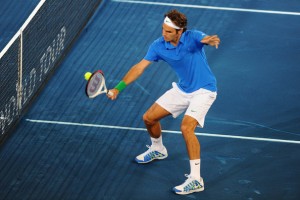 He was just explaining the parameters of the discussion to the viewers, when Federer, with considerable aplomb – a Koenig catchphrase – found a point on the Raonic first delivery. 'Would you believe it?!' exclaimed Koenig with typical gusto. The commentator's curse had struck again. The final count stood at 44.
Over on Sky Sports, Mark Petchey cautioned Raonic against becoming too distracted or despondent at this turn of events, which suggests he has a pretty low opinion of Raonic's powers of concentration. Surely even the Canadian hadn't realistically believed he would never drop a point, even if the rest of us had. He quickly recovered from this crippling set-back, and didn't drop any more points for a while.
To be fair, Federer had been almost equally impressive on serve, until, at 4/4 in the first set, when he wasn't  A woeful game saw him broken to love, and Raonic served it out peremptorily. Federer opened the second set with a booming ace up the middle, followed by a comprehensive selection of errors, thereby achieving break points for Raonic. The evening looked like it could be over very quickly, and Federer's fans began to prepare their excuses, in which the phrase 'six-week lay-off' featured heavily. However, from this moment on, Federer began to exhibit the mental fortitude he was once known for. For the remainder of a match that had a long way to go, he played the big points better than his opponent. Another of these came at 5/5, when he saved another break point. He had won precisely one point on Raonic's serve to this moment, and the belief had now ossified into a certainty that the only way to break would be if Milos started missing his first balls. Confounding this new orthodoxy, Federer returned three first serves in the next game, winning each point, and gaining a pair of set points. The first of these was saved with an outrageous one-handed backhand lunge pass from Raonic. Federer took the second with a drop shot winner. From nowhere, it was a set all.
The Sky Sports commentators began to wander off-topic, always a sure sign that they feel their man has it in the bag. Federer was clearly destined to run away with it. We arrived at 3/3, and Raonic, defying this prevailing wisdom, was holding easier. At 3/3 Petchey airily declared that a tiebreaker was inevitable, just as he had at 4/4 in the first, right before Federer was broken. This time he was right.
Federer won the first point of the tiebreak with a forehand, which was to prove fitting, if not downright lyrical. He was quickly up a mini-break, although he failed to extend it after Raonic impressively out-rallied him on consecutive points, as he had done for most of the night. The mini-break vanished. Then, at 4-5, and after two hours and ten minutes, Raonic played his first truly poor shot of the match, mishitting a forehand approach. Match point Federer. The first served missed, and Federer smashed the second crosscourt for a winner. The Caja Magica erupted. A tournament that has thus far known only controversy had now enjoyed its first truly memorable tennis match.
Despite losing, Raonic was superior in every statistical department, aside from the net points won. Unconvinced by the surface, and momentarily doubting his capacity to stay with the Canadian from the baseline, Federer had ensconced himself in the forecourt throughout the second set. Notwithstanding a few minor miracles – especially a few half volleys – he had done barely enough even there. But he had done enough, enough to survive long enough for those big points to come round. When they came around, he proved that there are few better at seizing them, enabling him to claim the stat that really mattered. He won two sets to Raonic's one.
Federer lives to face Richard Gasquet in the next round, an ostensibly more manageable proposition. Raonic will leave for Rome, and the traditional clay of the Foro Italico. He played Federer very close tonight, and is entirely justified in believing he should have won. To think otherwise would be self-defeating, if not delusional. The time is fast approaching when Raonic won't need to insist. He'll soon be winning the stat that matters most.