This is Part Two of my look back at some of the players for whom the hardcourt season proved definitive, for better or for worse. The selection of players discussed might seem odd, although this is hopefully only because it is necessarily incomplete.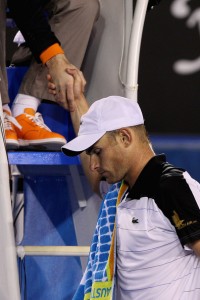 A summary with everyone in it wouldn't live at all, even assuming I had the wherewithal to try it. I don't.
It is rare for any player's ranking to plummet suddenly for no reason, and the reason is usually injury. Somdev Devvarman's shoulder hasn't played tennis since last October, and its ranking has fallen to No.185. Ricardas Berankis and his herniated groin are thereabouts, as well, as is Lleyton Hewitt's big toe. Robin Soderling's ongoing tussle with glandular fever has had profound repercussions on the upper reaches of the men's game. In all the Swede has shed 3,115 points. To lend this flat number some depth: this is more points than the world No.9 (Tipsarevic) has in total. Added to this, the top four have between them shed almost 1,000 points over the hardcourt season. That is a lot of extra points knocking around near the top of the game, providing plenty of nourishment for sufficiently hungry and suitably opportunistic players to gorge themselves on. Soderling was still ranked No.5 when the hardcourt season commenced. He is now No.30, and still yet to attain terminal velocity. In another three months he'll be a respectable crater, and he won't be ranked at all. There is, tragically, talk that he won't return.
Andy Roddick's fall is less readily ascribed to injury, although, being American, it is more amply discussed. There have, of course, been physical issues, but it mostly seems that the game was always fated one day to catch up with him, and that one day it suddenly did. It is to his credit that he outpaced it for so long, and to our lasting wonder that he did so by playing slower. And then he goes and beats Roger Federer. Doing so has dragged his ranking back inside the top 30. He began the hardcourt season ranked No.10.
Like Janko Tipsarevic, whose stated goal of a top twenty finish in 2011 proved excessively modest, Kei Nishikori's overshot his erstwhile ambition of achieving Project 45 by a long way. (Project 45, you may recall, was the goal whereby Nishikori would become the highest ranked Japanese male tennis player of all time.) He is now at No.17, and has thus set his successor a hell of a task. Still, it's worth remembering that before he made it past No.45 at the Shanghai Masters, he was comically close for an agonisingly long time. But if Shanghai was his breakthrough, it was his win over Novak Djokovic in the Basel semifinal – the first time a Japanese man had defeated a reigning world No.1 – that proved to be the high point. He began the hardcourt season ranked No.52.*
I was courtside at Melbourne Park when Julien Benneteau defeated his more-lauded but painfully underfed compatriot Gilles Simon in five sets, although I mercifully only saw the last of them. (Guillermo Coria is the only tennis player I've ever truly disliked, but I would still rather watch him play than Simon, whose game is basically a dramatisation of a test pattern.) I've always held Benneteau in high regard, an opinion entirely out of proportion to how often I'd actually bothered to watch him play.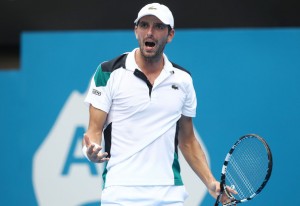 It owes everything to his atypical lack of flair and deep reserves of grit, reliably vitiated by dependable gift for crumbling in the biggest moments, all the while remaining utterly French. This afternoon in Melbourne, Benneteau was slightly magnificent and a touch deranged in running down Simon in the fifth.
When the hardcourt season began he was just another ageing journeyman ranked beyond the top hundred, outrun by the race, who'd come close but had never claimed that maiden title. He has since risen 78 places, and augmented his collection with another two runner-up plates. I remarked after the first of these, in Winston-Salem, that he looked like a man who was now 0-5 in career finals, and suspects there won't be a sixth. Well, the sixth came in Sydney in January, where he was cursed to face Jarkko Nieminen, a man who has forgotten more about losing finals than even Benneteau will ever learn. Now ranked No.31 and aged thirty, Benneteau has become the highest ranked player without a title. That's progress.
Matthew Ebden began the hardcourt season ranked No.139, and finished it at No.75. I first saw Ebden play in Brisbane in 2011, when he shocked everyone by defeating Denis Istomin. Interviewed afterwards, Ebden was wracked by residual tremors, visibly shaken by the magnitude of the upset. It had certainly looked like an upset, with the Australian appearing woefully over-matched by the Uzbek journeyman, who had nonetheless contrived to string together enough errors to secure the loss (over 16,000 from memory).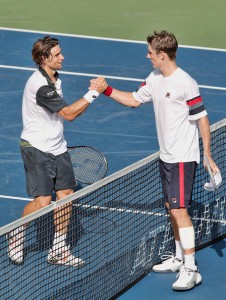 Ebden earned a wildcard into the Australian Open on the back of this, and sufficient exposure that those Australians who only attend the event in order to wave flags at obscure compatriots – which is most of them – included him in their meticulously wrought itineraries. He lost to Michael Russell in the first round.
I cannot recall seeing him again until Tokyo in October, when as a qualifier he toiled through to the round of 16, and there took a set from David Ferrer. The following week in Shanghai, again obliged to qualify, he attained the quarterfinals, knocking out Ryan Harrison and Gilles Simon en route. I have no idea what he had been doing in the meantime, but from my time-lapsed perspective he was suddenly a different player: faster, calmer and smarter.
Comparisons to Ferrer are appropriate. Like the Spaniard, Ebden has not allowed a lack of brawn to curtail a fundamentally attacking impulse – those who regard Ferrer as an exclusively defensive player have got it very wrong – and boasts a similar capacity when on his game to punch well above his weight. Buttressing these tendencies is a fairly assured all-court game, good mobility and an impressive calmness at key moments. Of course, he is not as fast as Ferrer, nor as technically assured, and he may well never breach the top fifty. Nevertheless, his exploits in Asia last year earned him a year in the top 100 – and the luxury of regular direct entry into ATP events – and so far he seems to be doing enough to stay there. Perhaps ironically, his best result came at Indian Wells a few weeks ago, when he was again compelled to qualify, before straight-setting Mardy Fish on the way to the fourth round.
*I should register an important qualification here. The period in question – July 2011 to April 2012 – includes a number of results from non-hardcourt events, most notably the Golden Swing and the Davis Cup. These results are of particular importance to players such as David Ferrer and Nicolas Almagro, but also to Nishikori.