The ATP calendar has never made a great deal of sense, which is no great issue, since nowhere is it written that sporting schedules need to be sensible. In the case of tennis, a global concern with a vast delta of revenue streams, it mainly has to be consistent.
While there are certainly issues with the current 52 week entry system, it more or less flows smoothly based on the fact that the same tournaments are mostly played at the same time each year. Olympic years, in which an additional premier event is plonked down midstream in September, thus always throw the calendar out of whack. Lesser tournaments are pushed to the banks, and the lower ranked players, for whom merely staying afloat is an admirable goal, bob and submerge fitfully.
This year, the Davis Cup quarterfinals have been hauled forward from their accustomed position after Wimbledon (when broad public interest in tennis has begun precipitously to wane), to the week after Miami (when it has barely started to wax). Those players whose nationalistic fervour demands immediate expression have already scattered to the various ties across the globe. Others, their patriotism on a slower burn, are holding out for the Olympics, and have retreated in the meantime to their pleasure barges. Davis Cup weeks always dam the season's lurching flow, though in this case it has yielded a valuable moment to regroup, before the annual invasion of Southern Europe begins anew, launching from its traditional staging points in North Africa and, um, Houston.
With space in which to do so, it seems appropriate to look back on the hardcourt season that has just concluded, which began in Atlanta last July, and concluded in Miami a few days ago. This period incorporates the US Summer, the Asian swing, the European indoors, Australia, and the disparate events in February that culminate in the US Spring Masters, and therefore includes two majors, six Masters 1000, the World Tour Finals, and a multitude of 250 and 500 events. As I've said before, it's a worthwhile way to look at the season, as a hardcourt marathon interrupted by those too-brief months on the dirt and turf of Europe. A longer perspective is always a useful thing to maintain.
Hardcourt Rankings
This list ranks players by their accumulated points across the hardcourt season.* Their actual current ranking is in brackets.
(1) Novak Djokovic – 7,700
(3) Roger Federer – 6,845
(4) Andy Murray – 5,540
(2) Rafael Nadal – 3,990
(6) Jo-Wilfried Tsonga – 3,780
(7) Tomas Berdych – 2,995
(5) David Ferrer – 2,645
(8) Janko Tipsarevic – 2,550
(11) John Isner – 2,270
(9) Mardy Fish – 2,135
That Novak Djokovic's hardcourt ranking matches his overall ranking suggests that his exemplary hardcourt performances were matched by brilliance on the natural surfaces, yet another example of a statistic miraculously revealing information we already knew. His accumulated point haul includes victories at the US Open and Australian Open, as well as Masters titles in Montreal and Miami. Owing to exhaustion and injury, his results fell away after the US Open, and so far he has not quite reproduced last year's post-Melbourne level, although he isn't far shy.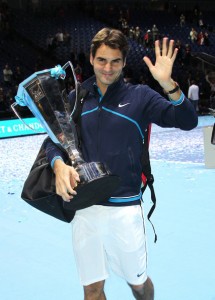 In all Djokovic claimed four titles, and achieved an overall match record of 42-6 (.875).
Roger Federer's hardcourt ranking is higher than his overall ranking, which is hardly surprising when we consider that his hardcourt points account for about 76% of his total points. This reflects lustreless results on clay and grass – the French Open being the brightest spot – mixed with blinding hardcourt performances in the European indoors and throughout February and March of this year. In all Federer won six tournaments, including a record sixth World Tour Finals, the Paris Indoors (for the first time) and Indian Wells. He failed to pass the semifinals at either of the majors. His overall match record was 46-5 (.902), the best on the tour.
Andy Murray won Masters events in Cincinnati and Shanghai, and like Federer reached the semifinals at each of the majors. Despite a weak loss at Indian Wells, he seems to have eschewed his habitual post-Melbourne failure-bender, which has only helped his ranking. He also cleaned up the entire Asian swing last September, thereby impressing everyone except Federer, whose vaguely dismissive comments inspired rancour among those Murray fans who are inclined toward defensiveness, which is to say most of them. The highlight was his third set masterpiece in the Tokyo final, in which he allowed Nadal just four points. In all Murray claimed five hardcourt titles, and compiled a record of 42-8 (.840).
Rafael Nadal's hardcourt season was arguably the most disappointing of his career, insofar as he failed to win a single tournament, and therefore sustained the amazing streak of having never defended a hardcourt title. At the same time, he reached three finals, including at the US Open and the Australian Open, where he unhappily discovered Djokovic. His hardcourt efforts were punctuated by several self-enforced sabbaticals, following the Shanghai Masters, and after the Australian Open. Nadal's hardcourt season ended with a withdrawal from the Miami semifinals last weekend, citing knee tendinitis.
There is a fervent hope that his recovery will be swift, given Monte Carlo's traditional role in kick-starting his year, and his ranking's overwhelming reliance on clay and grass results. His overall hardcourt record was 31-10 (.756).
Jo-Wilfried Tsonga's hardcourt campaign began auspiciously in Montreal, where he recorded his second straight victory over Federer, although he would go on to lose to the Swiss four times before the end of the year. Tsonga's strongest results came in the European indoors, reaching the finals at Bercy and the Tour Finals, and taking the title in Vienna. His strong performances have as ever been offset by bafflingly poor ones, such as the fourth round loss to Nishikori in Melbourne. However, a sustained period without grievous injury has finally allowed Tsonga to demonstrate something of his abilities, and he will likely take over the No.5 ranking in the coming weeks. Overall through the hardcourt season he won two titles, and put together a record of 43-14 (.754).
When John Isner reached the final of Indian Wells a few weeks ago, there was mild shock among casual fans not only at his defeat of Djokovic, but at the idea that he could come so far. But it's worth remembering that he'd only been a point away from making the previous Masters final, in Bercy. His tendency to become embroiled in draining epics has probably enhanced his reputation, but it has ultimately cost him success. Even when he wins, he can rarely muster much resistance in subsequent rounds. This cost him at the Australian Open, where an electrifying five set win over Nalbandian left little in reserve for the eminently beatable Lopez in the next round. For a guy with his weaponry, Isner must learn to win with greater efficiency. Through the hardcourt season, he won one title, and achieved a record of 33-14 (.702).
Tomorrow, Part Two will look at those players ranked beyond the top ten.
* These figures do not include Davis Cup matches played on hardcourt.