Monte Carlo Masters, Final
(2) Nadal d. (1) Djokovic, 6/3 6/1
Rafael Nadal defeated Novak Djokovic today in a Monte Carlo final that was even more straightforward than the score line suggests, and considerably less exciting than the epoch-defining epic we'd been promised, and therefore dreaded. As a match, it was a fizzer. Even before the tournament commenced, we were told that the eventual result would give us a clear guide as to how the clay season would play out. Well, the result has eventuated, and I don't feel any wiser.
I doubt whether Nadal or his legion fans are overly concerned. Rightly, they'll take a win over a spectacle any day. That being said, the numbers themselves are spectacular. This was Nadal's 42nd straight victory at the MCCC, and he moves clear of Federer atop the list of all-time Masters winners, to 20. He has now won eight consecutive titles here, an achievement that may go unmatched in our lifetime, although he'll very likely augment it in years to come. Nadal winning Monte Carlo is coming to feel eternal. If there's any justice, the Centre Court will be renamed in his honour. If he wins again next year – lucky number nine – he'll finally be allowed to kiss Princess Charlene.
Something to strive for. Djokovic was permitted to give her a peck even in defeat, because he's a resident, and that's apparently the rule, which I think is pretty generous of Prince Albert. It was surely the highlight of Djokovic's afternoon.
He certainly didn't do anything memorable on the tennis court, aside from spraying a heroic 25 unforced errors and failing to hold serve in the entire second set. Errors against Tomas Berdych yesterday inspired broken racquets. Today's mistakes produced nothing more flamboyant than a wry grimace. Afterwards, on the podium, he was relaxed and chatty. I can't recall anyone looking less put out after receiving a hiding from his closest rival.
For those keen to debate it, the debate to have is whether Djokovic could have won had he played better, or whether the hiding would merely have been less comprehensive. It was Nadal's finest match since last year's clay season, which is when he last won a title. The most remarkable aspect of it was how assiduously he eschewed his usual patterns, and yet maintained iron control. He and Uncle Toni had clearly devised a game plan, one that went deeper than just landing a lot of first serves, although he did that, too. Unpredictability was the key. There were very few of those three-forehand sequences that Nadal uses to open up the court. Instead he often drove the strong off forehand immediately, and Djokovic was sent scurrying. Halfway through the first set, the Serb began to guess, early and wrongly. Nadal served heavily at Djokovic's forehand, which leaked errors.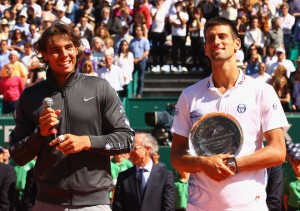 At one point he hit three body serves in a row, and the world No.1 picked none of them. There was a fabulous running backhand up the line, some excellent drop shots, and, most importantly, a courageous willingness to return with greater depth. And nearly all his mishits landed in. It was a good day.
And yet, it wasn't as though Djokovic was always off-balance. Plenty of times – 25 of them, in fact – he missed perfectly simple groundstrokes, mostly on the backhand, and mostly long. The wind was a factor, and so was the opponent, but it wasn't everything. There was something else, a kind of numb disconnection. The temptation for too many people has been to invoke the loss of Djokovic's grandfather midweek. Undeniably it played a part, but no one is qualified to say which part, however, and no one should try to. Of course, this did not excuse too many from attempting precisely that, from weaving the death of Vladimir Djokovic into the extravagant pre-match hype. Sadly no loss is so great that it cannot be traduced, and re-spun into a convenient narrative of redemption: 'Do it for Grandpa'. Djokovic afterwards didn't look or sound like he'd let down anyone, even himself.
The rest of the hype rightly centred on Nadal. By now everyone knows the numbers, although this didn't forestall constant reiteration as the week ploughed on from sunshine through rain into wind, and the Nadal-Djokovic final blossomed from figurative into actual inevitability.
Could the Mallorcan claim an eighth Monte Carlo title, and avoid an eighth consecutive final loss to the world No.1? It turns out he can.
With so much going on, today's final is therefore a difficult one to parse properly, although not as difficult as the allegedly expert analysts on the Sky Sports coverage made it seem. It was still possible to do it wrong. Boris Becker went on at tedious length about Djokovic's efforts to step up onto the baseline several years ago, apparently because this was the first thing that came into Becker's head and he was being payed either way. Greg Rusedski declared with unfeigned awe that this was the first bad match the Serb had played since he gained the No.1 ranking, apparently forgetting Djokovic's abject showing in Dubai. (And we know Rusedski saw that one: his disciples may cast their minds back to Miami, when he astutely chalked Djokovic's loss up to Dubai's excessive altitude.) At the risk of sounding like a tennis nerd, there was also Kei Nishikori in Basel, and David Ferrer at the Tour Finals. Peter Fleming was invited to speculate on what was going on in Novak's head. To his credit, he begged off. They were unanimous on Nadal, though. He was just tops.
Opinion elsewhere has bifurcated sharply over what today's result signifies for the clay season's remainder. As a rule, I am slow to assign meaning to these things. Sometimes a tennis match is actually just a tennis match. Clearly others feel differently. Some insist that Djokovic's domination of Nadal is at an end. Nick Lester, signing off on Tennis TV, demonstrated that even metaphors would not endure the new order intact: 'Rafa has broken the mould . . . that Djokovic had over him.' Others have been more circumspect, taking their lead from Djokovic, who didn't appear particularly ruffled. Today's result means nothing, they insist: the real tests will come in Madrid, or Rome, or Paris.
Come what may, today the real test was in Monte Carlo. For the eighth time in as many years, Nadal passed it. For whatever reason, Djokovic didn't, but then he never has. I don't know what to make of that. If everything is just the same, then what has really changed?