Monte Carlo Masters, Semifinals
(1) Djokovic d. (6) Berdych, 4/6 6/3 6/2
'It's hard to imagine a more picturesque picture than this,' remarked Chris Wilkinson on the Tennis TV feed, his verbal inspiration failing him (and us) just when he needed it most. Accompanying his words, the screen revealed a delicately graded Mediterranean sky (strangely muted to Australian eyes) dissolving away to the left in white dazzle, and falling through a fractal eternity of blues to the abrupt horizon.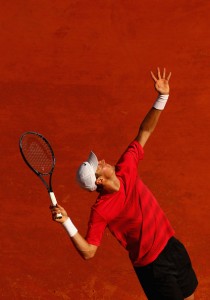 The sea sprawled back towards the camera, a flat plain flecked and gouged with white, lent volume by the vast pleasure yacht placed just so, and form by the tennis court in the foreground, like a swatch of burnt Sienna. The most picturesque of pictures surely deserved better.
Down on the court, the once picaresque Novak Djokovic seemed rather less impressed by the sumptuous locale. For one thing, he lives here and is doubtless used to it. For another, he could see little through the billows of dust periodically coalescing and gambolling across the court, and setting up camp in his throat and eyes. The picturesque picture hid the reality that it was a horrible day for tennis. For all television's manifold benefits – celebrity cooking shows and sitcoms about fractional men – it isn't at its best when showing wind (although it retains an edge over poetry and ballet in this respect). It relies on images, and moving air looks more or less like still air. Those white caps and the writhing flags were a giveaway, I suppose, and the effects microphones registered a dull moan over and below the ceaseless chatter of a crowd always too slow to settle. Djokovic was put out by them as well. For days, and with reason, he's matched any environmental setback with a darkened regard. Today, by all accounts, was his grandfather's funeral.
His opponent Tomas Berdych was all business. The Czech had torn through Andy Murray yesterday with a comprehensiveness that left English commentators across three networks scrambling for explanations. His game had mostly survived the night intact, although he'd unfortunately left his first serve back in the hotel room. Five double faults in the opening set suggested he'd misplaced the second, as well. Nevertheless, Berdych still won the set. Djokovic was peevishly distracted – to his litany of squalid outrage we might add countless dodgy bounces and a patch of clay behind the landward baseline requiring mid-set maintenance. But Berdych, once the rallies got under way, was imperious, combining patience with power and depth so potently that even the sport's best defender was frequently stranded.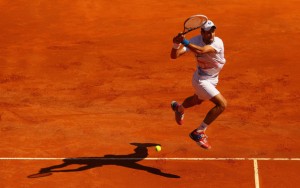 It was the Czech's immaculate point construction that stood out, the way his winners were a logical conclusion of each rally, and seemingly entailed little risk. Bossed around thus, Djokovic's mood soured, the wind roared dully, and the set disappeared.
The remainder of the match, once Djokovic saved breakpoints early in the second set, witnessed a gradual but accelerating reversal, apart from the gale, which never abated. Berdych's immaculate length shortened and Djokovic began to exert control. By the third set, it was all Djokovic, and Berdych's winners grew wild, and eked out from desperate positions. Even by midway through the second set, however, the intensity had drained from the match. The crowd grew restive, and the only energy came howling in from the sea. Djokovic, as is his way, bellowed with great vigour once it was over. It was an ugly match, inevitably in the conditions, but, yet again, he'd won it.
(2) Nadal d. (9) Simon, 6/3 6/4
His opponent in the final will be Rafael Nadal, who surprised no one by defeating Gilles Simon in the second semifinal, although Simon surprised everyone by playing so well. I confess that Simon is probably my least favourite player to watch, although this view would see sharp upward revision if he continues to play like he did today. Notorious for his passive, pushing game, a game predicated around fleetness of foot and junkiness of shot, Simon to his credit realised that such an approach would yield only one outcome against Nadal on clay.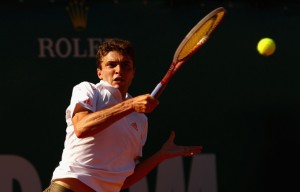 If Simon played 'normally' – as he had done so far this week in seeing off both Tipsarevic and Tsonga, grown men beaten to death with pillows – he would hardly last the hour: he'd be kukushkined.
Nadal on this court is just too dangerous. That forehand was designed and constructed for clay like Monte Carlo's, which rewards full value for spin. It helped that conditions were fast (and that the bounce was uneven). Consequently, Simon attacked, without relent and with tremendous poise. His crosscourt backhand, in particular, were taken tremendously early, smothering Nadal's vicious spin, and consistently leaving the world No.2 stranded in the backhand corner. I was astonished, and the commentary and various online media suggested I was not alone. It was as though the plodding Geoffrey Boycott became Adam Gilchrist for an afternoon. There was surely no way he could keep it up.
The wind had eased somewhat by the later match, although it remained a steady zephyr, gusting intermittently. Thus assaulted by his opponent, with uncertain conditions and a partisan crowd, Nadal's victory was a minor masterpiece of focus and footwork. The fleetness with which he scooted into his backhand corner was outstanding. More than the forehand itself, it is the virtuosity with which he enables it that truly stands out. It is also remarkable how much more adept he is at this on clay than on hardcourts. Pundits sometimes wonder why, say, Federer doesn't simply redirect sliced backhands up the line to Nadal's backhand. The blinding speed with which Nadal backpedals around his backhand is the answer. Simon today had nothing to fear from Nadal's backhand, it was just a matter of finding it.
The turning point came early, at 3/3, when Simon moved to 15-40 on Nadal's serve: two breakpoints. The first was a muscular rally, typically for the Spaniard, if not for the Frenchman. Nadal's launched a backhand that found the line, and steepled suddenly off a bad bounce, rearing over Simon's racquet. I remarked at Indian Wells (against Nalbandian) how often Nadal finds the line when facing breakpoint. On the next point, Simon played a fine rally, and swooped in on the net, but struck the put-away volley off centre, putting it not away but smack in the middle of the court. He read Nadal's subsequent pass, but netted the makeable second volley.
Nadal went on to hold. Too often players are broken after failing to break their opponent, and this especially seems to be the case for lower-ranked players when facing Nadal (which is currently everyone except Djokovic), arguably a testament to the desperation they must feel at having blown their only chance. Simon was duly broken, and Nadal held comfortably for the set.
The Spaniard opened the second with another break, capped by a whipped forehand winner up the line. He was now 2/2 on breakpoints. Simon wasn't. Nadal would coast to the match on that advantage, although they would trade unrequited breakpoints for the next few games. The wind rose again, the shadows encroached, and a final forehand winner sealed the day. It was the best I've ever seen Simon play, but it wasn't enough. It wasn't the best Nadal has played – not by any stretch – but it was enough.
Whether it will be sufficient in tomorrow's final is an entirely different question. Nadal should be pleased with his forehand and his footwork, but concerned about his returning – which had improved since yesterday, though not by much – and the tendency to leave his forehand corner unguarded. These are both areas where Djokovic, who has a better serve and crosscourt backhand than Simon, will make the Spaniard bleed. After the match Nadal remarked that 'At the end, you cannot change your game a lot, no? I don't have that talent to change a lot my game.' But these are areas he must change, if he is to staunch the flow. Tomorrow we will discover whether he can become only the second man in the Open era to claim the same event eight times, or whether Djokovic can defeat him eight times in a row, all in finals. There is much to play for. As Chris Wilkinson might say, it should be a spectacular spectacle.