Indian Wells, Third Round
The Indian Wells Masters has been going for almost a week, but it is yet to sustain a theme less incoherent than shit and vomit, and the propulsive ejection of either or both from the bodies of various professional tennis players.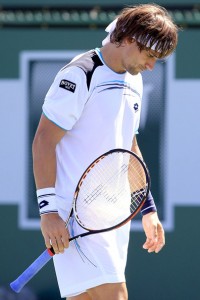 The big boys have remained, from Larry Ellison's perspective, mercifully untroubled, yet too many of the lower seeds are conspicuous in their absence, unless for whatever reason one happens to be sharing a toilet stall with them, in which case they're merely conspicuous. Davydenko was the latest withdrawal.
Istomin d. (5) Ferrer, 6/4 6/3
(9) Del Potro d. (19) Verdasco, 6/2 7/6
David Ferrer, however, might have been the latest victim. Certainly a debilitating bout of dysentery might explain his crappy performance today against an inspired Denis Istomin. Then again, it's important to remember that Ferrer has never needed a reason for an early exit at this tournament – just an opportunity. Last year he was beaten by Ivo Karlovic, mostly from the baseline. Something about Indian Wells just doesn't sit right with the No.2 Spaniard.
It's a structural deficiency the No.5 Spaniard – currently incarnated by Fernando Verdasco – has fashioned into an art form, and one he is happy to reproduce constantly, everywhere. It seems like years since his hairstyle graced even the quarterfinals at a significant event. Today, after a poor opening set against Juan Martin del Potro, Verdasco played exactly as well as he needed to in order to win the second set, minus one point. He reproduced that one point six times in total, each a subtly-wrought variation on the theme of squandered potential, amounting to an extended meditation. Like I said, he's an artist. His signature flourish, the equivalent of the Beethovenian sforzando, is the double fault, which he will deploy lavishly or sparingly depending on the occasion. Today he saved his best one for 6-6 in the second set tiebreak, gifting Del Potro a first and only match point.
Nalbandian d. (10) Tipsarevic, 6/3 3/6 6/3
(6) Tsonga d. Stepanek, 6/7 6/3 6/2
Speaking of squandered potential, the match of the day saw David Nalbandian overcome Janko Tipsarevic in three sets. Both men struck the ball beautifully, with exquisite timing. As always when Nalbandian wins, it looked like potential attaining fulfilment. But it never seems to last.
He'll next play Jo-Wilfried Tsonga, who eventually overcame Radek Stepanek in a match that was memorable insofar as it was an exceedingly rare example of Stepanek's t-shirt being the least horrible of those on display. Stepanek appeared in a relatively tame blue argyle affair, while Tsonga's t-shirt depicts the last thing lifeguards see when they drown in orangeade.
(3) Federer d. (27) Raonic, 6/7 6/2 6/4
The ostensible match of day, or night, between Roger Federer and Milos Raonic, was a strange kind of affair that never really got going, despite its premium billing as a battle of the generations. It ended up being the kind of tennis that made the dull Indian Wells surface look quick, as Raonic's monster serve and generally inadequate returns initially combined to produce 12 straight games without a single memorable rally. It was new-school first-strike tennis. The serving dropped away and the returns picked up after that, and to no one's surprise it turned out that Federer was superior once the ball was in general play. But saying that Raonic is worse than Federer off the ground is not to deride him. For the most part he held his ground admirably.
Some have suggested that he paid Federer too much respect, which might explain why he mistakenly opted not to challenge on two close calls late in the third set, on the mere say-so of the chair umpire. Nadal would have challenged, correctly. Del Potro would have challenged, eventually. Nalbandian would have challenged, but would have been denied. Federer would not have challenged, but that's because he's really bad at it. It's fine to respect Federer, but you don't have to emulate his use of Hawkeye.