Indian Wells, Quarterfinals
(3) Federer d. (9) del Potro, 6/3 6/2
(2) Nadal d. Nalbandian, 4/6 7/5 6/4
The quarterfinals at the Indian Wells Masters are now complete. The question of whether anything new can be said of Roger Federer defeating Juan Martin del Potro in straight sets has now moved on from being vaguely theoretical. It is suddenly pressing.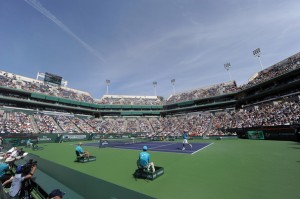 The same goes for David Nalbandian, and of how he can be the best tennis player in the world for almost, but not quite, as long as it takes to win a tennis match. Both questions have suddenly gained greater immediacy. The answer in both cases is hopefully.
Federer has now taken eleven consecutive sets from del Potro. Nine of those have occurred this year, across four matches in three months. Stern numbers, which seem downright grim when we consider that Federer has only played five tournaments so far this season. Really, it's amazing they didn't face off in Davis Cup a few weeks ago, for all that Switzerland wasn't hosting Argentina. Last year Federer and Jo-Wilfried Tsonga set some kind of record by playing eight times in a season. It's still only March, so Federer has a chance to top that. Based on today's performance, I'm sure del Potro and his fans can imagine nothing worse.
Indeed, I wonder how for much longer their matches can be hyped as potential epics. The answer, probably, is forever. Hype doesn't follow the usual rules of taste or sanity. In a way, of course, the 2009 US Open final is the culprit. Had del Potro lost that match, then it's hard to imagine everyone would get so excited for his latest set-to with Federer. But he did win, and remains the only man besides Rafael Nadal to have defeated Federer in a major final. Fans have not been slow in declaring that next time they won't get excited at the chance to watch these two play, which I imagine is intended as some kind of threat. (It used to be that blathering idiocy came at us piecemeal, if not daily. Now, thanks to the Internet and its surrogates, it is a constant stream.) Of course they'll tune in. I will.
Much was also made of the Hawkeye issue in the opening game, although it's fair to say that it did have some bearing on the match, since it took del Potro so long to get over. Briefly: Federer served to the deuce court. The ball looked wide, del Potro challenged. Federer clearly expected an overrule, and readied a second serve. Unfortunately, when Mohamed Layhani requested the replay, none was forthcoming. The internet had gone down (not all of it). Layhani – whose shorts have revealed a comely set of pins – was suitably contrite, admitting he hadn't been watching, but that he totally believed del Potro that it had been out. Unfortunately, the rule is that the original call must therefore stand.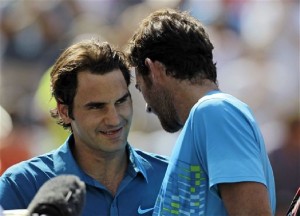 Ace: game point, Federer. Del Potro was considerably more flabbergasted than he needed to be, argued for longer than he should have, and was thus distracted while the rest of us watched his game temporarily fall apart. Federer broke immediately, and then rode it to the end of the set, Sampras-style.
As he has all week, Federer broke immediately to open the second, although the fact that he hadn't already lost the first was doubtless a pleasant change. He initially looked like riding that one out too, but by now he was well astride the Argentine, and broke again. Both breaks were sealed with majestic forehand winners – the first crosscourt, the second inside out. At 4-1, the commentator was heard to utter: 'Watch and see if Del Potro makes a charge here.' 65 seconds, three aces, and one volley winner later, and it was 5/1. They say you've never really held serve until you've bludgeoned your opponent with a sack full of doorknobs. Federer tightened slightly upon serving for the match, losing the requisite two match points. Del Potro picked up his game momentarily, but he isn't Djokovic (yet), and Federer served it out.
That was that.
Nadal and Nalbandian ambled onto court about an hour later, and immediately set about assembling a finely-wrought contest that was if anything closer than the scoreline suggests. The components of this potential masterpiece were the Argentine's backhand, simultaneously silken and robust, and Nadal's forehand, which, according to Robbie Koenig, imparts more revolutions onto a tennis ball each minute than any other, ever. I vaguely recall that a professor at Stanford or somewhere proved this scientifically a few years ago. Thankfully some genius has discovered that Hawkeye can track this spin, and churn out entirely useless graphics to illustrate it. Of all the ways in which Hawkeye has enriched our lives, this rivals Channel 7's decibel meter for sheer gratuitousness. A breakdown of Nadal's victory over Alex Dolgopolov yesterday imparted the stunning discovery that he hit no flat shots (that's 0%), but that 74% of them would have rotated over 3,500 times had they remained aloft for a full minute.
To put that in layman's terms, Nadal hits with a lot of topspin. Not to sound smug, but I already knew that. Still, Koenig couldn't get enough of it. He must have brought it up three or four times, lavishing upon it the emphatically clipped enthusiasm he usually reserves for phrases like 'considerable aplomb', 'an oil-painting of a forehand' and 'more angles than a South African diamond-cutter.'
A large part of Nadal's problem with Nalbandian is that even he cannot spin the ball out of the Argentine's backhand strike zone. Like Djokovic's, it is simply too good a shot, even above shoulder-height. Nadal has previously conceded that he probably pays Nalbandian's backhand too much respect, but you can see where he's coming from. Nalbandian was handling the spin easily today, at least through the first two sets.
Like so many players, Nalbandian appear to believe he has only one chance at beating Nadal, and when that chance passes, he resigns himself to defeat. Today, that single chance came late in the second set. The first set had been remarkably even until Nalbandian broke brilliantly to end it, with a deft drop shot and a forehand winner. He rode that form through the second set, but could not secure a break. Games continued on serve until 4/5, with Nadal serving. This was precisely the moment when Nalbandian had pounced in the first set, and he looked eager to do so again. They moved to 30-30, and Nadal was two points from exiting. A short, furious exchange ended when the Spaniard pounded a heavy forehand onto the baseline. I could sense Koenig's knowing nod from across the Pacific: a mere 3,400RPM would never have dragged that bastard down. No way. That shot had needed the full 3,500, with change. It turns out topspin has uses beyond kicking balls up over Federer's shoulders.
Nadal held, and Nalbandian, with dull predictability, permitted himself to be broken. At 30-30, where Nadal had previously launched a decisive forehand, Nalbandian opted in turn to flub a pathetic drop shot into the net. For poetic succinctness, only a double fault could top it, and so he served one. There went the set, and the match.
Nadal moved to a 5/2 lead in the third. Fergus Murphy pointlessly issued a time violation, figuring that it was now late enough that he would never need to follow it up with an actual penalty, even as Nadal showed no sign of speeding up. Nalbandian broke, held, and then moved to break points as Nadal served for it a second time. It was terribly exciting. There were break points, but Nadal saved them. The final scrambling point summed up this fine match perfectly – Nadal's forehand blooming into dominance, and Nalbandian, in the end, not quite making the ground.