Indian Wells, Semifinals
(11) Isner d. (1) Djokovic, 7/6 3/6 7/6
(3) Federer d. (2) Nadal, 6/3 6/4
The worst thing about the constant finals between Rafael Nadal and Novak Djokovic is not necessarily the length of the matches (which is interminable), or the standard of tennis (which is fine). It is the dreary sense of inevitability, the realisation that no matter how the rest of the narrative plays out, and irrespective of the trials surmounted along the way, the identity of each protagonist is never truly in question. The best part is that those of us destined to write about the final can start doing so even during the quarterfinals.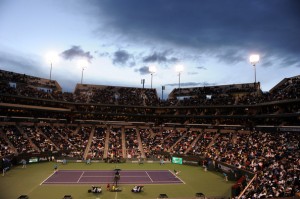 The worst part of having that final not take place is that those theoretical paragraphs I may or may not have pre-written may or may not have to be discarded.
It was unlikely to be a problem. Coming in to today's semifinals, there was little chance that Djokovic or Nadal would lose. Know-it-alls were already thrashing out precisely how the No.2 might ensure that no one beats him eight times in a row. John Isner had been commendable in reaching his second consecutive Masters semifinal, but, realistically, a guy who barely scrapes by a sub-par Gilles Simon is unlikely to trouble the world No.1. Meanwhile, Roger Federer is hardly equipped to overcome a career head-to-head of 9-18 against Nadal, especially outdoors. The specifics of the match-up – Nadal being in Federer's head even as he kicked heavy balls over his shoulders, an anatomical miracle – no longer even required discussion. They were now simply a given.
Isner's victory over Djokovic can feasibly be paraded as the upset of the year so far, bearing in mind that the world No.1 has not truly lost a match at this level since Paris 2010, and that his only loss at a Grand Slam in the last 18 months was to Federer.* You might contend that Isner beating Federer on clay in Davis Cup in Switzerland was more noteworthy, and you'd have a case. You might also point out that ranking upsets is fairly pointless.
Still, today's result wasn't utterly beyond imagining. Djokovic has not quite seemed himself lately, or, more accurately, he has seemed closer to the erstwhile, fallible version of himself, the one we used to make fun of before he became terrifying.
Secondly, Isner has been in good form, and will now enter the top ten even if he loses in the final. He's no chump. Thirdly, the conditions were tricky – gusty, damp, and 12C – and Isner could hit through them, while Djokovic couldn't.
Nonetheless, when Djokovic broke early in the first set, he looked like coasting it out; until Isner broke back, forced a tiebreak, and won it. Djokovic cunningly saved his break for later in the second set, and this time defended it. 2011 taught us that the world No.1 would accelerate beyond the American's titanic reach in the third, but somehow it never happened. There was always that serve to even things up. Isner earned a match point at 5/6, but couldn't convert. Another tiebreak ensued. From that point, his serve kept him level, but courage on his forehand put him ahead. Djokovic toiled under the increasingly fissured certainty that Isner would start missing. Isner didn't, and a 144Mph serve brought up three match points. Sadly for Djokovic, he would only be permitted to serve on two of them (the rules are clear on this). He did what he could, and erased a couple. Isner's fourth match point was the first on his own serve. For the first time today, but not the last, victory was sealed with an ace out wide to the ad court.
Isner was exultant, the unashamedly partisan crowd went off its collective nut and Djokovic fled the court. As if on cue, the sky wept torrents, and there was no more tennis. Commentators returned us to studios, whereupon the result was duly dissected, and its key role in the developing renaissance of American tennis considered. Before long we were treated to replays from yesterday. Hours later, Nadal and Federer appeared, to fierce adulation. Federer received slightly more frenzied applause, although Nadal had Ben Stiller in his box. We'll call it a tie.
Federer, as ever, commenced with the utmost assertiveness, and swept imperiously through the opening three games. Nadal, as ever, responded, and won the next three. Federer came back again, and won another three, which brought his tally to six. He immediately cashed these in for a set. Throughout, the Swiss deviated only rarely from the sensible tactic of pummelling Nadal's backhand almost without relent.
In Melbourne Federer had erred by relenting often – the constant net approaches to Nadal's forehand had been a particular highlight – but today, for a change, he opted not to abandon a winning plan. He carried it through to the second set, and Nadal's backhand began to break irretrievably down, thanks in equal parts to the unrelenting barrage and the unsteady zephyr.
Federer broke twice, and arrived at 5/2. Suddenly, inexplicably, he did relent, and Nadal began to lash the lines, tripling his forehand winner count – it reached three – to retrieve one of the breaks. The Spaniard then held, and dashed for the toilet. The arch suggestion of gamesmanship was aired, seemingly ignoring the inconvenient fact that Nadal managed, heroically, to relieve himself adequately within the allotted span, and return to court in good time. Federer stepped up to serve for it again. A desperate rally at 30-30 ended with Nadal netting a makeable forehand. Match point, and a final twist. The misting drizzle deepened into dull rain, and the players stalked to their seats and zipped up their very stylish Nike jackets. Both had much to consider. Federer: where he would serve. Nadal: where Federer would serve. They returned to court a few minutes later, whereupon we discovered that Federer had been set on a heavy flat one out wide, an homage to Isner. Nadal didn't see it coming. It was an ace. It was victory.
*Djokovic withdrew from Bercy last year, and retired in the Cincinnati final.