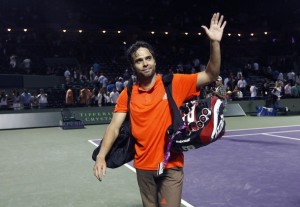 The Miami Masters tournament is underway, although you might not know if it if your engagement with professional men's (and women's) tennis was somehow limited to watching it; if you'd somehow dodged the unusually dull lead-up coverage and the ubiquitous draw-dissections, and had therefore avoided exposure to the most potent soporific known to man (or woman). As was the case at Indian Wells, the initial days at Key Biscayne are not televised.
There is little to say about this that I didn't say last week. Both events continue to outdo each other in strident declarations of their status as the unofficial 'fifth slam'. But the other four slams don't gift all 32 seeds a first round bye, and they provide coverage from the get-go, including qualifying. (So does the Dallas Challenger, for that matter.) There is invariably simmering discontent over this, since it disadvantages the lower ranked players, who would surely appreciate some extra exposure. This year, however, fan frustration has been compounded by the retirement of Fernando Gonzalez, who'd been given a wildcard into Miami for his final tournament. He was then scheduled to play the final night match on day one, meaning that only those present bore witness to the Chilean's last match, which he lost 5/7 6/3 6/7.
Nicholas Mahut was the villain of the night. To the contractually-stipulated reminder that the Frenchman was the guy up the other end when John Isner won the most absurd match ever, commentators may now add the fact that he was last man to survive the game's most menacing forehand. Mahut is a pretty intriguing character in his own right, boasting a niche fan-base all his own, but at this rate he is destined to be remembered as the guy up the other end when big things happened. It can be a tough role to shrug off. Just ask Benjamin Becker.
Apparently, and characteristically, Gonzalez bowed out with class. Reporters embedded in the raucous first night crowd have confirmed that his final match was as exciting as one could have wished for. He saved three match points, and even hugged Carlos Bernardes in lieu of a handshake. There was an on-court presentation, and a tribute video in which most top players wished him well. Immediately afterwards, as the well-wishing tweets swelled to a cacophony, Gonzalez simply announced 'Game Over'. It was hard to top for succinctness. He will be sorely missed, not merely by the other players, but by the same worldwide audience that couldn't watch his final match.
Other doings of note that almost no one saw: Ivo Karlovic beat Lukasz Kubot for the first time in four meetings. There are such things as bad match-ups in tennis, and sometimes they're difficult to fathom. Kubot had never before lost a set to Karlovic, and had beaten him four and two last week in California. Speaking of which, for the second time in two weeks, Kubot lost after serving for the match. Last week it was to Andy Roddick, which can arguably be excused on the grounds of pressure and the vast experience of his opponent. But today . . . Whatever Karlovic's considerable charms off-court, and the fearsome array of serves at his disposal while on it, there are surely no worse returners in the top hundred.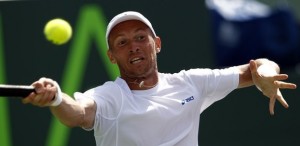 Speaking of match-up issues, Nikolay Davydenko posted his first win over James Blake in eight meetings – another match that surely no one wanted to see, especially in this era when fan's veneration for veterans partially drives the sport's popularity. Grigor Dimitrov actually defeated a player he should in Mikhail Kukushkin – and quite handily, too – and will consequently return to the top hundred. Baby steps, I suppose, but the giant leap will surely have to come soon. If his ranking slips further, he may have to qualify for Roland Garros and Wimbledon, mountainous hurdles for a guy who has proved he can stumble over mole-hills.
Bernard Tomic, meanwhile, saw off Sergiy Stakhovsky in straight sets. Tomic's ranking remains in the mid-thirties. His immediate goal should be No.32, and a seeding for the year's second major. Mention must also be made of Cedrik-Marcel Stebe, who today recorded his first tour-level victory of the year, and his first ever on hardcourt. Stebe – some may recall his tussle with Lleyton Hewitt at the Australian Open this year – provokes interest for a number of reasons. Firstly, his game is fairly attractive in its own right. Secondly, this is a guy who has wrung nearly every possible advantage from the Challenger circuit, including his quite improbable win the the Challenger Championships last year. He can barely win a match at tour level (surprisingly), yet his current ranking of No.91 is one spot above Mahut, who attentive fans may remember was the guy up the other end for Gonzalez' last match.
The second round begins tomorrow, and the cameras will finally be turned on. Hooray.
My kind-of tribute to Gonzalez can be found here: Remembering Gonzo.