Miami Masters, Second Round
(28) Anderson d. Querrey, 6/3 6/7 6/3
(11) Del Potro d. Karlovic, 7/5 6/4
When Kevin Anderson broke Sam Querrey for a decisive 5/3 lead in the third set of their second round encounter, the American launched his racquet furiously at the court. I didn't see it, since the camera had already cut away to the exultant South African, but the sharp, repeated crack of the Babolat frame against the surface was clearly audible, even over the crowd.
Anderson's heroics in gaining the decisive break had been met with a stony silence that was more or less total. The Miami crowd is arguably the most partisan on the tour, and the American wasn't winning.
This is not to imply that this crowd will only support locals. Far from it. To those who complain that the United States doesn't deserve to host three of the nine Masters 1000 events each season, the reasonable response is that in the case of Key Biscayne, hosting is all it does. As far as the loudest parts of the crowd are concerned, the event belongs to Latin America. Yanks who had foolishly assumed otherwise have traditionally been educated with eager rambunctiousness. Recall – or perhaps forget – Roddick's dismal loss as defending champion last year to Pablo Cuevas. Or, more thrillingly, think back to Pete Sampras' potently atmospheric and pulsating victory over Gustavo Kuerten in the final in 2000. Even today, Mardy Fish's win over Frank Dancevic earned warm applause, but the subsequent announcement that Juan Martin del Potro was next up inspired frenzied roars and closely-harmonised soccer chants. As Doug Adler remarked from the commentary booth with unhelpful resignation, 'That's just the way it is.' Robbie Koenig, seated beside Adler, said nothing, having already explained at length why he is permitted to cheer for Anderson. That's just the way it is, and Querrey be damned. Anderson served it out at love, to a dismissive smattering of applause. South Africans clearly rate nowhere in the Miami crowd's affection.
When del Potro did arrive on court, he was met with a vibrant chorus of adulation – the population of Tandil had apparently turned out, and they'd been rehearsing – and faced with Ivo Karlovic in some rather snazzy shades. We viewers were faced with the brain-twisting sight of the Tandil Tower looking dwarfed: more a Buenos Aires Bungalow. Perspective is a strange thing. There is a tendency, when an absurdly tall player takes to the court, for your mind to reject such size, and to compensate by diminishing the opponent, and pretending he is in fact unusually short.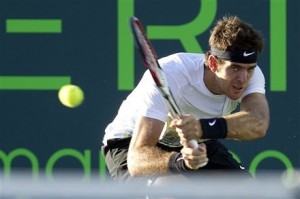 Thus Federer, strangely, looked like a midget against Isner in last weekend's Indian Wells final, even though he played like a giant.
It had thus been strange to watch Anderson and Querrey together on court. The former is 6'8'' and the latter 6'6'', and yet within minutes the visual evidence overwhelmed my brain, such that both men looked completely normal, but for the fact their match was apparently being officiated by gnomes (a particularly cheeky gnome in the case of Mohamed Lahyani). Apart from their powerful serves, their tennis hardly looked like big man tennis, either. Mostly they were content to slug it out from beyond the baseline. This could perhaps be construed as comment on the speed of the Miami hardcourts, notoriously amongst the slowest on tour. But I don't think that's the case. Querrey's game is just fatally short on variety, although like every modern player he can pass well enough when his feet are set. Anderson is considerably more versatile, and this began to tell as the deciding set wore on. He'd had little luck in forecourt through the early going, but his forays to the net began to yield results as the pressure wound tighter, and Querrey began to pull up on his passes, framing a bunch. This presumptuous frame was duly punished for its impudence, and met its end in the penultimate game. Still, I found Anderson's finish impressive, even if the eerily quiet crowd did not.
I wonder if players ever grow distracted when their accolades are recited over the loudspeaker during the hit-up, and if it is especially off-putting when the details are wrong. Did del Potro notice when the announcer declared that he had won the 2010 US Open (he won it in 2009)? Or is it only fans that are outraged by this, on behalf of their hero? The crowd on hand didn't seem to mind. Most of them were just delighted by the fact that he was Argentinian, and therefore South American, and that they therefore loved him unreservedly. In any case, it didn't put del Potro off, as he navigated a potentially tricky encounter with the potentially tricky Karlovic, without even requiring a tiebreaker.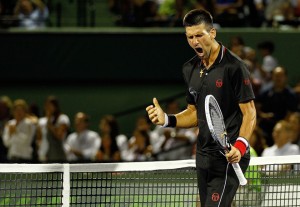 Karlovic, the biggest man of them all, did play big tennis for the most part, smashing down first serves and loping in behind them. Del Potro was compelled to play a lot of passing shots, so he did. The crowd went bananas.
(1) Djokovic d. Baghdatis, 6/4 6/4
Not to be outdone by mere amateurs, Novak Djokovic took up the challenge of nutcase celebrations, after defeating Marcos Baghdatis in a straight sets match that was conducted in good spirits, and which the world No.1 never once looked like losing. His chest-beating antics afterwards were roughly commensurate with those following last year's Rome semifinal, in which Djokovic had battled through exhaustion and saved match points to defeat Andy Murray in an true epic. Sometimes, I suppose, you're just running on adrenaline. Not tonight, though. It was all very strange.