Indian Wells, Second Round
There is an old belief, cherished by a certain kind of pundit, that fighting through a three-round qualifying draw transfigures hitherto meek qualifiers into battle-hardened killing machines. It is, at heart, akin to the doctrine that what does not kill us makes us stronger, which was apparently formulated in a universe without maiming. Still, if there is truth to it, then the remaining Indian Wells qualifiers must be very tough indeed, with souls of adamantium, steely gazes and brains of iron. After all, they've endured not only qualifying, but that 'super qualifying' round that here passes for a first round, in which higher ranked players who'd assumed their direct entry meant much are sharply disabused of the notion.
Then, in the quaintly-named second round, our theoretical T-1000 qualifier will encounter his first seed, whereupon he will unleash an unprecedented level of mayhem.
There is an alternative view that qualifiers are compelled to play qualifying for a reason (their ranking), and that in fighting their way through they have grown battle-weary, and that they have only faced similarly-ranked players. Proponents of either view will easily find examples to buttress their claims. Representing the former, Matt Ebden probably felt unlucky in having to qualify at all, and has proven this amply by reaching the third round, seeing off the seeded Julien Benneteau yesterday. Representing the latter view, we have everyone else. The qualifiers may have developed hearts of steel, but all too often when they encounter the big boys, they also have feet of clay.
Juan Martin del Potro saw off Marinko Matosevic today, surviving a tough first set before inflicting a rough second one. Rafael Nadal's February sojourn apparently did him the world of good, enabling him to crush Leonardo Mayer in 75 minutes, whereas he would normally take something like 80. Novak Djokovic was similarly accomplished in seeing off Andrei Golubev, who was, of course, fearsome, having survived qualifying. These two – Nadal and Djokovic – already have collision course written all over them, which might put them in breach of their clothing sponsorships.
On the subject of threads, Jo-Wilfried Tsonga is still dressed as an explosion. So is Fernando Verdasco, who otherwise looks to be savouring the slow surface and the big heavy balls. Sadly, Feliciano Lopez – who looked classical in his whites and absurdly attractive in his beard – didn't enjoy them so much in losing to Marcos Baghdatis. It'll be something for the Spaniards to discuss next time they catch up for a friendly game of being handsome.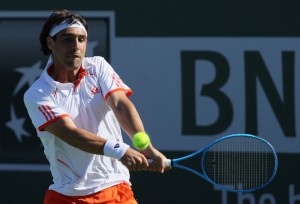 Baghdatis, who knocked out Roger Federer here a couple of years ago, proved that you can still wear adidas and not resemble a combusting canary, although there is apparently no getting away from orange.
Speaking of which, an off-colour and virus-ridden Federer somehow found a way past the wildcarded Denis Kudla, a way that mostly required staying in the point until the American selected the appropriate error from his extensive repertoire. Federer periodically grew impatient with this, and would blast winners instead, although the shot of the match was an outrageous drop shot. Federer's biggest issue appeared to be finding enough tissues at each change of ends, in order to staunch whatever was streaming from his nose. He was lucky it was only streaming from his nose, since he's apparently afflicted by the same virus that has laid many low in the Palm Springs area, and has forced several players to withdraw already, including Kohlschreiber, Monfils, Seppi and Melzer (from doubles). Twitter, which is usually execrable anyway, has lately lit up with lurid chatter of vomiting and diarrhoea.
Andy Murray's hardcore fans live in a near-perpetual state of anxiety, although which particular concern is currently uppermost depends on the part of the season. During the majors, the concern is that he won't win it, which is a kind of acute concentration of the general simmering worry that he'll never win one at all. In the months immediately following the Australian Open, the concern is that he'll slump again, the way he did in 2011 and 2010. Nevertheless, several factors have lately contrived to allay this perennial fear. Firstly, his departure from Melbourne this year occurred in more favourable circumstances, with a loss to Djokovic 7/5 in the fifth, notwithstanding that it occurred a round earlier than usual. Secondly, Ivan Lendl surely won't countenance Murray's usual high-intensity navel-gazing.
Thirdly, he played well in Dubai, beating Djokovic. Lastly, he has been making the right noises, including that line that in order to be the best one simply cannot take a month off (unless you're Nadal , apparently, and the month is February). There was every reason to think that 2012 would see no slump at all. Suddenly, gloriously, it was safe to let ones guard down, even for a second.
After his disastrous loss to Guillermo Garcia-Lopez – or GGL as he's affectionately known to those who long ago grew weary of typing his full name– in the second round of Indian Wells last night, hopefully Murray's fans have learned a valuable lesson. Never, ever let your guard down. All confidence is false confidence. Remain vigilant, be alert, be alarmed.