Australian Open, Final
(1) Djokovic d. (2) Nadal, 5/7 6/4 6/2 6/7 7/5
Insofar as the longest major final in history can have just one defining moment, that moment in tonight's final arrived with Rafael Nadal serving at 3/4 in the fourth set. Novak Djokovic, whose potency on return had been under rapid development for an hour, suddenly launched a furious assault on the Spaniard's serve, earning 0-40: three break points, and virtually match points, given the inexorability of the match's flow.
It had been a fine final, entirely worthy of a fine event, and slotting encouragingly into the existing narrative of the rivalry: Djokovic is in Nadal's head, the match-up favours the world No.1, you know how it goes.
Despite commencing with precisely the aggressive mindset he had advised to Andy Murray to employ – dictate with the forehand, and ride the baseline – Nadal had thereafter spent the better part of two sets retreating and scurrying, often lurking in Monfils-country adjacent to the back hoardings. The feeling of having his back to the wall had therefore grown wearily familiar. From 0-40 Nadal characteristically forced the imminence of his defeat to one side, and set about lashing a series of furious winners from both wings and on serve to hold. The inevitability of the world No.1's victory abated. The heavens, shocked, began gently to weep, speckling the court, and the players fled as the monstrous roof over Rod Laver Arena ground gradually shut. It only needed another fireworks display to really ram the momentum change home. This moment proved to be the pivot around which the entire match swung, and although it did not determine the winner – since Nadal still lost – it did enable this final to evolve into one of the most dramatic, exacting, aggravating, painful and brilliant matches in the sport's history.
There is a sense in which the winner is irrelevant following matches such as these, although it is glib to say so, and misleading to overstate it. Winning still matters, and given the choice Nadal would surely trade his starring role in a classic final for the trophy itself. Nevertheless, both players afterwards spoke movingly and genuinely of their pride at having produced so monumental a spectacle.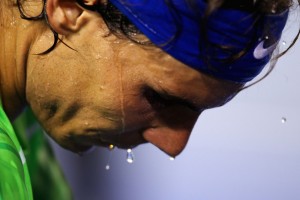 Nadal suggested that this is why they play tennis. Djokovic, clutching the Norman Brooks Challenge Cup, knew the real reason, but he too was effusive and generous in his praise. Both knew they'd given almost everything, and that none could fault them for effort.
Perhaps we cannot fault Nadal's industry, but his tactics deserve some examination, or, more specifically, his unwillingness to stick with the approach that had delivered him a taut, nervous and frankly low-quality opening set. Having thus established his lead, Nadal, for no discernible reason, retreated, abandoning the baseline and with it any hope of imposing himself on the match. The Spaniard's winner count plummeted in sets two and three, as Djokovic obligingly stepped in and increased his pace, hustling his opponent from the court. The rout was on. For the first time that I can recall, Nadal looked forlorn and impotent, a young man still, but one whom the race was over-running.
But we perhaps pay too much attention to such considerations. We deride Nadal's retreat, but he was close to winning the match, and it wasn't an overly defensive mindset that made him miss that crucial backhand pass late in the fifth. (The same may be said for Federer: widely condemned for his recklessly unstructured semifinal, he was still inches away from serving for the fourth set.) The fact is, Nadal proved mighty, and mightily competitive, doing what he knows best. It has delivered him ten majors, although I should add it has delivered him three consecutive runner-ups as well.
Jim Courier, well into the fifth, began to rant once more about Nadal's lamentable court-positioning (with good reason), but stopped himself with a chuckle: 'Man, this stuff is easy from in here.' After nearly 350 minutes on court, nothing was easy for either player anymore, and thinking clearly was the last thing anyone should have expected of them.
At the end, addled, it was Djokovic who buried a final forehand winner and collapsed to the court with unimaginably weary triumph, before lurching up to embrace Nadal, and then tear the shirt from his body, much like Andrew Ilie did when he didn't win the Australian Open. Nadal, in the dark place beyond disappointment, removed his shirt more carefully, since his team has strict rules about respecting equipment, and probably because he didn't feel in the mood. The crowd were going bananas. Channel 7's patented and pointless Crowd Meter registered 116dB, which I gather meant the crowd was loud, although this was pretty clear from the noise coming through my speakers. Blissfully, it was the only noise coming through, the commentators having fallen hushed. On AO Radio, the heroic duration and wretched hour were wrecking voices and scrambling minds. Even the cliches wouldn't come: 'Really, it's a shame someone has to win,' intoned the announcer, before correcting himself. Everyone knew they had witnessed something special, a true epic, and arguably the greatest final the Australian Open has known.