Australian Open, Semifinal (Day Twelve)
(1) Djokovic d. (4) Murray, 6/3 3/6 6/7 6/1 7/5
If tennis matches had soundtracks – and this is certainly a matter worth lobbying the ITF about – tonight's semifinal would have to be scored by Philip Glass, in his full early-minimalist splendour. Minimalism is a technique in which great complexity is wrought by repetitively permutating quite simple musical building blocks, in much the same way that Novak Djokovic and Andy Murray tonight produced an epic and dramatic five set tussle without once deviating from a uni-dimensional baseline approach.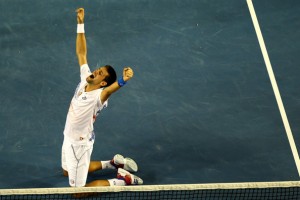 (Djokovic had the good grace to apologise to Rod Laver afterwards.) If Rafael Nadal and Roger Federer last night composed a minor masterpiece in four contrasting movements, Djokovic and Murray's effort was closer to Einstein on the Beach, coming in at around the same running time, and inspiring a similarly pacifying loss of self-will in onlookers.
Channel 7, those unsurpassed masters of silver linings and tabloid guff, were not slow in applying a positive spin to Lleyton Hewitt's loss back in the fourth round. The good news – and there was an immediate promo to highlight this for us – was that Hewitt would be re-joining the commentary team, and he would bring his various insights, and verbal tics – 'tremendous ball striking', 'extremely well' – with him. Naturally tonight's match featured plenty of balls being tremendously struck, and both protagonists went about any number of their assigned tasks well, often extremely so. But Hewitt has added a new term to his catalogue of stock phrases, which is 'energy'. By the second set, he was mentioning how Murray was or wasn't 'drawing energy from his player's box' so often that it was as though he believes it's a thing, and not merely a metaphor, as though Kim Sears and Ivan Lendl were actually narrow-casting charged particles at the Scot. Hewitt also admonished Murray at one point for not hitting with enough 'eviction'. It was, admittedly, a relief from the otherwise unbroken stream of clichés. In other words, Hewitt has slotted right in.
By this point Djokovic was beginning visibly to struggle, seemingly from the same respiratory issue that had afflicted him in his quarterfinal match. The world No.1 indicated imploringly to his box that he couldn't breathe. Misreading his gestures, they continued transmitting 'energy', when what he really needed was oxygen. The message didn't really get through until the fourth set, and by then their man was well down. Courier put the energy issue to Djokovic in the on-court interview: 'Where did you get your energy from?' Perhaps the metaphor holds little currency in Serbia: 'Energy drinks, water, bananas?' It earned him a laugh from the punch-drunk Rod Laver Arena crowd, whose affections had been courted ardently by both men as the fifth set wore down, via a series of direct and utterly heart-felt appeals.
Channel 7's latest gratuitous gimmick – the Decibel Meter – had very nearly overheated from all the energy directed its way. It reached something like 108, which long experience with meaningless numbers tells me is more than 107, but beyond that I cannot say, since to the television viewer such numbers are just a useless abstraction. 108 is loud I suppose?
Afterwards, there was much chatter of how much this match will mean for Murray, and how a respectable loss in the semifinal will harm him less than a shabby one in the final did in the last few years. The good news is that both Donald Young and Alex Bogomolov Jr had breakthrough seasons last year, so even if Murray loses to them again it will represent progress of sorts. To be fair, Murray was frequently wonderful tonight, and it wasn't merely breathing issues that allowed him to push Djokovic to five sets. His fightback from 2/5 down in the fifth was especially stirring, although I can imagine he will relive the subsequent wasted breakpoints at 5/5 for some time to come. That's how trauma works, and he seems prone to it.
As for Djokovic, he joins Nadal in the final of a third consecutive major, the first time two men have achieved this feat in the Open Era. Should he overcome Nadal, it will be his third straight major title, and his seventh straight final victory over Nadal. The question will be fitness, and energy, but not the symbolic kind that hums through tennis stadiums. Remember back to the Foro Italico last year, when Djokovic was pushed mightily by Murray in the semifinal, yet retained the wherewithal to defeat Nadal the following day. The time-frames and the exhaustion are more telescoped in a Masters event, but he'll need to pull off something similar here in Melbourne. He's the man to do it. He'll just have to strike the ball tremendously, compete extremely well, and receive plenty of energy from his support team. And oxygen. He'll need that, too.