Shanghai Masters, Second Round
(10) Roddick d. Dimitrov, 7/6 7/5
Tomic d. (5) Fish, 4/6 6/1 6/4
Nishikori d. Haase, 0/6 7/5 7/6
The talk, as the Shanghai Masters commenced, was of how so anaemic a main draw might nonetheless provide nourishment for the rest of the field. Without Djokovic, Federer, Soderling or del Potro tending the kitchen, there are plenty of morsels upon which a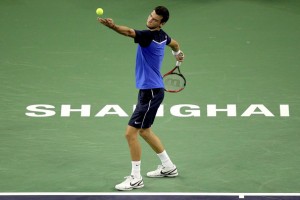 hungry young player might snack. The food metaphor is close to collapse, so I'll just come out and say that for those remaining in contention for the Tour Finals, there remains a great deal to play for. And for everyone else, there's always plenty to play for, although this is especially true of the youngsters just making their way on to the regular tour. So far the results have been mixed (like a salad!).
Sadly, far from drawing nourishment, Grigor Dimitrov has again made a meal of things. The exceedingly long, and mostly inexorable decline of Andy Roddick has brought him the point at which he seems eminently beatable even when faced with a dewy-eyed youngster on the make. Many are fond of declaring that Dimitrov's big break is surely just around the corner – they never specify which corner – but had he not lost today, I'm not certain whether beating Roddick would even qualify as such. There was a time when even if Roddick couldn't survive Federer or Nadal, he could at least match it it with Djokovic or Murray. It wasn't that long ago, but it isn't coming back.

The young Bulgarian is a tremendously exciting player to watch, and I suspect aficionados of stylish tennis are desperate for his breakthrough to come soon. But he remains horrendously inconsistent, and his backhand wing is terribly fragile. Roddick directed everything there today, but I don't want to imply that he was thereby pressing Dimitrov's backhand. He was directing balls the way one might direct geriatrics on a senior's cruise. Roddick generates markedly less pace with two hands than the emaciated Dimitrov does with one, but he can get them in, which Dimitrov can't. It told a tale. Dimitrov belted some terrific winners, and made slightly more errors. Roddick steered clear of either (and steer really is the word). Dimitrov served for the second set,
but was broken back and then fell away completely. I am left with the feeling that it was a performance of which Roddick might feel pride, subscribing to the erroneous idea that he was masterfully letting a flighty opponent beat himself, that a tactic of desperately getting one more ball back won him the day. It didn't.
The same might be said of Bernard Tomic, who followed up his accomplished win over Kevin Anderson yesterday by taking out Mardy Fish, which is hardly what Fish needs right now, with sultry London calling. Tomic, in that rich tradition of bizarro players, is a cruel prospect when you're having an off day, and Fish today proved that this remains true even for those near the top of the game. The 18 year old Australian was as composed as a veteran, and unflappable on both serve and return as the match wore down.
Kei Nishikori defeated Robin Haase in three strange sets, and has seen his ranking rise a provisional two places, although rankings are not official until the tournament concludes. On the face of it, this is not a big deal, until you realise that the ranking he has risen to is No.45, and that on Monday he will become the highest ranked Japanese male player of all time. Barring some unforeseen event, Monday will see the completion of Project 45.