Shanghai Masters, Third Round
(15) Mayer d. (1) Nadal, 7/6 6/3
Ebden d. (8) Simon, 6/2 2/6 7/6
There is a great deal to be said for variety trumping power, for the idea that a multifarious approach to tennis might overcome a blunt determination to hit the ball very hard. Alas, there is less to be said in the current era, now that power and movement are nearly everything. Invariably what gets said emerges in a valedictory tone, a yearning for a bygone age, underscored by the plausible implication that such times will not return. After all, Federer's play can be tremendously varied, but we're deluding ourselves if we imagine he would possess 16 majors without his forehand, whose many variations are all on the theme of overwhelming pace. Variety will for now augment this, but no more.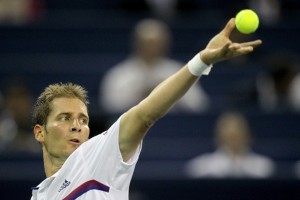 You get points for style, but the capacity consistently to move your opponent from the court bags silverware. By those lights, today's results in Shanghai harked back to a past era, a day of triumph for quick hands, net-rushing, oddball drop shots, hard work, and whatever it is that Andy Roddick does.
Florian Mayer saw off Rafael Nadal in two sets that were straighter than the scoreline suggests. One year ago Jurgen Melzer took three sets to achieve the same outcome – Nadal due home before the quarters – with a mighty performance that is still savoured among the Spaniard's detractors, and among Melzer's fans, which is almost certainly a smaller group.* Today, Mayer's performance was comparable to the Austrian's only in the thoroughness with which the world No.2 was overwhelmed. Melzer's victory was a testament to the wisdom prevailing at the time, which was that hitting hard through Nadal's forehand wing would expose his questionable hardcourt-positioning. When power is all you have, such an approach is considered tactical. Lacking Melzer's penetration, Mayer's performance today owed everything to the strange feyness of his game. His winners find parts of the court you wouldn't think to cover. It helped that he served well, and faced no break points. It drove Nadal over the edge, and he was fittingly broken for a second time to see out the match.
Mayer's win was the biggest upset of the day, but it certainly wasn't the only one. Matthew Ebden's excellent run in Shanghai continues; he qualified, you'll recall. He has now claimed the scalp of Gilles Simon, who was seeded eighth here, and might be an outside chance to qualify for London if he stops losing for a moment. Ebden is like an Australian version of David Ferrer, although he isn't as quick, tenacious or swarthy. The Spanish version of David Ferrer saved match points in seeing off Juan Carlos Ferrero. Meanwhile Tomas Berdych, who was so imposing in winning Beijing last week, was swept summarily from the court by Feliciano Lopez, who served mightily, volleyed adroitly, and flaunted his bulging tanned thighs with practiced and casual expertise.
To cap it all, Bernard Tomic and Alexandr Dolgopolov – poster children for strange and anachronistic play – did battle. Sadly, tennis this freaky was deemed too disturbing for public consumption, and they were shunted to a non-televised court. The only thing to emerge was the final score – 5/7 6/1 6/0 – suggesting that whatever bizarreness went on behind those closed doors, it was Santoro-class.
* I find that public attitude to Nadal is more clearly delineated by age than for any tennis player since Andre Agassi (before the American attained the cloying monkish solemnity of his second phase). Baby boomers apparently have little time for his antics, and are always first to mention his endless skirmishes with his underwear. Furthermore, more than any player in the top 10, Nadal boasts anti-fans, who revel in his losses even more than in the victories of their purported favourites, an unhealthy position way out on the cusp of reason, and really as useless as slavish devotion.