Stockholm, Semifinals
Nieminen d. Blake, 7/6 5/7 6/2
(1) Monfils d. (6) Raonic, 6/7 6/4 6/3
One year ago in Stockholm, in the wake of a 6/0 6/2 drubbing at the hands of Jarkko Nieminen, it seemed clear that James Blake's tennis career had entered that uneasy stage in which retirement is only a short press conference away. Far from drying up, the baffling losses to journeymen and one-time whipping boys had now joined up to become a thriving and self-sustaining wetland. While the similarly Lear-esque Hewitt continued to be thwarted by tough draws, Blake had devolved to the point where no draw could be anything but. No match was a gimme. Given that the end was merely a formality, his insistence that he still had good tennis left in him seemed equal parts deluded and perverse. And yet, perhaps he was correct.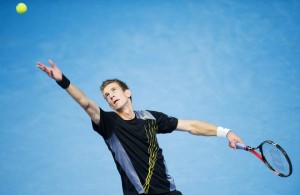 One year later, he has again lost to Jarkko Nieminen, but by the respectable scoreline of 7/6 5/7 6/2. The match was much closer, and it was a semifinal. I suppose that's progress.
Nieminen will play Gael Monfils in the final, although he wasn't too far from playing Milos Raonic, instead. The Canadian led by a set and a break, which on this surface and wielding his serve is usually the better part of victory. Tonight, once he had unaccountably faltered, it was the worst part of disappointment. From 4/2 in the second he won only a few more games, which would have been fine had he won them immediately, and consecutively. We can chalk this one up to inexperience, I suppose, or weariness, since indoor tennis is just so exhausting.
If I was to be fair, I might also chalk it up to Monfils, who generally ventures from his shell at this time of year. Less obsessed with being 'entertaining', he plays with more adventure and authority, and is consequently far more entertaining. It is almost as though he is usually concerned that the fans in the bleachers are bored by watching tennis played well, and have for some reason come to a pro-tennis match hoping to see something else, which is only true in America. Really, tennis crowds are generally pretty thrilled by good tennis (valuing it almost half as much as seeing their random compatriots win, which is sadly true everywhere).
Moscow, Semifinals
(1) Tipsarevic d. (4) Davydenko, 6/2 7/5
Meanwhile in Moscow, Janko Tipsarevic has progressed to his fourth ATP final of the season, seeing off Nikolay Davydenko. Davydenko held a bunch of set points in the second set, but he can no longer close these things out. It wasn't so long ago that the Russian was the tour's form player, seeing off Federer and Nadal in the same event twice in succession. He is now part of a long tradition in tennis of the career segmented by a grievous injury, and by no means the latest or the saddest. He struck the ball beautifully at times in the second set tonight, but he used to do that all time. No one knows why he cannot do it all the time now, except that it has something to do with confidence, a lazily capacious excuse that reveals less than it obscures. It certainly doesn't tell us whether we will see Davydenko around next year.
Tipsarevic will meet defending champion Viktor Troicki in the final, guaranteeing that no matter how hard the Serb tries not to win, the guy up the other end will be trying even harder. The reverse is also true.