Stockholm, Second Round
Not all tournaments are created equal, even those luridly lit and putatively interchangeable events lurking in the twilight in the season, with their boastful courts and eyesore silverware. To those who cannot be bothered to watch them all – an exclusive category featuring nearly everyone on Earth – they probably all do seem alike, with little to differentiate Stockholm from Vienna,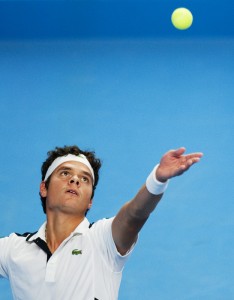 or Moscow from St Petersburg. It certainly feels like there are plenty of them, although a quick headcount reveals only six spread over a three week lead up to their apotheosis in the Paris Indoors. Of the six, only Basel is a big deal, although this elevated status will not outlive Federer's retirement. Meanwhile, this week we have the richly-traditioned Stockholm – where grown men do battle in a blue gymnasium for a retro doomsday device – and Moscow, always a popular destination in October, whose trophy is unremarkable but for a pewter booster-rocket assembly on the bottom.
Of course, watching tournaments is the best way to tell them apart, and having watched the early rounds of Stockholm I can say that it's been very good. This mostly reflects the quality of the draw, which I would contend is stronger than Moscow's, stylistically diverse and cosmopolitan where Moscow's is largely composed of baselining Slavs. There have been a few close matches, and the blowouts have been thrilling in their own way, for the way they have showcased perennial favourites doing what they once did best, and the best of the youngsters doing what they should do more.
Nalbandian d. (7) Dodig, 6/1 6/1
Blake d. (2) Del Potro, 6/4 6/4
I covered Nalbandian's first found a few days ago – a taut, low-grade skirmish with Xavier Malisse – and it was nice to see a dramatic improvement in his play today. He demolished Ivan Dodig, which is by no means easy to do, in a display of flawless hardcourt tennis, taking the ball early, volleying with authority – I love the way he ghosts to the net – and committing almost no errors. Last night James Blake blasted Juan Martin del Potro from the court. Blake is one of the few players who can out-muscle the Argentine's renowned forehand, at least on those precious occasions he doesn't spray it everywhere. Del Potro was strangely restrained.
Dimitrov d. (4) Chela, 6/2 5/7 6/1
(6) Raonic d. Petzschner, 6/3 6/3
(1) Monfils d. Tomic, 6/4 6/7 6/4
Grigor Dimitrov, the most lauded of the new generation, although as yet the least accomplished, somehow dropped the second set to Juan Ignacio Chela, but otherwise performed with consummate all-court virtuosity, easily the finest match I have seen from the Bulgarian since his arrival on the main tour. The slick Stockholm surface is particularly well-suited to Milos Raonic's power game, and after surviving a tough but tedious first round again Marcos Baghdatis, he saw off Philip Petzschner pretty easily, for all that the surface favours the German's game, too. Dimitrov and Raonic will meet in the quarterfinals, and either will make a worthy semifinalist. On this surface, and given the relative weakness of Dimitrov's returns, I would favour Raonic. Meanwhile, Bernard Tomic contrived to fade sharply against Gael Monfils, despite leading 4/2 with a point for a double break in the third. Suffice it to say, he didn't take the break point, and thereafter experience won out, which is a statement I never thought would apply to Monfils.