The last major of 2011 is done with, which for a vast proportion of tennis fans ostensibly concludes the tennis season itself. The truly committed – or those merely facing committal – of course know otherwise, since the Asian swing and the European indoors beckon, and even casual fans have presumably heard of
Davis Cup, even if they don't care unless their country is involved. Come to that we must, but first, some scattered thoughts on issues that have outlived this year's US Open.
The two topics destined to linger are naturally Novak Djokovic's continued dominance, and his improbable victory over Roger Federer in the semifinals. Fascinating though these are – and they have been and will continue to be discussed here and elsewhere at soporific length – this year's US Open inadvertently promoted a couple of other pressing issues to the fore. The first concerns the Open itself, and whether a fourth successive Monday men's final will finally see off the frantic, unfair and admittedly great-value Super Saturday 'tradition'. Money, sadly, talks, and so far it has talked louder than common sense, which in real-world terms means that CBS's broadcast interests have thus far trumped the contention that forcing the men to play best-of-five semifinals the day before the final was a pretty tough ask, especially for the second pair. Inevitably, if either or both of the semifinals go the distance, the final will prove a perfunctory affair. Super Saturday guarantees a Sub-par Sunday.
Abetting this outcome, the tournament's first round is spread over three days, thereby leaving no cushion at the back end of the tournament. Lacking a roof , the tournament schedule thus goes haywire the moment inclement weather intrudes. Inclement weather has intruded for four straight years – thus the Monday finals, which surely don't help CBS's ratings – owing in part to altered climate patterns that have shifted hurricane season to the start of September. Common sense dictates that the early rounds are dispensed with as quickly as possible, that the men get a day off before the final, and that the USTA builds a roof. Financial realities dictate that CBS is entitled to maximum value for their product – which is the last two rounds – and that putting a roof on Arthur Ashe stadium would be prohibitively expensive even if it was possible. That said, I'd be surprised if the schedule at least wasn't dragged back nearer sanity next year.
The second issue highlighted by this year's US Open was that of 'precautionary' retirements, whereby a player would fall prey to an injury that wasn't serious enough to stop him playing, but that he felt was serious enough to stop him winning. There was a time when this inspired a player to simply go for broke. Fabio Fognini demonstrated this principle to superb effect at Roland Garros, when he couldn't move but he could swing, so he swung, and somehow won. Now, however, the player apparently can't give up fast enough.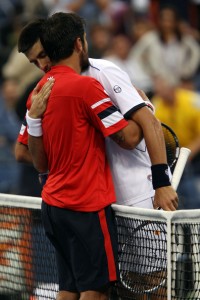 Tsonga provided a succinct demonstration in Montreal, as did Djokovic in Cincinnati, and it is a bad business. Most relevantly to the Open was Janko Tipsarevic's withdrawal in the quarterfinals, when, following two tight sets he sustained an injury to his thigh, checked out for a set and a half, and then gave up entirely halfway through the fourth. In all three cases – and there have been others – the player was fit to perform the following week, his capacity in no way reduced. Tipsarevic is listed to play Juan Martin del Potro in Serbia's Davis Cup tie against Argentina tomorrow.
It seems to me that the ATP's 'lack of best effort' rule at least deserves perusal, since nowhere does it concede that 'A player shall use his best efforts during the match when competing in a tournament, unless he feels he can't win or can't otherwise be arsed.' And nor does it include a provision for withdrawing from an event because the one next week means more to you. Arguably, Djokovic's US Open win vindicates his decision to withdraw from the Cincinnati final, unless you had paid to attend the Cincinnati final, or you believe that there is a measure of right and wrong that supersedes the facile assumption that ends justify means. Rules exist to preserve this distinction, but not if they aren't applied.