Davis Cup semifinals are upon us, as are the World Group playoffs, both promising a measure of redemption for a team event that has so far this year produced little excitement. Frankly, 2011 has been a bummer, but the ties this weekend hold some promise, although I suppose they always do. Prior to a tie commencing, that's about all you can ask for, even as disappointment invariably follows. Why are these things almost never as exciting as you'd hope? Thinking on it, I suppose that's true for all sports, mirroring life.
World Group Semifinals
Spain 2 – France 0
Argentina 2 – Serbia 0
Both semifinals sit at 2-0, meaning that in both cases today's doubles could complete a rout. In the case of Spain leading a depleted France – no Monfils, and Tsonga operating at reduced capacity – this is hardly surprising. The production is being staged in a broiling and dusty bullring in Cordoba that looks like an extravagant movie set,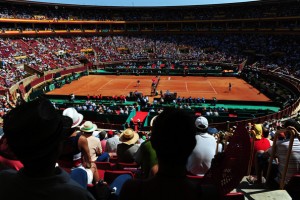 which was to be expected given the degree to which the entire affair has been carefully scripted both to intimidate the visitors, and to inspire Rafael Nadal. Though surely wearied beyond measure from his fruitless exertions in New York, it has apparently worked. Striding manfully through a climactic scene from Gladiator, and incarnating a Spaniard even more convincingly than Russel Crowe did, Nadal was focussed and merciless. Into this cauldron of virulent and macho patriotism ambled Richard Gasquet and Gilles Simon, a couple of diminutive and scruffy hobos looking for all the world like extras who'd wondered onto the wrong set. At least Monfils and Tsonga, muscled and magnificent athletes, would have matched the utterly martial vibe, even if they might not have altered the result. As it was, the crowd was rapidly whipped to a lathered frenzy by a home team that conceded only ten games across two rubbers. A full-strength French team might have eked out a set, but the overall result would have been the same. Today's doubles might be a classic, and worthy of the venue, but Spain will not lose the weekend.
Meanwhile in Belgrade, Novak Djokovic – wearied beyond measure by his fruitful exertions in New York – opted out at the eleventh hour, foolishly presuming that Tipsarevic and Troicki could surely get the job done against Argentina. Or perhaps he didn't presume anything, but wanted to rest. As it happened, he was either wrong or affirmed in his disinterest when his compatriots managed a lone set between them, succumbing meekly to Nalbandian and del Potro. The defending champions cling on the brink of defeat. Nalbandian famously values the Davis Cup more than any other prize – although any comparable prize is frankly beyond his means – and so it's hard to see Argentina losing from here, although, if Serbia wins the doubles, the Djoker will remain the Djokovic in the pack.
World Group Play-offs
Australia 1 – Switzerland 1
Israel 1 – Canada 1
A world away from Serbian stadiums and Spanish bullrings, the World Group play-off tie between Australia and Switzerland is apparently being conducted in someone's backyard, right down to the grass-court, which is delightfully old-school: lightning-slick, uneven and low-bouncing enough to satisfy any purist.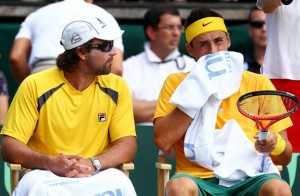 Having said that, the purists would have looked on in dismay as Bernard Tomic and Stanislas Wawrinka evoked a by-gone era, recalling a pair of second-grade baseliners at Wimbledon in the seventies. Tomic, in particular, looked as ever like a throwback to the times when even pros could be self-taught, although it's hard to deny his effectiveness on grass, since the more inconsistent the surface, the greater the challenge he poses. Wawrinka at least ventured to the net from time to time – he is a fine volleyer – although not so frequently as he chose to dump forehands into the net. On a fast surface with variable bounce, technical flaws (like not watching the ball) become exposed. The Swiss No.2 looked increasingly hopeless and frustrated as the match wore on, and, as many others have, eventually failed the Tomic Test. There is little doubt that the Australian team's overall strategy relies heavily on the surface and Wawrinka, for all that Roger Federer is present. I suspect the home team have more or less conceded any single match involving Federer – although Hewitt gave a mighty account of himself – given that the surface so suits his immense variety and wonderful serve. But you would have to favour Hewitt over Wawrinka, which means that today's doubles might prove decisive.
The tie is being conducted in a tremendously laid-back fashion, one not owing solely to the intimacy of the venue. Pat Rafter, ensconced court-side, could only look more relaxed if they gave him a rocking chair and a quilt for his legs, a stark contrast to Albert Costa and Guy Forget, who each spent most of their matches rocketing up out of their seats, in order to gesticulate wildly with less impediment. Federer and Hewitt have been engaged in a mutual-affection exercise for some days. The most touching moments were surprisingly supplied by Tomic, who remarked after his win that he'd
opened so nervously because his idol Federer was sitting court-side, and that when they contest the reverse singles on Sunday: 'I just pray he doesn't like my game. If he likes it, I'm screwed.'
The atmosphere was rather more heated in Ramat Hasharon – which I gather is in Tel Aviv – where Israel is hosting Canada. Unless you're specifically interested in the Davis Cup fortunes of either country – full disclosure: I'm not – the main interest in this tie resides in the return of Milos Raonic after hip surgery, and that his first opponent back was everyone's favourite pro-tennis blogger Amir Weintraub. Israel's No.1 Dudi Sela dropped the opening rubber in a savage five hour loss to Vasek Pospisil – an upset – and there was a widespread anticipation that Raonic would serve his way to a 2-0 lead. On his 25th birthday, Weintraub surprised everyone by lifting magnificently and winning in four sets. Word is that the entire crowd sang Happy Birthday to him afterwards. This is what Davis Cup is all about.