Cincinnati Masters, Final
(4) Murray d. (1) Djokovic, 6/4 3/0 Ret.
For the second week in a row, Novak Djokovic arrived at a Masters final courtesy of a default. Today he departed due to one, meaning that his second streak of the year has ended not with a Parisian bang – an event otherwise not to be missed – but with a soggy Midwestern whimper.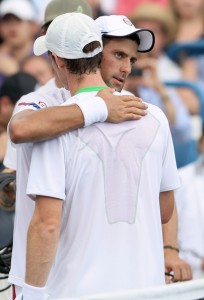 The tin sky wept and Andy Murray, even in victory, remained glum as ever. It was victory, but it was hardly triumph.
Still, it's better than losing, and certainly beats stuffing your right shoulder a week out from the year's last major. Watching Murray eventually hoist that strange urn, I was reminded of last year's Asian swing, when he subsided meekly for Ivan Ljubicic in Beijing, only to rise to the Shanghai title a week later, venomously thrashing an in-form Roger Federer in the final. Actually, in writing that I am reminded of countless other examples. Inconsistency is the thing to know about Murray, the sole certainty. After all, arriving in Cincinnati, he had not won a set on North American hardcourts this year, a combination of geography and surface that traditionally suits him best. Now, Murray has his seventh Masters title, and by the reckoning of some – including the flippantly flighty Jim Courier – has pushed his way to favouritism for the US Open, a psychic space historically guaranteed to cripple the dour Scot. Let's see how that one plays out. If Djokovic wasn't Djokovic, and if his shoulder wasn't buggered, Murray would probably be the story of the week.
But there's just no getting away from Novak right now. He has suffered just his second loss of 2011, so that's a story in itself, and will sustain everyone for a day or two. By then the US Open build-up week will be well into its stride, an escalating chain of tawdry, lame or dull Media Events, designed to pique our interesting, and not to be confused with those interminably humourless press conferences inflicted on top players, which serve no discernible purpose at all. It's here that you have to feel for Djokovic. He will endure approximately 82,000 questions about his shoulder, and he will have no choice but to give the same answer each time, since it's just a shoulder and there's not that much to say.  Whatever he says, it will be all he can say, and it certainly won't be the whole truth.
For those more desirous of portent or precedent, let's travel back exactly ten years. Gustavo Kuerten was the best player on Earth, and by thrashing an in-form Pat Rafter in the Cincinnati final had ably demonstrated that his journey to all-court mastery was now complete. Back then top players played a lot more tennis than now – they also feasted nightly on gluten – and so Rafter and Kuerten also met in the Indianapolis final a week later, on the eve of the US Open. Kuerten withdrew with a seemingly innocuous hip injury, the merest precaution. No one thought much of it. Although the beloved Brazilian would continue on the tour for some years, his time at the top of the sport had ended. From nowhere.