Cincinnati Masters, Quarterfinals
(1) Djokovic d. (6) Monfils, 3/6 6/4 6/3
The Roman philosopher Seneca once remarked, perceptively, that rage is self-punishment for others mistakes. As a statement it packs rather a lot into very few words, and was doubtless even more compressed when he wrote it, in Latin. Among other things, it deftly suggests that at the heart of rage lies frustrated expectations, which I think Seneca also said.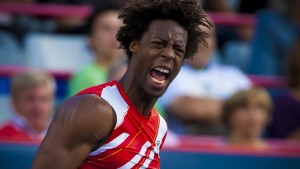 (It also cautions that succumbing to rage does most harm to ourselves, which may or not be true, and largely depends on where you rate spiritual damage in the scheme of things. Victims of road rage probably rate it somewhere below the grievous wounds they sustain.) It warns us that in order to curtail rage it is essential to calibrate our expectations realistically. Road rage, it follows, bears the imprint not merely of our frustration at other drivers' failure to meet our expectations, but from having unrealistic expectations in the first place, not only of our fellow drivers, but of driving in general, if not of life.
Anyway, these thoughts meandered through my mind as I watched Gael Monfils' stately capitulation to Novak Djokovic tonight. A perfect willingness to be personally affronted by any player's ineptitude is a bad way to watch tennis, but when Monfils is involved, you're just asking for trouble. For a good set and a half, the Frenchman looked set to confound my prediction that he would rapidly fold to the world No.1. Coming into the match, he had lost something like nine straight sets, including a 6/2 6/1 drubbing just last week in Montreal, but he looked a transfigured player as he broke Djokovic twice to take the opening set. He fell behind an early break in the second, but displayed great fortitude to break back, not to mention considerable virtuosity at the net. Then he forgot how to play tennis, which served the dual purpose of gifting a hitherto disinterested opponent the momentum, and of inspiring at least one commentator to almost blow his stack.
It was like seeing Seneca's axiom play out as a drama, or at any rate a dry comedy. It commenced when Monfils served an excellent wide delivery to the first court, which Djokovic desperately floated back. Presented with the open court, Monfils opted to slice a forehand into the net. The commentator was apoplectic. There was a tirade. Predictably, endless iterations of this followed, but reading about them wouldn't be as fun as watching them was. I'll just say that when tough got going, Monfils reverted to type, and retreated to his customary position by the backboard. Robbie Koenig managed to find enough to delight himself with – such as Monfils' baffling decision to scoot around and hit a left-handed forehand volley at one point – but his booth-mate was in that dark place beyond enjoyment. Monfils had saved a break point early in the first set with a gutsy second-serve ace up the T. In the third he gifted the crucial break by going for the same serve. The first had been 'brave' and precisely the kind of thing he would need to do to beat Djokovic. As you might imagine, the second merited a less generous assessment. There was a rant.
By the end, I was forced to wonder: based on everything we know about Monfils, and knowing how every one of his recent matches with Djokovic has unfolded, had anyone really expected anything different? The answer, I think, is that hope springs eternal, and that deep in the heart of the fan it will always trump realism. The commentator had doubtless come in expecting little, but when Monfils romped through that opening set, and demonstrated commendable grit in breaking back in the second, the belief had flickered that the Frenchman might actually pull off the upset. After all, he has done it before, and it would hardly even be the first upset today, with both Nadal and Federer departing in straight sets. Was another shock really too much to expect? Seneca says yes.
More importantly, Djokovic said yes. Remember: resistance is futile.