Winston-Salem, Final
(4) Isner d. (Q) Benneteau, 4/6 6/3 6/4
Julien Benneteau is a player I would say I have a lot of time for, and I even believe it as I say it, but the truth is that I've only ever watched a handful of his matches, with the win over Federer in Paris a few years ago standing out. Clearly I don't have that much time for him. Perhaps I enjoy the idea of him more: an undemonstrative Frenchman, who unlike so many of his compatriots sidesteps the trite discourse of talent-to-burn duly combusting.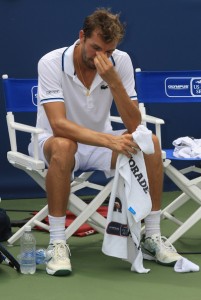 The uncharitable response would be that Benneteau had less talent to begin with, and it wouldn't necessarily be untrue. But there remains an appealing and workmanlike introspection to his game, one not unrelated to the commensurate pleasure he takes in his wins; products of hard labour. His compatriots disappoint everyone almost constantly, but they never seem sufficiently frustrated in themselves. Benneteau's disappointment today was all for himself, however quickly it was subsumed. The hot tears he shed into his towel remind us that for all Winston-Salem is a minor tournament, and rendered even less consequential by its proximity to the US Open, for some players winning it would mean everything.
Benneteau's career bloomed late, when he was already 26 years of age, and almost immediately began to wilt. Its fullest flowering occurred between April 2008 and February 2010, a period in which he reached four finals, and won none. Thereafter, runner-up frustrations became third round disappointments became first round humiliations, and by last month he had fallen from the top hundred, apparently irretrievably. But the odd thing about the rankings in this area is that you're only ever one big result away from a return to the big time. So it has proven. By reaching the final in Winston-Salem Benneteau will climb back up to No.86, and judging by the breakdown of his current points, he'll probably fall no lower until well into next year, his 30th.
It would be tough to argue he doesn't deserve it. He arrived at the tournament as a Qualifier, and losing in the final required playing nine matches in eight days, in trying conditions. It was a long way to come, only to fall short from a set in front. By the time he was compelled to ruminate on his efforts, he was saying all the right things, stressing his pride in coming so far, and so forth. Perhaps by then it was true, but he'd presented a rather different picture immediately after the match had ended, sobbing into his towel, looking for all the world like a man who was now 0-5 in career finals, and suspects there won't be a sixth.