US Open, First Round
(7) Monfils d. Dimitrov, 7/6 6/3 6/4
(27) Cilic d. Harrison, 6/2 7/5 7/6
Tomic d. Yani, 6/3 6/4 6/4
If compelled (under duress) to say what it is about Grigor Dimitrov that makes him the alleged stand-out among the current batch of up-and-comers, I would be hard-pressed to come up with much. He has just succumbed to Gael Monfils in three entertaining sets, so it certainly isn't his results, although his season has not been anything like as poor as some make out.
(He is ranked about 130 places higher than he was last August.) Still, a big scalp wouldn't hurt. Monfils' would have done nicely.
The standard word on Dimitrov is 'talent', a compliment that has grown so devalued through over-use that it has become downright backhanded. (Ironically, his backhand rarely merits compliment.) Nonetheless, according to many – even Milos Raonic – Dimitrov is the most talented of the group. I'm not certain what that means, since Raonic's serve seems like a fairly significant talent. Indeed if we run through the group of them – Harrison, Tomic, etc – it's hard to deny that they're all pretty talented. But they also all have clear and potent strengths. It might be something as obvious as the serves of Raonic and Harrison, or it may be something less tangible, such as Tomic's weird capacity to drive every opponent spare, but in each case it provides a core around which their play can be structured. What is the core of Dimitrov's game?
Watching the Bulgarian struggle heroically to not take a set from the  world No.7, I was faced with an awkward question: which part of Dimitrov's game wasn't working such that fixing it would permit him to beat top opponents? It wasn't as though his amazing serve just wasn't clicking, or that his movement was uncharacteristically sluggish, or that his masterful point-construction was repeatedly undone by crucial errors on the put-aways. He served fine, his movement was fine, and his unforced errors – even on forcing shots – would rarely have been winners had they cleared the net. It's hard to shake the feeling that we name Dimitrov talented because we don't know what else to say. Meanwhile over on Arthur Ashe, Federer may have been spraying balls everywhere, but he was really belting the shit out of them.
Naturally, comparing Dimitrov to Federer is as unfair as it is tempting – since 'talent' is here broadly synonymous with 'potential' – and we should bear in mind that in Monfils Dimitrov today faced a decidedly superior opponent to any of his contemporaries. The Frenchman played with unusual variety and maturity, and even partly hobbled he is astonishingly nimble. Harrison meanwhile fell to Marin Cilic, again in straight sets, a match he was widely expected to win.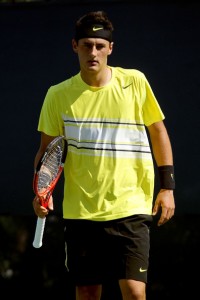 To be fair, the American did serve for both the second and third sets, and led in the tiebreak, so he wasn't far off making it closer. You could certainly see which parts of his game were letting him down, and in case you couldn't, Harrison helpfully signposted each transgression by launching his racquet at the court surface. Temperament is something else to work on.
Tomic easily survived three uneventful sets, although his opponent Michael Yani looked frankly outclassed. Notwithstanding that Yani has beaten Tomic several times at the Challenger level, the ease with which the Australian won suggests that he has progressed to a higher level in line with his improved ranking. If Tomic's fundamental game is sophisticated noodling, it is enhanced by the weapons that augment it. He boasts a strong backhand up the line, almost perfect disguise on nearly every stroke, and the capacity to generate power on his forehand seemingly from nowhere. It is the quiet threat of this stinging sudden power that renders the rest of his game so effective, and coupled with his tremendous disguise means that opponents are consistently caught on their heels, or guessing wrong. He also gives the most boring interviews imaginable, which I'm convinced is also a kind of talent.