The Montreal Masters draw has been released, and as usual bad vibrations are thrumming the ether: it's all rigged, and your favourite player has the toughest draw since the Challenge Round was abolished, which as I understand it required William Renshaw to battle seven top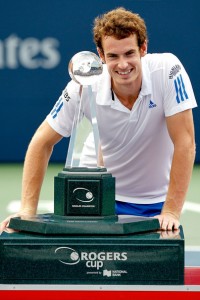 opponents simultaneously, who would periodically combine into a Voltron-like mega-robot. My grasp of the details might be shaky, but I think I have the fundamental concept right. Anyway, you know the drill. Winning will be a tough out.
So let's save some time. Federer and Djokovic again share a half, as do Nadal and Murray. This happens a lot, and the odds on it happening so often are small. Three things to bear in mind:
The odds on it happening are not zero.
It didn't happen in Miami, Madrid or Rome.
Let it go.
Moving on, who has the toughest draw out of the top four? Djokovic. Will someone from outside the top four win the event? Probably not, given that all four are playing, which is the sole precondition of one of them winning a Masters event (especially in Canada, where they've shared the last seven titles). I suppose Soderling won the Paris Indoors last year, but Nadal didn't turn up. Soderling hasn't turned up in Montreal, so winning this one might be a long shot. Ferrer, Roddick and Melzer are also no-shows. Curiously, the draw looks no leaner for their absence, which I don't mean as an insult. Anyway, who will win? I don't know. Andy Murray is the two-time defending champion. Maybe him. Maybe not.
As for the rest, there are enticing first round matchups littered throughout. Gulbis should beat Ferrero, but only if he retains his form from Los Angeles, so pencil Ferrero in for that one. Nalbandian versus Wawrinka will almost certainly prove disappointing, a succinct demonstration that good players out of form are indistinguishable from bad players. Granted a wildcard, Bernard Tomic will face a qualifier first up. For his own good, he should have been a qualifier. Wimbledon proved that. For shotmaking, try Haas and Tipsarevic; for short points at either extreme of the sex-bomb scale, try Stepanek and Lopez; for tightroped flair and near-certain mental collapse, you could do worse than Gasquet and Mayer. Or better.