Washington, Third Round
Isner d. Blake, 7/6 1/6 7/6
'Blake actually went for the winner . . .  I'm surprised he did that.' It's hard to imagine any commentator in the last ten years uttering these words with a straight face, but today one did. If there's one thing to know about James Blake, it's that actually going for the winner is actually his thing.
It will be chiselled into his tombstone. Those of a generous disposition call it 'uncompromising', which used not to be a compliment, but now is, a sign of the times.
The moment when he actually went for the winner and so startled that single booth-jockey came in the third set, at 3/3. He'd fought back from 1/3 down, and moved to break point. Isner missed his first serve, which returners of his serve agree is a key step towards breaking him. The second serve was kicked to the backhand, but with little width or viciousness. Blake had a clear play, so he actually went for the winner – a backhand drive up the line. Needless to say, he missed.
It was not his last chance, although the rest would be compromised, uncharacteristically. The next opportunity came with Isner serving at 5/5 0-30. He launched an ace, close to the service line. Blake looked askance at the line, then at the umpire, but didn't challenge. The replay showed it long. It would merely have meant a second serve, but it would have usefully capped a little passage in which Isner had grown progressively more preoccupied with Hawkeye. Half-convinced that even the technology was against him – Hawkeye in these moments comes to stand in for the broader cosmos –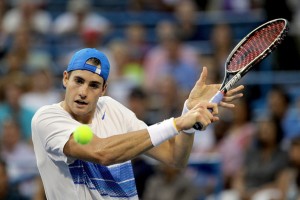 seeing that ace overruled might well have propelled him over the edge. There's no way of knowing why Blake didn't challenge, but it seems to me that players are generally less inclined to when facing friends, and he and Isner are close. It's a theory. It's a compromise.
Two weeks ago in Atlanta the pair were cruising to a third set breaker, when Isner abbreviated proceedings by breaking and winning. Today they made the tiebreak. Everything purred along on serve, though for a wonder it was Isner pressing the issue off the ground, and lumbering forward. Blake flicked a running backhand pass, Federer-like, but he should never have been on the run. Then Isner really attacked, and Blake permitted him to. The match ended with a flurry of put-away volleys, and a very fine overhead off a swirling floater.
I discovered in that final tiebreak that I would prefer Blake to win, which I hadn't realised earlier. It probably hadn't been the case until that moment, the moment familiar to all sports fans, when professed indifference gives way preference, born of the urge to care about the outcome, one way or another.