Hamburg, Quarterfinals
(8) Verdasco d. (2) Melzer, 6/3 2/6 6/4
(3) Almagro d. (6) Mayer, 7/6 7/6
If you're after a good laugh – and can't bring yourself to watch any more of the Bryan Brothers' music clips – then you could do worse than head over to Fernando Verdasco's official website. Let's just say that an atmosphere of virulent machismo prevails, delivered via the miracle of Flash. The intro – plenty of guff about 'no matter the opponent, no matter the surface…' and macho poses struck whilst bursting through the surface of Rod Laver Arena – establishes the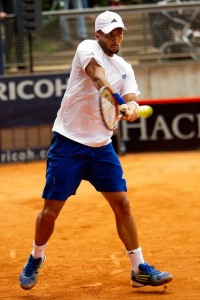 myth-making tone which is effortlessly sustained throughout. His ranking has since dipped to a modest 22, so there's rich irony too, presumably unintended. The more profound irony, however, is that as far as I can tell Verdasco is actually quite likable in person. In interviews he is thoughtful and gracious. Sadly, his projected image as the world's hottest specimen leaves any such depths unexplored, content to splash in the shallows. Naturally it makes him an easy target for derision, although the hordes of screeching and gasping girls dogging his every appearance – I've seen them; I could say it wasn't pretty, but I'd be lying – suggest there are worse images to project.
Then again, when all else fails, there was always that hairstyle . . . Even if Verdasco was to become Mother Teresa overnight, we would still have that to poke fun at, a towering and moist thatch from which to make comedic hay. His hair helmet was my rock. You might thus appreciate the dismay I felt upon tuning into the Hamburg quarterfinal against Jurgen Melzer, and discovering that he has shaved his head. The faux-mo is no mo'. And he remains absurdly handsome. Furthermore, he has finally forsaken the hideous adidas kit he maintained for the season's first half, even as other players in that stable had gleefully moved on. Today, he looked downright classical in blue shorts and a simple white t-shirt. Unfortunately, he also looked quite a lot like his opponent, who is similarly left-handed, thus presenting casual viewers with a confusing spectacle, unless they're teenage girls, who can discern Verdasco from a thousand yards. Actually, I can imagine a moment's consternation in the locker room prior to the ball,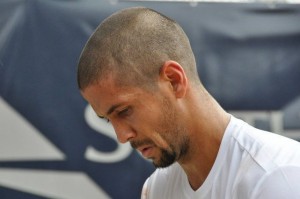 as the belles discovered they'd turned up in matching gowns, the only difference being that the Austrian wore a blue cap and white shoes, and the Spaniard's colours were reversed.
Happily, if only for this segue, they proved similarly matched on court. The first two sets were split evenly, and the tennis was excellent. It was Melzer that looked to have the momentum in the third, with a clutch of break points early in the set, before the pair traded actual breaks. The Austrian lost his serve again, somehow, but again looked set to break back. There was a controversial line call at 15-30 that got the crowd involved, but it went Verdasco's way. He served it out, Melzer was disgusted, and that was that. The crowd were rather more involved when Almagro later overcame Florian Mayer, incensed by the Spaniard's tendency to trade barbs with them, and to bellow Vamos! on Mayer's errors. Verdasco and Almagro will meet in the semifinals, and it's no task at all to predict which man the crowd will favour, even those who aren't fifteen and female.